Endowed Professorships
There is a long tradition in higher education of appointing faculty members to endowed professorships and chairs. At Illinois Wesleyan this honor is reserved for members of the faculty who have distinguished themselves through exemplary teaching and active engagement of students, outstanding scholarship and/or artistic achievement, and service at the very highest levels of the University. The guiding principle in awarding an endowed professorship or chair is that the individual represents our highest aspirations for faculty members on this campus.
These distinguished professorships are named in honor of the generous donors who made them possible. Listed by year established:
The Adlai H. Rust Chair of Insurance/Finance, established 1971
The Dr. Kenji Tanaka Professorship of Japanese Studies, established 1991
---
Robert Erlewine, Isaac Funk Professorship
Established in 1866 by the Funk family to honor Illinois Wesleyan founder Isaac Funk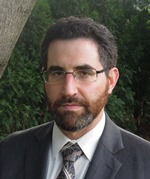 A member of the Illinois Wesleyan faculty since 2006, Erlewine was promoted to professor in 2018. Erlewine served as Chair of the Religion Department from 2016-19. He earned a bachelor's degree from St Mary's College of Maryland, a master's in philosophy from Boston College, and a Ph.D. in religious studies from Rice University.
Erlewine teaches such courses as Facing Evil, Religious Tolerance and Pluralism, Philosophers Read the Bible, and American Jewish Thought. His scholarship explores the complexity of religious life in the modern world, examining how religious traditions reconcile monotheist beliefs with contemporary values of tolerance and diversity and the ways that minority religious traditions like Judaism were shaped by and helped shape the understanding of religion in the larger cultures of which they lived.
Erlewine is the author of two books, Monotheism and Tolerance: Recovering a Religion of Reason (2010), and Judaism and the West: From Hermann Cohen to Joseph Soloveitchik (2016), and more than 20 articles and essays. His forthcoming book, Thunder in the Soul: To Be Known by God, compiles important writings of the civil rights activist Abraham Joshua Heschel and will be published in 2021. Erlewine also served as managing editor for the Journal of Jewish Thought and Philosophy from 2011-2015, and was visiting professor in 2019 at Dartmouth College.
---
Given Harper, Beach Lewis Chair of Biology
Established in 1963 through a gift to honor George C. Lewis and Mrs. Ella Beach Lewis
Named to the Beach Lewis Chair of Biology in 2011, R. Given Harper is an avian ecologist whose scholarly work ranges from documenting DDT and heavy metal contaminants in North American gray wolves, to estimating the breeding populations of red-tailed hawks and American Kestrels in Illinois.
While at Illinois Wesleyan, Harper has served as chair of the Biology Department and co-chair of the Premedical/Predental Advisory Committee. He has been a leader in sustainability efforts on campus, and together with Environmental Studies Program Director Abigail Jahiel contributed a chapter in Strategies for Sustainability: Stories from the Ivory Tower (MIT Press, 2004).
Harper's work has been recognized with grants by the Rockefeller Foundation, the National Science Foundation, the Illinois Department of Transportation and the Joyce Foundation. He has presented his research across the United States and the globe, from the American Ornithologists Union in Quebec to the International Ornithological Congress in New Zealand. His work has been published in the American Naturalist, Environmental Pollution, Chemosphere, Journal of Field Ornithology, Archives of Environmental Contamination and Toxicology, Journal of Avian Biology, Ecology and Behavioral Ecology.
---
Victoria Folse, Caroline F. Rupert Endowed Chair of Nursing
Established in 1961 in recognition of Mrs. Rupert's role in establishing the School of Nursing
Folse joined the faculty at Illinois Wesleyan in 2002 and has served as director of the School of Nursing since 2009. Her research focuses on suicide screening, eating disorders and nursing pedagogy, and has been published in professional journals including Journal of Clinical Nursing, Perspectives in Psychiatric Care and Archives of Psychiatric Nursing.
Folse consistently engages students in her research activities. She has also contributed academic chapters to several leading nursing textbooks.
In addition to her leadership of the School of Nursing, Folse was appointed First-Year Advising Coordinator and has served on the University's Strategic Planning and Budgeting Committee, CUPP, the Promotion and Tenure Committee and the Academic Appeals Committee.
A graduate of Illinois Wesleyan, Folse earned a Master of Science in Psychiatric Nursing from the University of Illinois in Chicago. She holds a Ph.D. from St. Louis University's School of Nursing. She maintains licensure as an Advanced Practice Nurse with prescriptive authority.
---
James Plath, R. Forrest Colwell Chair of English
Established in 1972 to honor R. Forrest Colwell, businessman, philanthropist and trustee
A widely recognized scholar on the works of Ernest Hemingway and John Updike, James Plath is co-founder and president of The John Updike Society, as well as the author of four books and numerous journal articles and invited presentations on Hemingway and Updike. He has also published on F. Scott Fitzgerald, and most recently edited Critical Insights: Raymond Carver (Salem Press, 2013). In 1995, Plath taught American literature as a visiting Fulbright Scholar at the University of the West Indies in Barbados.
Plath's short stories and poems have been published in ACM (Another Chicago Magazine), Amelia, Apalachee Quarterly, The Caribbean Writer, Cream City Review, The North American Review and many others. Since 2005 he has been a film critic, a member of the Online Film Critics Society, and a Rotten Tomatometer critic.
A 2004 recipient of the University's highest teaching honor, the then-named Pantagraph Award for Teaching Excellence, Plath has served as faculty advisor to The Argus, the University's student newspaper, since 1988. He has served as chair of the Promotion and Tenure Committee, chair of the English department and is a continuing member of the Faculty-Staff Recognition Committee.
Robert Bray, who formerly held the chair until his retirement in 2014, continues as Colwell Chair Emeritus.
---
David Vayo, Fern Rosetta Sherff Professor of Music
Established in 1977 to honor the extraordinary generosity of the Sherff family
Named to the Fern Rosetta Sherff Professorship in 2012, David Vayo is a prolific composer who has been celebrated with awards and commissions from foundations such as the John Simon Guggenheim Memorial Foundation, the St. Louis Symphony Society and the Koussevitzky Music Foundations in the Library of Congress, among many others. He has received ASCAPlus awards from the American Society of Composers, Authors and Publishers (ASCAP) for more than 20 consecutive years.
Since joining Illinois Wesleyan in 1991, he has overseen two major revisions of the curriculum for the bachelor of music degree in composition and served the University in a number of capacities – as chair of the Faculty Development Committee, the John Wesley Powell Student Research Conference Committee and the Latin American Studies Team, as well as being a member of the Academic Appeals Board. As Coordinator of New Music Activities at IWU, he directs the annual Symposium of Contemporary Music, the New Music Caf concert series and other events in the School of Music's New Music Series.
---
David Bollivar, Miner Linnaeus Sherff Endowed Professor of Botany
Established in 1977 to honor the extraordinary generosity of the Sherff family
David Bollivar's research involves studying the mechanisms by which organisms make pigments used for photosynthesis. This research has enabled him to establish collaborations with prominent researchers in the U.S. and abroad, including summers researching chlorophyll biosynthesis in Denmark. He has received funding from the National Science Foundation, and his research has been published in the journals Molecular Microbiology, Analytical Biochemistry,Structure, Photosynthesis Research and Biochemistry.
A member of the faculty at Illinois Wesleyan since 1996, Bollivar was instrumental in developing and implementing the HHMI-PHAGES labs. Funded by the Howard Hughes Medical Institute, a not-for-profit medical research organization, the labs allow first-year students to fully immerse themselves in scientific exploration. Bollivar has also served as chair of the Department of Biology since 2007. Under his leadership, revisions to the introductory General Biology 101 and 102 courses were implemented.
Bollivar has served on numerous University committees, including chairing the Council for University Programs and Policies (CUPP), the Assessment Committee Task Force, the Promotion and Tenure Committee, and the Institutional Review Board. He has also served as faculty visitor to the Board of Trustees.
A native of McLean County, Bollivar is a graduate of Illinois Wesleyan. He earned a Ph.D. from Indiana University and spent several years as a postdoctoral research fellow at Brown University.
---
Carole Myscofski, McFee Professor of Religion
Established in 1984 from the estate of Daisy McFee to honor her family
Named to the McFee Professorship in 2011, Carole Myscofski's scholarly works have been honored with numerous grants and fellowships, including two from the National Endowment for the Humanities, and a Fulbright Senior Scholar Award. She was honored in 2001 with Illinois Wesleyan's top award for teaching excellence.
Myscofski's research interests include women's religious lives in colonial Brazil, for which she has traveled to Brazil and El Salvador. Her work has appeared in such journals as History of Religions, Religion, Journal of Latin American Lore, Luso-Brazilian Review, Journal of Ritual Studies, and the Journal for Feminist Studies in Religion. She has contributed chapters to books including the Social History and Issues in Consciousness (New York University Press, 1989), and created scholarly entries for the Dictionary of Religion by HarperCollins, Encyclopedia of Latin American History by Charles Scribner's Sons, and the Micropedia of the Encyclopedia Britannica.
Myscofski has served as an editor for the American Academy of Religion Academy (Dissertation) Series, published by Scholars Press and the Oxford University Press; and for the HarperCollins Dictionary of Religion.
---
Michael Seeborg, Robert S. Eckley Professor of Economics
Established in 1986 to honor Robert S. Eckley, University president 1968-86
Named the Eckley Professor of Economics in 1989, Michael C. Seeborg is the author of numerous articles in the field of labor economics. His research interests are varied and include work on the economics of immigration, the economics of poverty and the economics of sports. He teaches many courses at all levels that focus on economic research, including the economics capstone senior project course, a May Term course on applied research in labor economics, and Gateway Colloquia for first-year students. His work is known on an international level, where he has studied agricultural economics in Poland and urban and rural population migration patterns in China.
Seeborg received the University's top teaching award in 1999. He helped establish two student-edited undergraduate economics journals at Illinois Wesleyan: The Park Place Economist takes submissions from Illinois Wesleyan students, and The Undergraduate Economic Review is an online publication that receives submissions from economics students around the world. Seeborg also is known for his emphasis on active learning, and often requires that students produce original research papers and encourages them to present their research in various venues, including the IWU John Wesley Powell Research Conference.
---
Robert A. Kearney, Edward R. Telling '46 Endowed Professor of Business Administration
Established in 1987 by Telling, a 1946 Illinois Wesleyan graduate and former chairman and chief executive officer of Sears, Roebuck & Co.
A recipient of the Student Senate Professor of the Year Award, Kearney created and now teaches a Trial Litigation course that is unique to college campuses.
Kearney earned a juris doctorate from the law school at the University of Notre Dame, where he served as Executive Editor of the Law Review. He has received four national awards for his scholarship in employment law and intellectual property, and his research has been cited in briefs to the Supreme Court of the United States and the California Supreme Court.
Kearney has served as chair of the Department of Business Administration, chair of CUPP, vice chair of the Faculty Development Committee and faculty visitor to the Board of Trustees.
Kearney received a bachelor's degree from the University of Notre Dame, and earned a Master of Business Administration from the University of Illinois at Chicago. He joined the faculty at Illinois Wesleyan in 2002 after an appointment as a visiting professor at the University of Michigan. He had previously worked in private legal practice in Chicago and clerked for the Honorable Daniel A. Manion, Circuit Judge, U.S. Court of Appeals for the Seventh Circuit.
---
Tian Xiao-He, Earl H. and Marian A. Beling Professor of Natural Sciences
Established by the Belings in 1998 in recognition of the quality of Illinois Wesleyan faculty
A prolific researcher and author, Professor of Mathematics Tian-Xiao He has published 111 papers and five books. His research interests include approximation theory, numerical analysis, wavelet analysis, multivariate splines, number theory, theory of functions, enumerative combinatorics and combinatorial analysis.
He was voted Student Senate Professor of the Year in 1994. He supervises student research projects each semester and has served as advisor to Pi Mu Epsilon (national mathematics honor society) and to the Illinois Wesleyan Mathematics Society, and has served on the Academic Appeals Board, Curriculum Council and Nominating Committee.
He earned a Ph.D. at Dalian University of Technology in his native China. Leetsch Charles Hsu, an international expert on combinatorics and number theory, directed his dissertation. He earned a second Ph.D. from Texas A&M University so he could work with Charles K. Chui, an internationally renowned expert on approximation theory.
---
Ann Eckhardt, Deloris Helsley Ascher Professorship of Nursing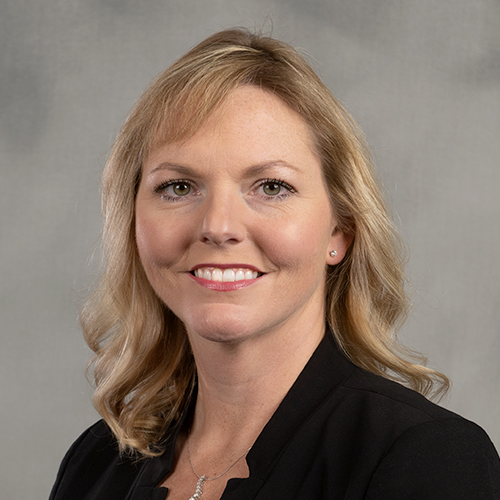 Eckhardt joined Illinois Wesleyan as a visiting instructor in 2011 before becoming an assistant professor in 2012. She was promoted to associate professor in 2018.
A 2003 Illinois Wesleyan alumna, Eckhardt earned a B.S.N. from IWU and a Ph.D. from the University of Illinois at Chicago where she served as a teaching assistant for a number of graduate and undergraduate courses. Her nursing experience includes three years in the Cardiovascular Intensive Care Unit where she cross trained to Surgical/Trauma and Neonatal Intensive Care and 12 years as an Administrative House Officer.
Eckhardt has published qualitative, quantitative, and mixed methods articles in the areas of coronary artery bypass surgery and heart disease symptomatology, and is engaged in international research. She is also the Associate Editor for Jarvis Physical Examination and Health Assessment.
---
Carolyn Nadeau, Byron S. Tucci Professor and Professor of Hispanic Studies
Established in 2010 by Byron S. Tucci '66 as part of the Transforming Lives Campaign
Named to the Byron S. Tucci Professorship in 2010, Carolyn Nadeau specializes in 16th- and 17th-century Spanish literature. She is the author of two books, Women of the Prologue: Imitation, Myth, and Magic in Don Quixote I (Bucknell University, 2002) and a critical edition of Francisco de Quevedo's El buscon (European Masterpieces, Cervantes and Co., 2007), and more than a dozen articles that have appeared in such journals as Bulletin of Hispanic Studies, La Perinola,and Bulletin of Cervantes Society.
The recipient of an American Philosophical Society grant and two National Endowment for the Humanities Summer Institutes awards, Nadeau has also been honored by the Spanish Ministry of Culture with Cultural Cooperation grants. She received Illinois Wesleyan's teaching excellence award in 2003.
Her service to the university includes developing and directing IWU study abroad programs in England and Spain, chairing the Curriculum Council, serving as Vice Chair of the Council on University Programs and Policy, and as a member on the Promotion and Tenure committee, the Strategic Planning & Budgeting committee, and a presidential search committee. She is also active in the local community serving on the board of the Immigration Project and volunteering at the Community Health Care Clinic and in efforts to promote safe immigration reform.
---
Michael Theune, Robert W. Harrington Endowed Professorship
Created as part of the Transforming Lives Campaign in 2010 by Bob Harrington, former chair of the University's Business and Economics Department
A member of the Illinois Wesleyan faculty since 2002, Theune was promoted to professor in 2015. Theune earned bachelor's degrees from Hope College and the University of Oxford, a master's from the University of Iowa and a Ph.D. from the University of Houston.
Theune's courses focus on creative writing, poetry, and Romantic literature. Theune writes criticism and poetry, and his scholarship has three main concerns: the poetic turn (places where poems radically change their focus); the assessment of poetry; and Romantic poet John Keats.
Theune has authored numerous essays and reviews, and he has edited, co-edited or co-authored three books: Keats's Negative Capability: New Origins and Afterlives (co-editor, with Brian Rejack, 2019); We Need to Talk: A New Method for Evaluating Poetry (co-author, with Bob Broad, 2018); Structure & Surprise: Engaging Poetic Turns (editor, 2007).
---
Ram Mohan, Wendell and Loretta Hess Professor of Chemistry
Established in 2012 by Wendell Hess, a professor of chemistry whose 27 years at IWU included a term as acting president in 1988

Ram Mohan was first named to the Beling Professorship in 2008, then to the Hess Professorship in 2013. He has received multiple research grants from the National Science Foundation, the American Chemical Society and from Research Corporation.
Mohan was recognized for co-authoring an article in the international journal Tetrahedron that became one of the 50 most-cited articles from 2004-07. In 2003 he received the Young Observer Award from the International Union of Pure and Applied Chemistry. Mohan was the 2002 winner of the University of Maryland, Baltimore County, Distinguished Alumnus Award; a 2001 winner of the national Henry Dreyfus Teacher-Scholar award; and a recipient of Faculty Travel Awards from The American Chemical Society in 1997 and 1999.
Mohan has co-authored numerous articles with Illinois Wesleyan undergraduates as co-authors, and a 2007 article was recognized internationally as an innovative study of the reactivity of ionic liquids.
---
William Munro, Betty Ritchie-Birrer '47 and Ivan Birrer Endowed Professor
Established in 2013 by a major gift to the Transforming Lives Campaign to support a faculty member in Psychology or any of the Social Sciences
The 2012 winner of the Kemp Foundation Award for Teaching Excellence, Professor of Political Science William Munro is a scholar of the politics of state formation and development in the global south, as well as the international food economy. He is the author of The Moral Economy of the State: Conservation, Community Development, and State-Making in Zimbabwe (Ohio University Center for International Studies, 1998), and co-author of Fighting for the Future of Food: Activists versus Agribusiness in the Struggle over Biotechnology (University of Minnesota Press, 2010).
Munro joined the Illinois Wesleyan faculty in 2000. He earned a doctorate in political science from Yale University, a bachelor's and master's degree from Cambridge University, and a bachelor's from Natal University in South Africa.
At Illinois Wesleyan, Munro has served as a director of the International Studies program and of the John and Erma Stutzman Peace Fellows Program and chaired the chair for the Technos Award Selection Committee. He has served as a faculty advisor to Amnesty International and the International House on campus. He was a member of the Committee for a Sustainable Campus and the First-Year Advisory Board.
---
Gabriel C. Spalding, B. Charles and Joyce Eichhorn Ames Professor
Established by a lead gift to the Transforming Lives Campaign by Chuck '50 and Jay Ames '49, their first of 10 matching professorships.
As a professor of physics, Spalding has led a national conversation regarding laboratory courses for undergraduate students. This engagement has resulted in the American Physical Society (APS) awarding him the inaugural Jonathan Reichert and Barbara Wolff-Reichert Award for Excellence in Advanced Laboratory Instruction. The same organization elected him to Fellowship in the Society, an honor limited to no more than one-half of one percent of the APS membership.
Spalding's extensive scholarship in the area of optical tweezing and beam sculpting led to his recognition as a Fellow by SPIE, the international society for optics and photonics. His scholarship has resulted in more than 70 peer-reviewed papers over the past 25 years.
For more than 10 years, Spalding has taken Illinois Wesleyan students to the University of St. Andrews and Dundee in Scotland where they take part in beam sculpting research projects, most recently developing non-invasive methods of targeting and destroying tumors.
Spalding earned a doctorate from Harvard University, and holds a bachelor's degree from Washington University in St. Louis. He joined the Illinois Wesleyan faculty in 1996.
---
Irv Epstein, Ben and Susan Rhodes Endowed Professor in Peace and Social Justice
Established by Sally A. Firestone '69 to honor her friends, Susan and classmate Ben Rhodes '69. Firestone's gift established the 10th endowed professorship in the University's Transforming Lives fundraising campaign.
A member of the faculty at Illinois Wesleyan since 1996, Irv Epstein has served as chair of the department of educational studies, interim director of the International Studies program, director of the General Education Program, and associate dean of the faculty.
Epstein is director of the University's Center for Human Rights and Social Justice and was instrumental in its founding.
Epstein's scholarship has focused on examinations of the conditions of childhood in an era of globalization. He has published three books, one guest-edited journal issue, 25 journal articles and 22 book chapters. He has also served as associate editor for Comparative Education Review and co-editor of the ASIANetwork Exchange.
---
Gordon Horwitz, Davis U. Merwin Endowed Professor of History
Established by Trustee Emeritus Davis U. Merwin as part of his estate plan.
A modern European historian, Gordon Horwitz's research expertise centers on study of the Holocaust. Horwitz is the author of Ghettostadt: Łdź and the Making of a Nazi City (Harvard University Press, 2008), which was selected as a finalist for a National Jewish Book Award, and In the Shadow of Death: Living Outside the Gates of Mauthhausen (The Free Press/Macmillan, 1990), a study of the way in which the civilian population surrounding the Austrian concentration camp related to it. He has presented numerous papers on Łdź and contributed chapters on the Holocaust to several scholarly works.
Horwitz received a bachelor's degree in history from Princeton University before earning master's and doctoral degrees from Harvard University. Horwitz joined the faculty at Illinois Wesleyan in 1989.
He has served as a member of the Russian, East European Studies and West European Studies teams in the International Studies Program, as vice chair of the Promotion and Tenure Committee and chair of the Faculty Development Committee, in addition to other committee service.
---
Will Jaeckle, Semour and Diana Galina Endowed Professorship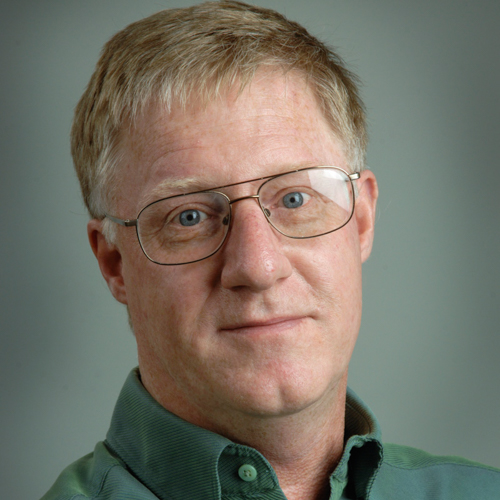 Jaeckle began teaching at Illinois Wesleyan as an adjunct assistant professor in 1996 before becoming an assistant professor in 2001; he was promoted to the rank of full professor in 2015. Jaeckle earned a bachelor's degree in zoology from Humboldt State University and a Ph.D. in biology from the University of Southern California.
Jaeckle's research is focused on aspects of the life history, development, physiology, and ecology of invertebrate animals, with particular emphasis on their free-living developmental stages called larvae. His primary research interests relate to understanding how and in what form aquatic invertebrates and their larvae acquire food from the environment.
The author of numerous publications, Jaeckle is currently working with IWU research students to assess the ability of aquatic animals to take up dissolved organic materials (DOM) from marine and fresh waters, the degree to which absorbed DOM is distributed throughout their bodies, and ultimately, the importance of DOM as a source of energy and nutrition.