Applying for Admission

Looking to apply to become part of Illinois Wesleyan's incoming class of 2024?
If so, you've come to right place! At IWU, we don't charge an application fee and submitting standardized test scores are optional.
All completed applications will be reviewed individually.You can find basic admission criteria and requirements here.

Required Materials
Students interested in admission to Illinois Wesleyan University must submit:
One of the following applications (one application is not preferred over another):
Transcripts for all previous high school and/or college coursework
Essay

International students

whose first or native language is not English are still required to complete the English Proficiency Exam requirement as mentioned above.
Students who would like to submit test scores are welcome to do so. Illinois Wesleyan University's code for the College Board (SAT) is 1320 and our code for ACT is 1044.
Letters of recommendation and transcripts may be submitted through your application, or official copies may be mailed to:
Illinois Wesleyan University
Admissions Office
PO Box 2900
Bloomington, IL 61702

For those who prefer a paper application, a printable version of the application is available here.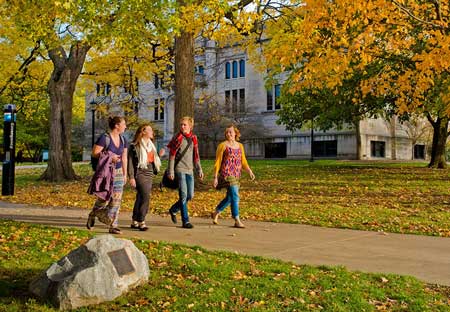 Early Action (non-binding)
Students who submitted all required application materials by November 15th are eligible for consideration. Early Action decisions are sent out between November 15th and December 15th. Students admitted under Early Action still have until May 1st to make a college selection. Some students who apply under Early Action may be deferred to the Regular Decision process to allow the Admissions Committee to request and consider updated information.
Regular Decision
Students can submit an application under Regular Decision at any time. Decisions for students applying under Regular Decision are mailed after December 15th.
Optional Supplemental Materials
Letters of Recommendation
Personal Statement
Additional Requirements for Specific Programs
School of Art

If you are planning to pursue the Bachelor of Fine Arts (BFA) degree in the School of Art, you are required to present a portfolio.
If you are planning to pursue the Bachelor of Arts (BA) degree in the School of Art, a portfolio review is not required, but it is an option for talent scholarship consideration.
Transfer students must submit a portfolio.
School of Music

If you are planning to major in music, an audition is required before you can be admitted to the School of Music.
School of Nursing

If you are planning to major in nursing, you must either submit SAT or ACT scores or interview with our School of Nursing.
School of Theatre Arts

If you are planning to major in theatre, an audition or interview is required before you can be admitted to the School of Theatre Arts.
Recommended Admission Criteria
Fifteen (15) academic units within the areas of English, foreign language, mathematics, laboratory science and social science.
A cumulative grade-point average of a B or higher.