Financial Aid
Illinois Wesleyan University has long been committed to putting a superior education within the reach of every single qualified applicant.
We stand more firmly in that commitment than ever. We understand a diverse student body - a value called out in our mission statement - includes qualified students that quite possibly hail from a variety of economic backgrounds. Our goal is simple: to admit students we believe will best thrive academically, develop personally, and contribute to the IWU community.
While the FAFSA was available to you to complete beginning October 1 this past year, the 2024-25 FAFSA will not be available until December and possibly as late as January. This delay is because of some significant changes to the FAFSA as part of the FAFSA Simplification Act. Because of this change, we are moving our preferred filing deadline to February 1.
Look for more information on these changes later in this semester.
The Right Investment
Your goal after completing school is to earn a salary. What if we told you that, chances are, you'll earn more with an Illinois Wesleyan degree than with a degree from other competitor schools in Illinois? We've reviewed the research and it is true. Illinois Wesleyan graduates earn an average of $61,100 after graduation.* Zippia has ranked us #1 in Illinois for salaries of graduates (2018).
*10 years after graduation
A COMPARISON OF OTHER ILLINOIS COLLEGES AND UNIVERSITIES
Your ability to pay down debt after graduation speaks to your ability to find employment, and the salary you command after graduation. At Illinois Wesleyan, our Hart Career Center (HCC) staff is dedicated to helping students find purposeful and rewarding internships, create stellar resumes highlighting breakthrough experiences, and connecting them to a vast network of recruiters, employers and alumni.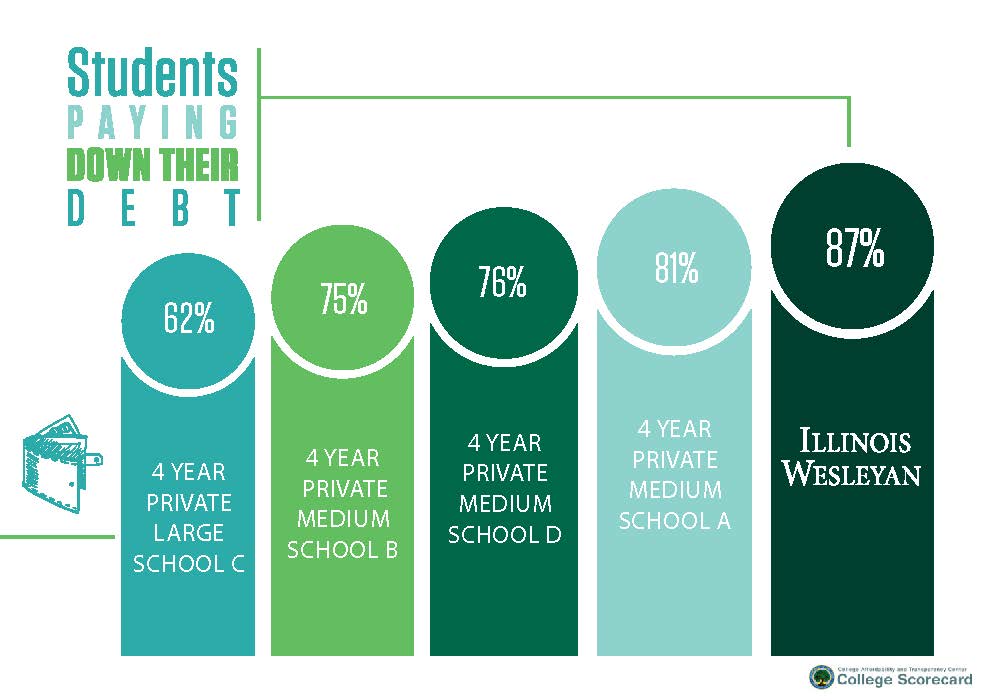 A COMPARISON OF OTHER ILLINOIS COLLEGES AND UNIVERSITIES
More than 95% of IWU students receive aid
That's right. More than 95% of incoming students from all backgrounds qualify for scholarship or grant assistance. In fact, on average, over half of tuition is covered by scholarships and grants for incoming Illinois Wesleyan students.
Financial Aid Application Process
It is now time to begin filling out the 2024-2025 Free Application for Federal Student Aid, (FAFSA) based on 2022 income. IWU's Federal School Code is 001696. Preferential filing deadline is February 1, 2024. For more information, please use this link on updates of the FAFSA Simplification.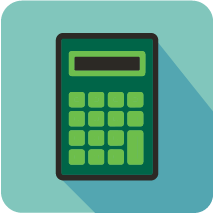 We want to help you understand all of your options and make it simple to receive them.
With generous aid packages from a range of sources, IWU families pay far less than you might expect. To give you an idea, we offer a net price calculator.
The largest source of gift aid is derived from friends of Illinois Wesleyan University who have provided funds for worthy students who need assistance.
You do not have to apply separately for these generously endowed scholarships.
When you first submit your application for admission along with your transcripts, you will be considered for all merit scholarships.
Interest for student loans is typically lower than consumer rates. The success rate of Illinois Wesleyan graduates paying their loans is historically over 97%, well above the national average.
IWU is now using Heartland ESCI to service the Federal Nursing Loan and IWU Loan. You can access more information using this link.
A job on campus helps students pay for their education while gaining valuable work experience. Studies show that students who work while attending college do as well or better in school than their classmates who don't work.
Current Job Openings