Arrange a Visit
Great news! It's never been easier to visit Illinois Wesleyan. We love showcasing your beautiful campus in-person to prospective students and families. When you visit, you'll get individual attention and a great sense of what makes Illinois Wesleyan one of the top ranked schools in the nation!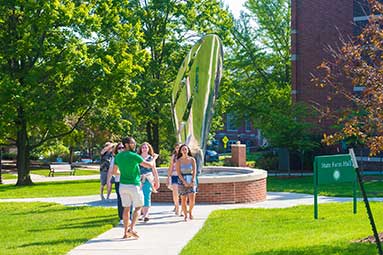 Individual Visits
College visits are an important part of the college selection process.
We'd love to meet you, introduce ourselves, and learn where you are in your college selection process! Application questions? Financial Aid? Introduction to IWU? Whatever questions you have, we are here for you!
On Campus Events
Open Houses
Each year we're pleased to offer three fun, informative, in-person sessions which offer opportunities to discover IWU, ask questions, meet faculty, current students, take a campus tour and more!
Admitted Student Day
If you've been admitted into IWU's incoming class of 2024, this day has been designed just for you! Join us to learn more about the significant ways IWU will not only make your college experience "breakthrough," but also set you up for success after college. The program includes breakout sessions focused on Post-Graduate Planning, Study Abroad, Research, Student Life, and more, plus the opportunity to tour campus, and hear from current students, faculty and alumni about the distinctive characteristics of Illinois Wesleyan. For admitted students only.
Sat. Feb. 10, 2024
Sat. Apr. 6, 2024
Group Visits
Group Visit (Organizations Bringing Multiple Students)
Students must be in grades 9 - 12. We love sharing Illinois Wesleyan with groups of students. To ensure a positive experience for all, we ask that all small groups adhere to the following guidelines:
Groups are limited to 50 students
One chaperone must be present for every 10 students attending a campus visit
A chaperone must accompany every group of students going out on a tour
Requests should come from schools or other academic programs
Although we will do our best, we may be unable to accommodate your group during peak visit times in October, March, or April.
Should you have any questions regarding a group tour to campus, please contact our visit coordinator at (309) 556-3031.
Travel Vouchers
Out-of-state admitted seniors may be eligible for reimbursement of half of their travel costs, up to $300. For more details, and to find out if you qualify, contact your admissions counselor!
Overnight Guests
Overnight visits at IWU are generally reserved for high school seniors. If you are a high school senior who has been admitted to Illinois Wesleyan, and would like to schedule an overnight visit, please reach out to your admissions counselor or call (309) 556-3031.