Accounting
Unlike most traditional four-year colleges — where students may face as much as an extra year of coursework to meet the 150 hours required to take the Certified Public Accountant (CPA) exam in most states — Illinois Wesleyan accounting students typically meet the requirement within four years.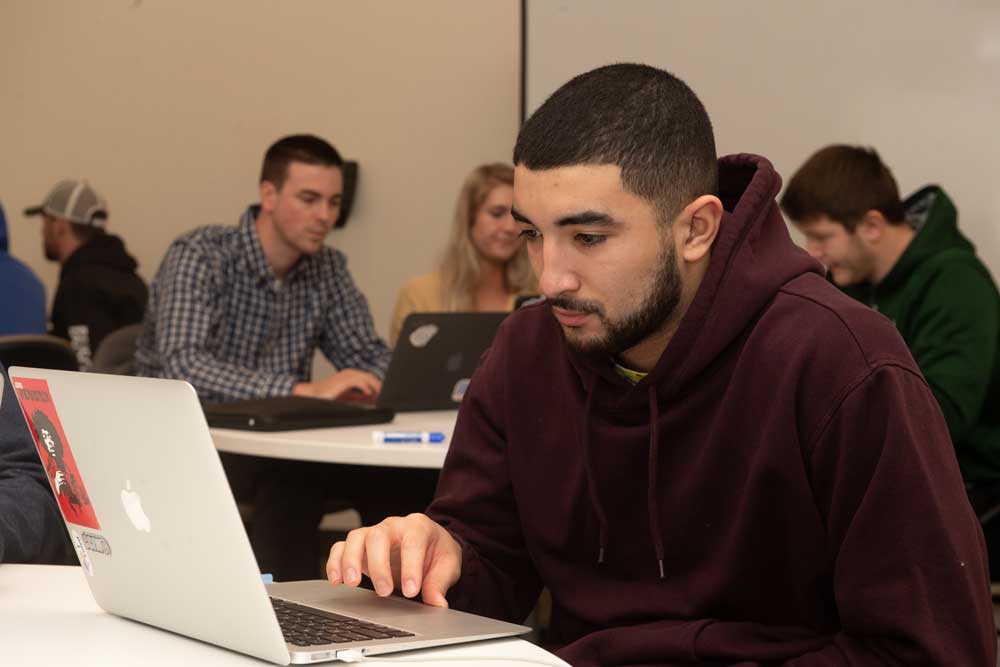 Bright Futures
In recent years, Illinois Wesleyan accounting graduates have accepted positions with all of the major accounting firms and with leading corporations around the country. Corporate recruiters have often commented on how much they enjoy visiting the IWU campus because of the poise and preparation of the candidates in our accounting program.
Winter Internships
The winter internship program allows junior accounting majors to complete a full-time internship during the spring semester. Students work full-time for ten weeks at an accounting firm or business organization, then return to campus for six weeks of intensive study in two accounting courses: BUS 317 Special Topics in Financial Reporting and BUS 318 Accounting and Auditing Processes. Students will receive two course units of credit for the internship experience and two units of credit for the two accounting courses, thus retaining their full-time student status and allowing them to graduate in four years with 150 semester hours of credit.
Mentor Program
Our accounting students find the Accounting Mentor Program to be incredibly rewarding and beneficial. IWU's Accounting Mentor Program is a great way to meet people within your major and network with fellow accounting peers and alumni. Mentors can help provide advice on clubs to join, useful career events to attend, help with course selection, and tips for overall college success.
Certified Public Accounting (CPA) Information
In Illinois and many other states, prospective CPAs must complete 150 hours of university course work. By taking a regular load of four courses each semester during their four years, IWU students can complete their degree requirements with an equivalent of 128 semester hours. To complete 150 hours within four years, students may decide to take the optional May Term program, schedule an occasional overload of five courses in a semester instead of four, or by earning off-campus credit through Advanced Placement credit or by taking courses in the summer.