Alumnae Devote Time and Talents to Female Students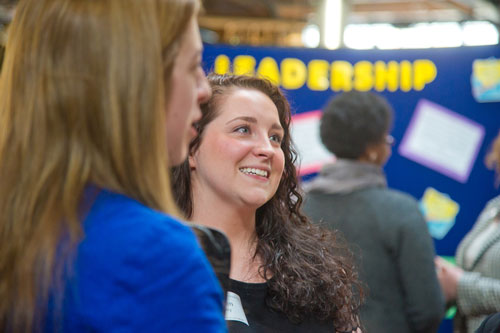 Inspiring students to discover self-confidence is one of the keystones of a liberal arts education. The Council for IWU Women was created to instill confidence in female students with the help of a plentiful resource - successful alumnae.
Now in its ninth year, the Council holds an annual summit connecting female students with successful alumnae from a variety of occupations. Council members serve current students as mentors, advisors, and connections to internships, jobs and careers.
The summit and its programs, including scholarships for students, are completely funded by the Council for Women's volunteer members. This month nearly 40 alumnae will travel to Bloomington from across the country at their own expense to meet students. The summit includes sessions on topics such as developing mentor relationships, connecting students with alumnae working in specific industries, and personality styles in the workplace. Students can also practice their interviewing skills with Council alumnae.
National studies have shown for decades that young people have a stronger chance of succeeding with a positive role model with whom they can identify. Women tend to build strong mentoring relationships through social networking, said Marsha Guenzler-Stevens '78, who suggested the idea of a mentoring program for women. "Women probably learn the most by way of sharing stories. In some ways, that is one of the roles a mentor has - she finds out the pieces of your story that are beautiful and lets you know how to face the pieces that are challenging."
Business marketing major Elizabeth Egan said the summit is one of her favorite Illinois Wesleyan activities. "Having a lot of powerful women in one place (at the summit) is just something I really love about Illinois Wesleyan," said Egan. "We hear a lot about how strong the IWU alumni bond is, and it's so reassuring to see women who went before me encouraging me and offering to help me. It gives me a lot of confidence going out into the work place."
Egan added that the summit is just one more active example of the Illinois Wesleyan culture - allowing students to determine their own interests and then to pursue them. "There are so many opportunities here for students to become leaders, to get connected to alumni, to do all those experiences you want to have coming into college," she said. "It just seems so easy here, whether you are an introvert or extrovert, come from a big high school or a small one, to find those experiences you want to have in college."