Sorority Recruitment
Fall 2023 Recruitment Registration
Click here to register for sorority recruitment!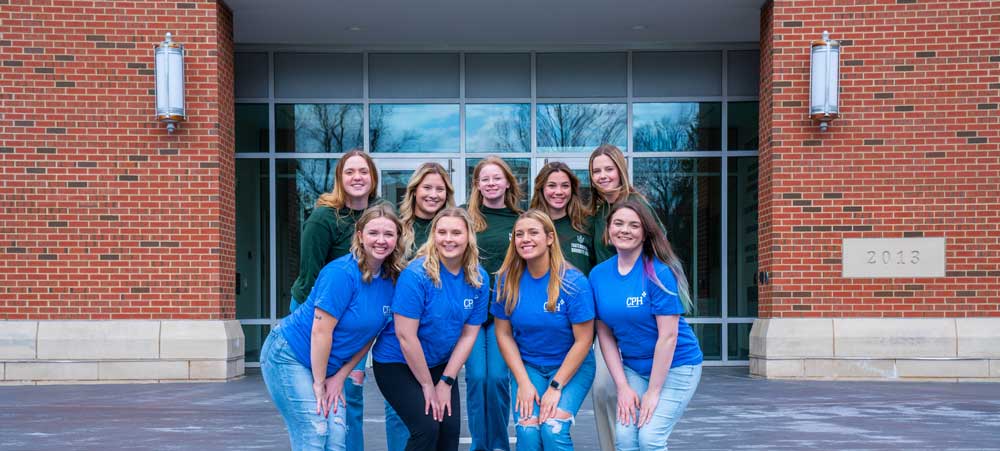 Welcome to Illinois Wesleyan University!
We would like to congratulate you on becoming a Titan and starting your academic career here at IWU. Sorority life has been a part of Illinois Wesleyan for over 150 years, making it one of the most long-standing campus organizations in the community! Joining a sorority is a great way to jump-start your involvement in student life. Whether it is academically, athletically, socially, or in service and leadership roles, the fraternity and sorority community at IWU provides a network of support throughout your undergraduate experience and beyond. By choosing to participate in recruitment, you will have the opportunity to meet and connnect with various women, many of whom are leaders on this campus.
The decision to go through recruitment is full of new possibilities and an excellent way to make the most out of your years here at IWU. Recruitment will give you a better insight into what sorority life here at IWU is all about. Throughout recruitment, you will learn about the many exciting opportunities available to sorority women such as Greek Week, philanthropy events, scholarships, networking, leadership workshops, alumni connections, and much more.
If you have further questions, please do not hesitate to contact Julie Henderson, the CPH Advisor (jhender1@iwu.edu). We are looking forward to meeting you!
---
Recruitment
Recruitment is the process by which sorority members introduce themselves to potential members. Throughout the week, you are invited to visit all four chapters and learn what each has to offer. Joining a sorority is a big decision and attending all the recruitment events is strongly encouraged to help you make the decision that is best for you.
Recruitment is conducted through the means of mutual selection. Towards the end of the week, potential members will select the chapters they would like to visit again. Likewise, the chapters invite back potential new members that they feel will be a good fit for their chapter. A computer software program then compiles the data and schedules are produced for the potential member for the next scheduled day of events.
Events during the week are open-house style. PNMs are required to attend at least one full event from each chapter to receive a Preference Round invitation. Click on the tab for each day for more details about that night of formal recruitment.
Orientations

Friday, September 15

1:00 PM (check-in beings at 12:45) in the Vinyard Room in the Memorial Center

7:00 PM (check-in begins at 6:45) in the Vinyard Room in the Memorial Center

Orientation is the first event of recruitment. During Orientation, potential new members (PNMs) will meet their Recruitment Counselors, learn about how the process works, get to know other PNMs in their group, and create their recruitment schedule.

Two separate times for Orientation were created to better accommodate the schedules of our potential new members. Potential new members do not need to attend both sessions.
Sunday, September 17

12:00-1:00 PM: Alpha Gamma Delta

1:10-2:10 PM: Sigma Kappa

2:20-3:20 PM: Kappa Kappa Gamma

3:30-4:30 PM: Kappa Delta
Monday, September 18

6:00-7:00 PM: Alpha Gamma Delta

7:10-8:10 PM: Kappa Kappa Gamma

8:20-9:20 PM: Kappa Delta
Tuesday, September 19

7:10-8:10 PM- Sigma Kappa
Wednesday, September 20

8:20-9:20 PM- Kappa Delta
Thursday, September 21

6:00-7:00 PM: Alpha Gamma Delta

7:10-8:10 PM: Sigma Kappa

8:20-9:20 PM: Kappa Kappa Gamma
Preference Night, Saturday, September 23

Check-In in CNS from 4:00-4:15 PM

Preference Night is the only invitational round of recruitment. This is one of the most important and inspirational nights of recruitment. The active members share their personal stories and share what their sorority means to them.

Recommended PNM attire is semi-formal (wedding guest attire).
Bid Day, Sunday, September 24

11:00-11:45 AM, Young Main Lounge and Joslin Stairs/ Quad

11:45 AM- 2:00 PM, Chapter Homes

Bid Day marks the end of recruitment. This is when PNMs become new members of a sorority. It is the best day as new members and chapters celebrate together! PNMs will receive their bids, participate in the CPH Bid Day ceremony, and then are greeted by the women of the sorority and do bonding activities with all members of their new chapters.

Recommended PNM attire is shorts or jeans and a t-shirt or tank top. T-shirts will be provided once you receive & accept your bid.
---
Recruitment Attendance
Attendance at all recruitment events is mandatory. Excused absences include class, IWU athletic commitments, religious holiday observances, and family emergencies. If you will be late or absent for any portion of recruitment, you must complete this form. If you have any questions about absences, please contact getinvolved@iwu.edu.
---
Continuous Open Bidding
Continuous Open Recruitment is the process by which sororities that have vacancies in their quota or total are able to introduce themselves to potential members. This process is less formal than Formal Recruitment and many students prefer this style of deciding if sorority life is for them. Participating chapters will hold individual events and invite potential members to visit with their chapter members in activities such as going to a movie, grabbing a bite to eat or other activities where they can get to know each other. Potential members do not have to visit all participating chapters and there is no obligation to join if you attend an event.
Please check back following fall formal recruitment to see if any chapters will be hosting COB events.
---
Recruitment Infraction Reports
The NPC Infraction process is put in place to help assure an equitable and democratic process for all chapters, members and potential new members. The NPC judicial process encourages sororities to resolve alleged infractions in a timely and informal manner. However, if respectful, informal conversations are unsuccessful then a formal infraction report should be filed. Formal infractions may be submitted by the following individuals: College Panhellenic Vice President of Recruitment, Recruitment Counselor, College Panhellenic Officer or Student Involvement staff.
To submit an infraction report, please contact CPH Advisor, Julie Henderson.
---
Recruitment Counselors
Recruitment Counselors are experienced sorority women who are committed to offering their talents and service to PNMs throughout the formal recruitment process. The purpose of the Recruitment Counselor program is to:
Provide support, friendship and personal guidance to women participating in the recruitment process by sorority members who are educated to represent Panhellenic attitudes and ideals.
Provide objective and impartial counselors.
Promote and understanding an explanation of the mutual selection process.
Promote an understanding of the benefits of sorority affiliation and emphasize the similarities in ideals and goals of all women's fraternities.
PNMs will be assigned to groups with the Recruitment Counselors who will meet with their PNMs throughout recruitment to provide any information and advice that is needed by the PNMs. The Recruitment Counselors are required to disaffiliate from their sorority until recruitment is over. This is so you will be more comfortable speaking with them about recruitment. If you happen to know the sorority that your Recruitment Counselor belongs to, we ask that you don't discuss this with anyone.
Recruitment Counselors are assigned to PNMs after they register for recruitment. Feel free to ask your Recruitment Counselors whatever questions you have regarding recruitment!