Signature Experience
Signature Work in Environmental Studies enables students to work collaboratively with peers to address sustainability challenges related to agriculture, water and/or climate in central Illinois or southern Vietnam.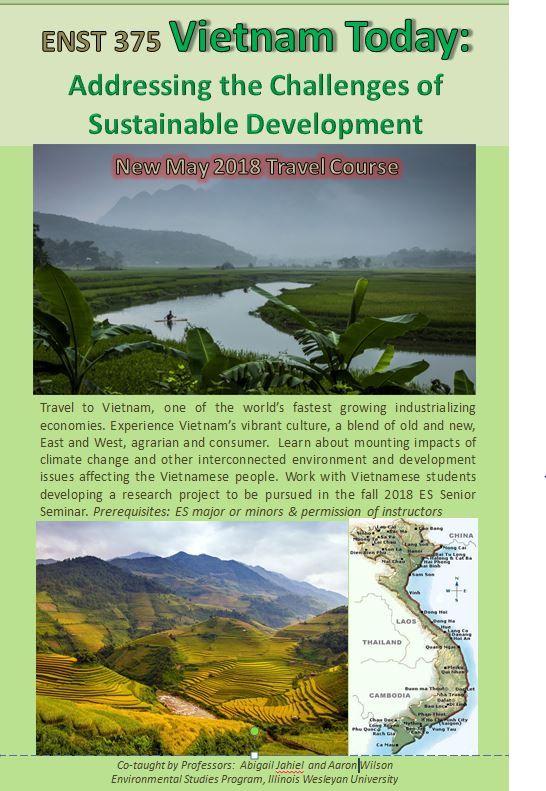 As part of the Creating a Sustainable Society senior seminar course, each student majoring in Environmental Studies for the past decade has worked on a community project addressing a local sustainability challenge on campus or in the Bloomington-Normal community.
Now, a new option offers students the opportunity to research sustainability challenges firsthand with a funded travel opportunity to Vietnam, and to later conduct research at IWU while working with a partner institution in Vietnam. Students will work together as a group project, with each having ownership of a defined research component.
These experiences allow students to interact with the community – local or international – to engage in real-world problem solving, and learn to work in teams. With two faculty members teaching the course – Dr. Abigail Jahiel from a social science perspective and Dr. Aaron Wilson from a natural science perspective – students will better understand the interdisciplinary nature of environmental work.
Environmental challenges can be daunting. We ask our students to put their passion for sustainability to work during their time at IWU, so that they graduate empowered and prepared to make a difference in the world.
Check out the Signature Solutions article in the IWU magazine for more information!
Environmental Studies News