Signature Solutions
Environmental Studies students got a firsthand look at environmental issues in Vietnam before crafting proposals to promote sustainability.
Story by Matt Wing
Illinois Wesleyan University students enrolled in ENST 375 spent the first days of May Term last year in a Stevenson Hall classroom as part of a weeklong crash course, learning the geography, demography and history of Vietnam, and the challenges it faces today.
They spent the next two weeks halfway around the world, learning about Vietnam using their senses of sight, smell, sound, taste and touch.
A group of eight Illinois Wesleyan students in ENST 375: "Vietnam Today: Addressing the Challenges to Sustainable Development," guided by professors Abigail Jahiel and Aaron Wilson, traveled to Vietnam in May 2018 as part of the Environmental Studies program's first run of its Signature Experience program.
The research trip and collaboration with students and faculty from Ho Chi Minh University of Natural Resources and Environment (HCMUNRE) was just the first step in the Signature Experience, a new-but-not-new University initiative to provide a holistic, culminating experience to serve as the capstone of an Illinois Wesleyan education. Students later enrolled in ENST 480: "Creating a Sustainable Society" in the fall, where they applied what they had learned in Vietnam, and continued collaboration with the HCMUNRE students and faculty, to address environmental problems in Vietnam related to sustainability and climate change, a major focus of Illinois Wesleyan's 2018-19 academic theme of "Changing Climates."
"The idea of a Signature Experience is that it is a culmination of students' work in Environmental Studies," Jahiel said. "And, as part of the new program, we have worked to adapt our curriculum so as to scaffold in skills and knowledge along the way."
Students interested in participating in the Vietnam travel course had to apply for a spot. Only Environmental Studies majors and minors were considered, and prerequisite courses included an introductory earth science systems course and an upper-level class on environment and development in Asia.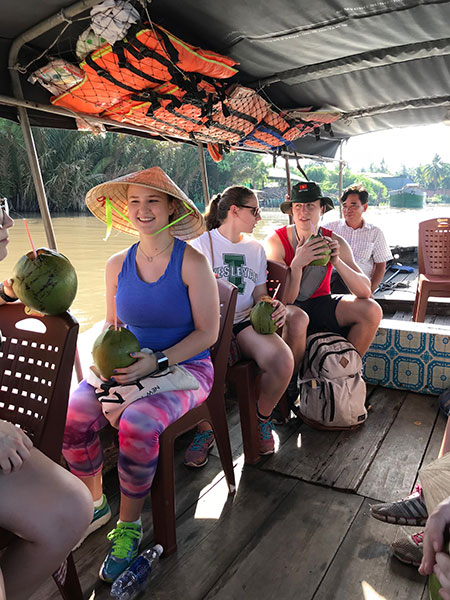 The eight students selected for the Signature Experience began their May Term with a weeklong survey of contemporary Vietnam. Jahiel and Wilson provided lectures on culture and geography. IWU Professor of History Tom Lutze, who teaches a course on the Vietnam wars, provided historical perspective. IWU student and Vietnam native Ngan Pham '19 offered an introduction to the language.
The classroom learning gave the group a baseline understanding of its destination and the challenges it faces with a changing political economy and a myriad of environmental issues.
"All I knew of Vietnam were things I had learned about the war. I had no idea what present-day Vietnam was going to look like," said Katherine Henebry '19. "As we talked about it, it became very clear that Vietnam is going through a lot of rough stuff."
The introductory lectures also allowed for some interdisciplinary learning with Jahiel, a social scientist by trade, and Wilson, a natural scientist.
"I think that ended up being one of the most rewarding parts of the Signature Experience, interacting with Abby and the way that we were able to share views that ended up overlapping in some interesting ways, but looking at things in different ways, from the lens of natural science and social science," Wilson said. "And I think the students also enjoyed that aspect."
A few days later, the Illinois Wesleyan group flew halfway around the world to Ho Chi Minh City, Vietnam's most populous city and cultural hub. The class went to work right away, spending its first week in Vietnam in environmental field study, investigating the impact of climate change on Ho Chi Minh City and the Mekong Delta region.
One of the group's first stops was the Can Gio Mangrove Forest, a reconstructed wetland habitat of great importance to Ho Chi Minh City as a buffer against the ravages of increasingly destructive tropical storms, exacerbated by climate change. Intentionally destroyed during the Vietnam War, successful efforts to rebuild the mangrove forest over the past 40 years have led to its designation as a biosphere reserve by UNESCO.
And the IWU group lent hands in the ongoing preservation of the protected area.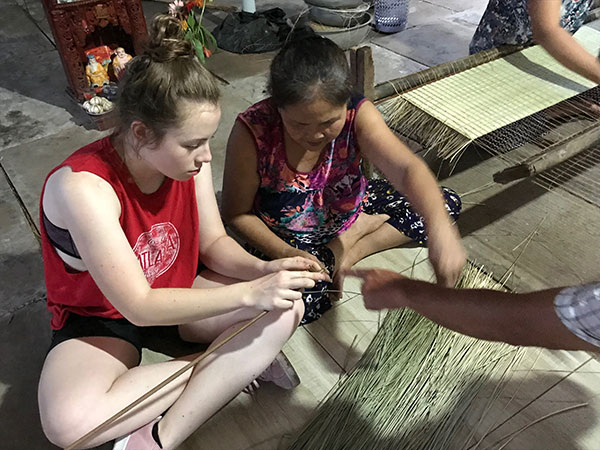 "We trudged into the muddy earth in the blazing sun, wearing rubber boots and carrying shovels, and each of us helped in the restoration efforts by planting trees ourselves," Jahiel said.
The group went on to visit a pair of environmental nongovernmental organizations: one focused on climate change, the other on reducing solid waste and promotion of recycling. They spent two days in the Mekong Delta learning about the impact of rising sea levels and the resulting soil salinization that has wreaked havoc on local farmers in a region responsible for half the country's rice production. A local government official later described to the group how severe saline intrusion destroyed crops and adversely affected the area's lucrative pomelo farming industry.
Visits to Vietnam War sites — the War Remnants Museum and the Cu Chi Tunnels — and the opportunity to speak with an 80-year-old woman who had fought against the Americans elicited emotional reactions from the group.
"It's crazy to think that it was just a couple generations ago," said Thomas Hillebrand '20. "And they're still suffering from a lot of the fallout of it."
An ensuing three-day homestay with a host family afforded students the opportunity to test their growing Vietnamese vocabularies and enjoy authentic local cuisine.
The hospitality shown to them was sometimes surprising, some students said.
"People thought that there might be bad feelings towards us, because we're Americans and the Vietnam War," Hillebrand said. "But they were very welcoming to us. They almost celebrated the fact that we were Americans. I kind of felt like a movie star."
An intensive week of collaboration with the HCMUNRE faculty and students followed. Broken up by sightseeing and shopping trips, and the viewing of a traditional water puppet show, students were treated to lectures on environmental challenges from HCMUNRE faculty and Ho Chi Minh City officials from the Department of Planning and Architecture, and Environmental Protection Agency.
The group visited the restoration of a major local canal channeling the Saigon River through the city, as well as a municipal water-pumping station that is the only major wastewater treatment facility serving the community of approximately 10 million residents. Students also visited a recently rebuilt Saigon district that houses many of the city's wealthiest residents — a proud symbol of progressive change but also a cause for concern due to the destruction of buffering wetlands during its construction — and spoke with government officials about the challenges they face brought on by rapidly developing industries lacking financial resources to address their environmental impact. They later visited a pig farm and a seafood-processing plant lauded by officials as models in their treatment of wastewater.
Finally, on a busy last day in Vietnam, the student groups from IWU and HCMUNRE joined forces to brainstorm ideas for their collaborative research projects, to be completed during the fall semester.
"The final week was getting to interact with HCMUNRE professors and learn about what issues the Vietnamese students and professors were interested in," Wilson said. "And then in one frenzied final day, we collaborated to come up with ideas for a project."
The Illinois Wesleyan students reconvened on campus two months later at the beginning of the fall semester, now as students enrolled in ENST 480: "Creating a Sustainable Society." Though they had returned home with passports stamped and a greater understanding of Vietnam achieved, their work was far from finished.
"Once we came back to IWU in the fall, the real work began," said Henebry.
After considering all project proposals, it was determined the issue students would tackle in their projects would be the negative impacts of transportation on Ho Chi Minh City. Students were tasked with providing proposals that would improve a current situation marred by pollution, congestion and flooded streets.
"Transportation is hugely problematic in terms of air pollution problems and health problems," said Jahiel. "Ninety-five percent of what you see on the streets, in terms of vehicles, are motorbikes. Our students were really struck by that, and the Vietnamese students had experienced it and recognized it as a major problem."
Students attacked the problem on multiple fronts. Some looked at public transportation. Others investigated the potential for electric motorbikes. Some took more scientific approaches, digging deep into the pollution problem or how climate change has aggravated transportation problems.
Students reported on their experiences of witnessing climate change in an on-campus presentation in September 2018, while continuing research for their proposals. Students and faculty from HCMUNRE later visited Illinois Wesleyan's campus in the first week of December. Presentations and proposals from students from both universities were made over the course of two days.
The presentations brought an end to an academic journey that had started much earlier for the Illinois Wesleyan students enrolled in ENST 480. Building on experiences gained throughout an Illinois Wesleyan education, the Signature Experience was truly a culmination of each student's journey.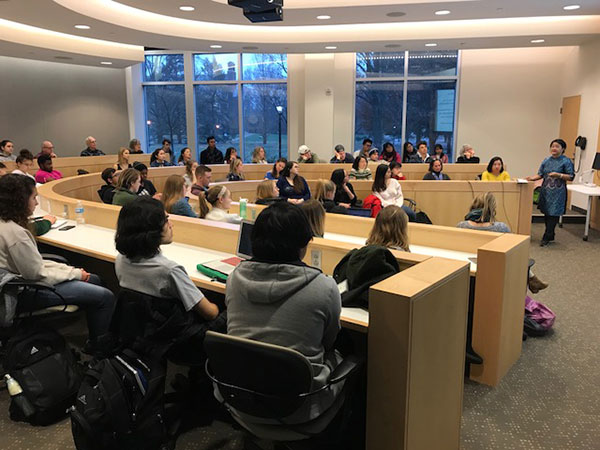 "I was really trying to step out of my comfort zone, and this trip definitely afforded me a great opportunity to do that," Hillebrand said. "It's one thing learning about different cultures from the comfort of a classroom or from a textbook, but it's a whole other thing actually being there."
The takeaways were many.
"A big part of what we learned is how we have the things that we have, how a war can just devastate an ecosystem, and how different cultures intersect and the interactions that come from that," Hillebrand said. "So, it was a really valuable experience."
Henebry couldn't help but agree.
"It was a really great experience and I wouldn't take it back for anything," she said. "How many people can say they've done research in a country across the world when they were 21?"
Henebry made sure to include her experience when applying to graduate schools over the winter months. But the experience was more than just a sentence to add to a resume.
"It has made me really proud to be an IWU student as well," she said. "It was definitely a Signature Experience. It capped off my time as an Environmental Studies major, and I will feel a lot more confident going out into the real world having had it."