IWU Introduces "Be Breakthrough" Branding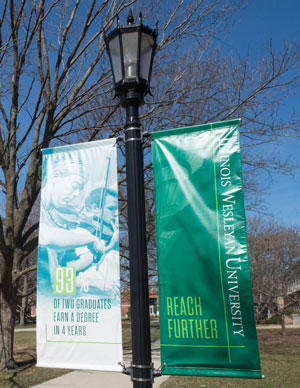 In an effort to tell the Illinois Wesleyan story in an authentic, flexible way that resonates with a new generation of prospective students, the University launched a new branding campaign in Fall 2017, which will serve as the foundation of enrollment and communication efforts.
The "Be Breakthrough" concept was conceived with consultation and feedback from current and prospective students, alumni, faculty, staff and trustees, who shared their perspectives about the Illinois Wesleyan experience. Graduates and members of the IWU community are seen to live the brand by "being breakthrough," surpassing self-imposed limits and expectations. Breakthrough stories may be shared through social media channels using the hashtag #IWUbreakthrough.
The "Breakthrough" brand is built around a core value proposition that "Illinois Wesleyan is a focused, academic community devoted to sparking the curiosity within every learner, so that students can discover, refine and live out their passion." Accompanying messages articulate three pillars of Illinois Wesleyan's strength: academic quality, rich experiences and a supportive environment.