The Talloires Declaration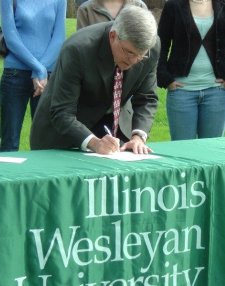 On April 13, 2007, President Richard Wilson signed the Talloires Declaration (pronounced Tal-WHAR), a ten-point action plan for incorporating environmental sustainability into higher education. Composed at an international conference in Talloires, France, it has been signed by over 300 college and university presidents worldwide. In the spring of 2006, the Sierra Student Coalition approached President Wilson to sign the Declaration, and they have since worked together to develop a plan outlining what the Talloires Declaration would mean for Illinois Wesleyan.
President Wilson will work with the GREENetwork, IWU's all-university committee on sustainability, to implement its goals over the next several years. As the first liberal arts university in Illinois to adopt the Talloires Declaration, IWU hopes to act as a model of the importance of sustainability in higher education.
For more information about the Talloires Declaration, visit its sponsor organization, University Leaders for a Sustainable Future.
To learn more about the potential role of the Talloires Declaration on the IWU campus, check out the document produced for the Talloires Declaration Open Forum, hosted in March of 2007 by President Wilson, Provost Cunningham and the Sierra Student Coalition.
All members of the University are encouraged to contribute their input on the Talloires Declaration. Please direct your comments, concerns and suggestions to President Wilson (president@iwu.edu), Provost Cunningham (provost@iwu.edu) or Leslie Morrison (lmorriso@iwu.edu), Sierra Student Coalition co-president.
The Talloires Declaration
1. Increase Awareness of Environmentally Sustainable Development
2. Create an Institutional Culture of Sustainability
3. Educate for Environmentally Responsible Citizenship
4. Foster Environmental Literacy For All
5. Practice Institutional Ecology
6. Involve All Stakeholders
7. Collaborate for Interdisciplinary Approaches
8. Enhance Capacity of Primary and Secondary Schools
9. Broaden Service and Outreach Nationally and Internationally
10. Maintain the Movement
Environmental Studies News