The English House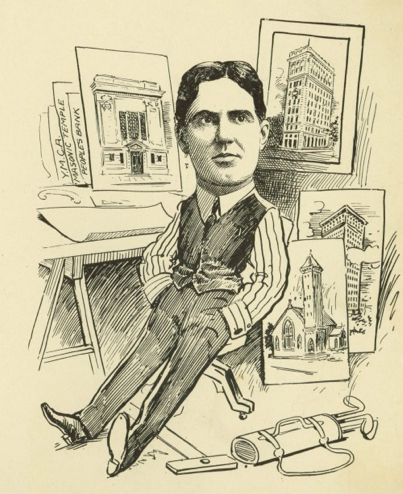 The English House, a 1911 red-brick Prairie Style residence designed and built by renowned Bloomington architect Arthur Pillsbury, has been home to the department since 1973—appropriate, since Pillsbury's daughter graduated from Illinois Wesleyan as an English major.
Pillsbury, who was born in Bloomington on November 29, 1869, attended Harvard University and graduated with the class of 1892. Five years later he would become one of the first architects to be licensed in the State of Illinois and Bloomington's first architect to have earned a college degree. His career got a boost when the Great Fire of 1900 decimated the city, razing 45 buildings and much of downtown. Along with local architects George Miller and Paul Moratz, he was tasked with redesigning and rebuilding the city. Pillsbury's elegant style was most in evidence on East Washington Street, the north side of which between Perrin and Mercer Avenues was nicknamed "Silk Stocking Row."
Pillsbury (pictured in a 1914 Pantagraph cartoon) also designed the Horatio Bent Elementary School just west of IWU's campus, and in addition to churches and businesses, he designed over 400 homes. Roughly 100 of them remain today, including the 1316 Washington St. boyhood home of former Illinois governor and Democratic nominee for President Adlai Stevenson II, and several buildings on the campus of IWU.
In 2010 Pillsbury was celebrated in an exhibit at the McLean County Museum of History, "A Passion for Detail: The Architectural Legacy of A.L. Pillsbury," and the following year the Old House Society featured the campus Pillsbury houses in an open-to-the-public tour titled "The Houses of Illinois Wesleyan." The oldest building on campus—Stevenson Hall—is a Pillsbury, as is the old Buck Library where some English classes are still taught.
People who took the Old House Society tour were impressed by the barrel ceilings in the downstairs hallway and former study of the English House, and by the single pocket door that separated the former dining and living rooms. Now the living room is the main office of the department, while the chair's office is the dining room. The copy machine is in a former second-floor bathroom, and all other rooms are now used as faculty offices.
The large wraparound porch, the office area, and the foot of the main staircase are popular places for students and faculty to chat, but the house, which was used by the art department before English took possession, does have a few quirks. Many a student have said goodbye to faculty and then gone down a short flight of stairs . . . into a bathroom. Or else, confounded by the main staircase and a smaller former servant's staircase next to it, stood in momentary confusion. But those are almost rites of passage, and the house continues to be part of the identity of English majors at IWU.