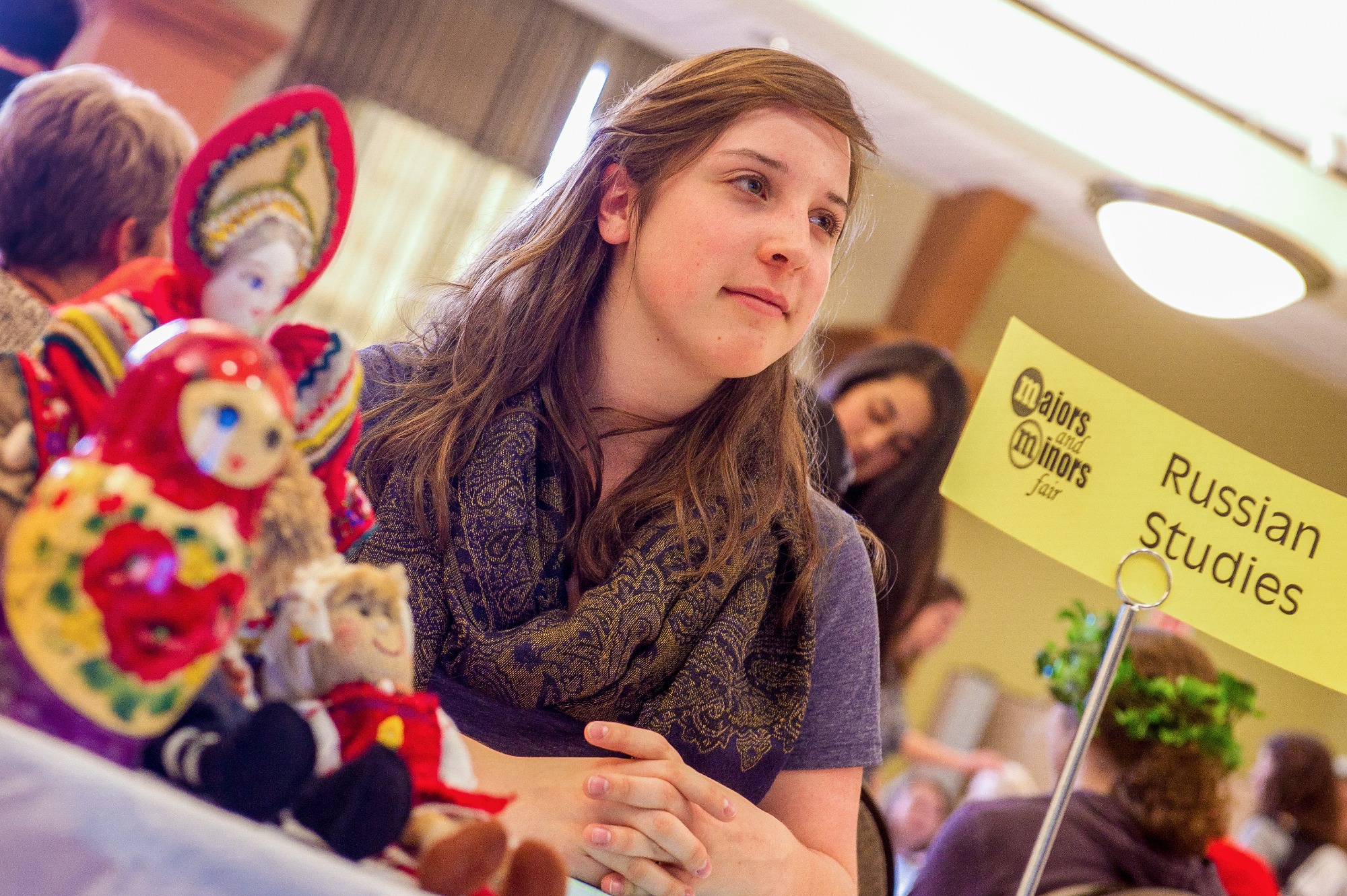 Student Research Spotlight
"Carving the Perfect Citizen: The Adventures of Italian Pinocchio in the Soviet Union and the United States"
Rachel Branson '14
For her honors project, Rachel followed the narrative transformation of the plot of The Adventures of Pinocchio by Carlo Collodi from text to film as well as cross-cultural modifications. The narrative maintained its basic structure and story in each version (Italian, English, Russian), while still including significant changes that make the tale relevant and important for the pertinent culture. 
Fairy tales at once confront prominent sociocultural issues while simultaneously performing a didactic function. In Pinocchio, each incarnation includes an ideological message, whether it's to be a moral and good little boy in the Italian text or in the American Walt Disney movie, or to be an ideal Soviet citizen, as depicted in the Russian text and film. 
Rachel received a Phi Beta Kappa Liberal Arts Scholar Award for her paper. She is a graduate teaching fellow and Ph.D. student in comparative literature at the University of Oregon. 
Student Research and Honors Projects
The University encourages qualified students to pursue projects of original research under the guidance of a faculty member. Students should discuss their interest in Research Honors with their academic advisor in order to determine whether they qualify.
Students may seek Research Honors in their major field (or in another field in which six course units will have been completed prior to beginning the Honors Project) provided that a cumulative grade average of at least 3.25 overall and 3.50 in the field in which honors are sought has been maintained.
A student's intention to attempt Honors Research must be declared to the Associate Provost by October 1 of the student's senior year. Independent study credit may be earned for work associated with the completion of an Honors Research project. The assent of a faculty member willing to serve as project advisor is required for participation.
A project hearing committee made up of faculty appointed with the consultation and consent of the student will review the completed project and determine whether or not honors shall be granted.
---
The Student Honors Papers collection represents exemplary work in English at Illinois Wesleyan University. The Ames Library is proud to archive many of these and other honors projects in Digital Commons @ IWU, the University's online archive of student, faculty and staff scholarship and creative activity.
Peace With No Thing
by Patrick Cavanaugh

In this short story cycle, concrete human experience orbits abstractions, specifically the ideas of violence, pain, and indifference. To the protagonists of these stories, these abstractions seem to be in control of their lives. Pain and violence are dense bodies that hold the protagonists in their orbit. They feel there is no escape from the cycles, that they are stuck in orbit around a painful existence that will forever steep them in misery. By demonstrating how these characters' stories are connected through webs of pain, I seek to help the reader understand cycles of violence.
Memory, Deconstructed and Reconstructed An Ontward Expression of an Inward Reality
by Jessica Rochford

Opening Paragraph
Lieux de Memoire, or "places of memory," are symbolic sites of national identity. Defined in Le Grand Robert de la langue franfaise, the term is attributed to French historian Pierre Nora. Nora has compiled two large project anthologies and several individual books of essays by various authors that identify and reflect upon symbolic sites of great national importance throughout France. Nora's various collections of work, span over "seven volumes, six thousand pages") and "more than one hundred and thirty authors" (Le Goff 118). The particular project of Nora's that I will focus on, titled Realms of Memory: The Construction of the French Past, includes: Volume 1: Conflicts and Divisions, Volume 2: Traditions, and Volume 3: Symbols. Here, I will examine and apply theories from Nora's third and final volume of this project, Symbols.
Those Who Trespass
by Emily Susina

No copy of this thesis is available.
A Schema-Theoretic Approach to Agreement and Disagreement in Literary Interpretation
by Amy Fairgrieve '12

In "Interpreting the Variorium," Stanley develops his theory of reader response, one which he had already begun articulating in "Literature in the Reader," into one capable of not only describing some of the processes of reading that contribute to meaning making, but also situating the individual reader within her wider surroundings. "Interpreting the Variorium" comes at the middle of a set of essays making up Fish's book Is There a Text in this Class?, and in many ways this essay marks a transition from Fish's concern with reader response, specifically the importance of time in the process of reading, to a concern with the social forces that affect reading and the power of those forces to influence the reading process as well as agreement and disagreement between readers.
Thy Father and Thy Mother
by Natalie Lalagos '12

A collection of poetry by Natalie Lalagos.
exercising with my demons
by Bryn Saunders '12

A collection of poetry by Bryn Saunders.
Rural Queen
by Amanda Williams '12

A collection of poems by Amanda Williams.
water burial
by Korey Williams '12

A collection of poems by Korey Williams.
The Dark Places of Psychology: Consciousness in Virginia Woolf's Major Novels
by Linda Martin

In a 1919 essay, Virginia Woolf wrote that "[f]or the moderns 'that,' the point of interest, lies very likely in the dark places of psychology." For Woolf, this assertion represented a career-long interest in the mind and consciousness; she made a project of describing and explaining the mystery of subjective experience in her fiction. In my paper, I argue that specific, turn-of-the-century psychologists' and scholars' theories of consciousness influenced and inspired Woolf to integrate their ideas into her fiction. Further, through an in-depth exploration of Woolf's middle fiction (Jacob's Room, Mrs. Dalloway, To the Lighthouse, and The Waves), I demonstrate that Woolf proactively interrogated consciousness theory in her novels, ultimately rejecting the reigning models and, in The Waves, forming her own unique conceptualization of consciousness. Finally, I critique Woolf's innovative theory in terms of contemporary, 21st century consciousness theory, concluding that Woolf's aesthetically-developed theory of consciousness, in fact, predicted and draws many similarities to current consciousness scholarship.
Only Dull Readers Escape: Framing Humor and Materiality in Stephen Crane's The Black Riders and other lines
by Andrew J. Dorkin

In this essay, I attempt to reorient the scholarship of Stephen Crane's first book of poems, The Black Riders and other lines (1895), towards understanding the text's affective purpose. I begin by illuminating the subtle but pervasive humor of The Black Riders, a critically underdeveloped, but nonetheless major, component of the reader's experience; too often, it seems, this humor is marginalized by the assumption that Crane's verse consists primarily of philosophical aphorisms meant to be taken seriously. After orienting my reader to the humor of the lines, I use Catherine Emmott's Contextual Frame Theory as a model for the way readers engage the text; this theory, as I have applied it, accounts for the way our interpretive processes are shaped by our own "contextual frames," which organize the information we receive from the text and the assumptions we make about it. Having established a frame of The Black Riders that recognizes its humor and, consequently, our own laughter response, I contend that we as readers will be primed to find ourselves directly subject to the condemnation of insensitive laughter contained in the text. The succeeding frame of The Black Riders as possessing both a subtle humor and a remarkable degree of reader interaction primes us to accept Jerome McGann's claim about the "typographical wit" in Crane's lines; this, in turn, establishes a new frame of typographical and material awareness that integrates the effects McGann has articulated and moves beyond them, ultimately incorporating another presentational feature, the original page turns.