Student Faculty Research
IWU biology students can explore new ideas and integrate biological knowledge while gaining experience with techniques in cutting-edge laboratory research.
Our students have excellent opportunities to conduct original independent research in the laboratory and in the field, working closely with faculty who have expertise in their respective fields.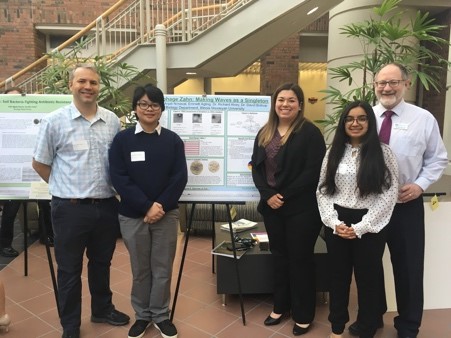 Undergraduate research is often the highlight of a student's learning experience.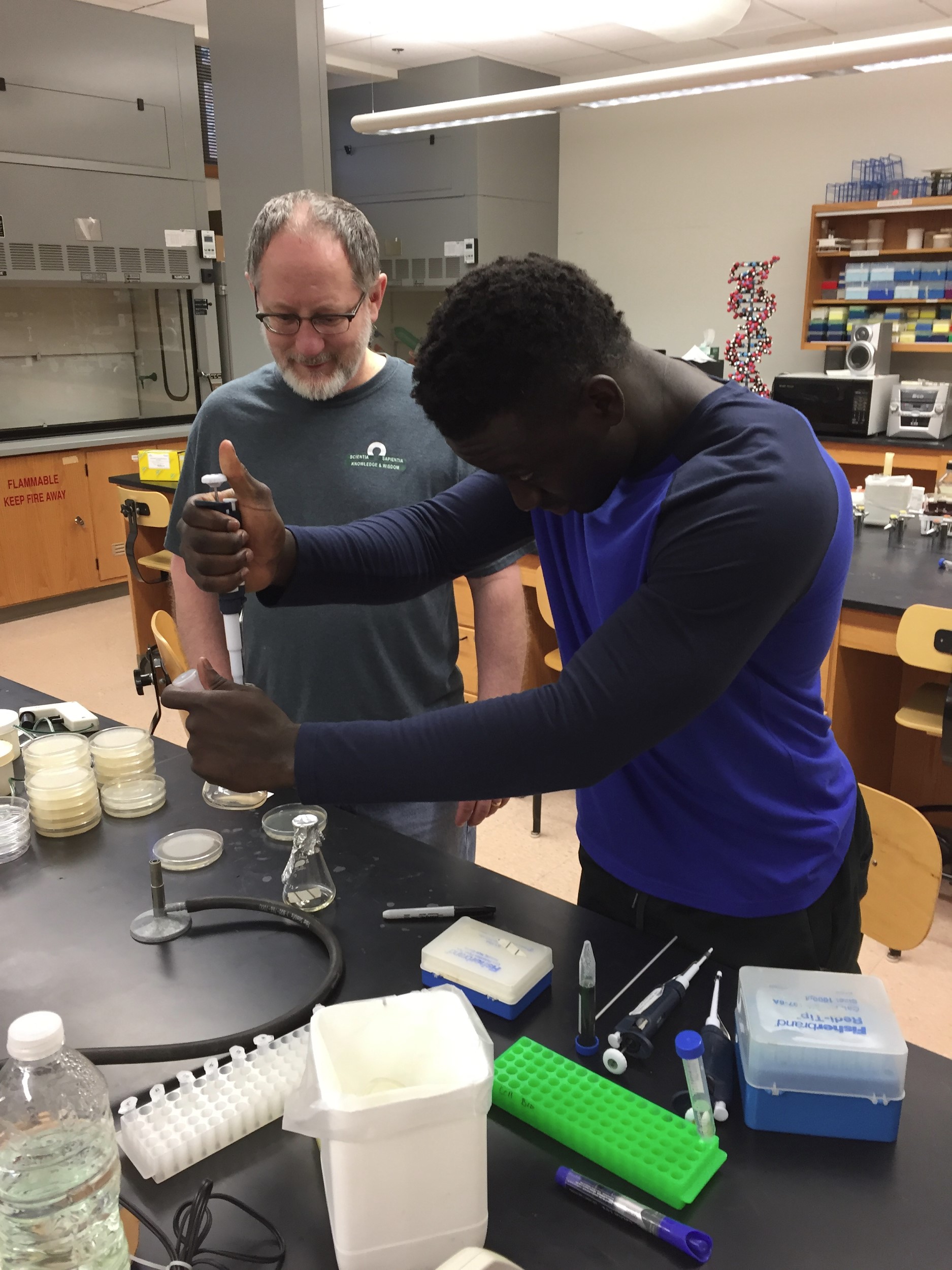 Benefits of Undergraduate Research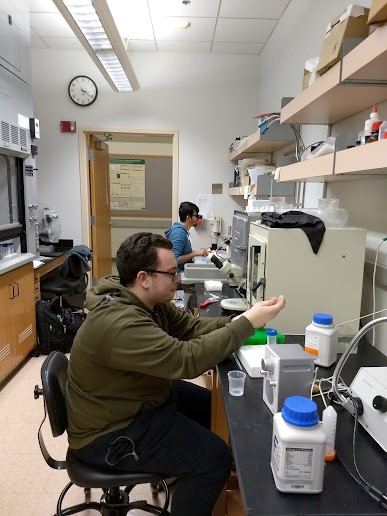 Research can be taken for course credit (BIOL 499)

Opportunity to receive research honors at graduation.

Develop skills that all employers seek, including critical thinking, problem solving, communication, collaboration and independence.

Acquire experience and general scientific skills that will be valuable whether you choose to pursue graduate study, health professions, or careers in industry.
Students can pursue research with faculty during the academic year and/or during the summer. We offer several internal funding resources for summer research including:
A sample of recent publications and presentations by IWU biology faculty and students. Names that have an underline are faculty members and those in bold are undergraduate students:
Straznickas, B., W.B. Jaeckle. 2017. Feeding on the unseen: Ingestion and assimilation of bacteriophages by Brachionus plicatilis (Rotifera). Integrative Biology 57(1): E163.
Bollivar, DW, Bernardoni B, Bockman MR, Miller BM, Delesalle VA, Krukonis GP, Cross MR, Szewczyk MM, Eppurath A, Russell DA, & Hatfull GF (2016): The complete genome sequence of 6 bacteriophages that infect Rhodobacter capsulatus. Genome Announcement. Published online 2016 May 26. doi: 10.1128/genomeA.00051-16
Oshiro, T. R., Ende, R. J., Beehler, B., Videau, P., and Loralyn M. Cozy "Dynamic regulation of cell division in differentiating heterocysts in Anabaena sp. strain PCC 7120." In preparation.
Rivers, O. S., Videau, P., Hurd, K. L., Ushijima, B., Oshiro, R. T., Ende, R. J., O'Hanlon S. and Loralyn M. Cozy (2016) "HetP and its Homologs Modulate Heterocyst Commitment in Anabaena sp. Strain PCC 7120." Proc Natl Acad Sci USA. 113(45): E6984–E6992
Murphy, J.P., M.T. Swanson, W.B. Jaeckle & R.G. Harper (2015): Corrosion casts: a novel application of a polyurethane resin (PU4ii) for visualizing eggshell pore morphology. The Auk: Ornithological Advances 132:206-211.
Bowers, E.K., A.White, A.Lang, L. Podgorski, C.F. Thompson, S.K. Sakaluk, W.B. Jaeckle, & R.G. Harper (2015): Eggshell porosity covaries with egg size among female House Wrens (Troglodytes aedon), but is unrelated to incubation onset and egg-laying order within clutches. Canadian Journal of Zoology 93:421-425.
Additional Summer Undergraduate Research Resources : exists outside of IWU to pursue off-campus research experiences. We have only listed several. The first one if a great general resource that lists lots of different programs.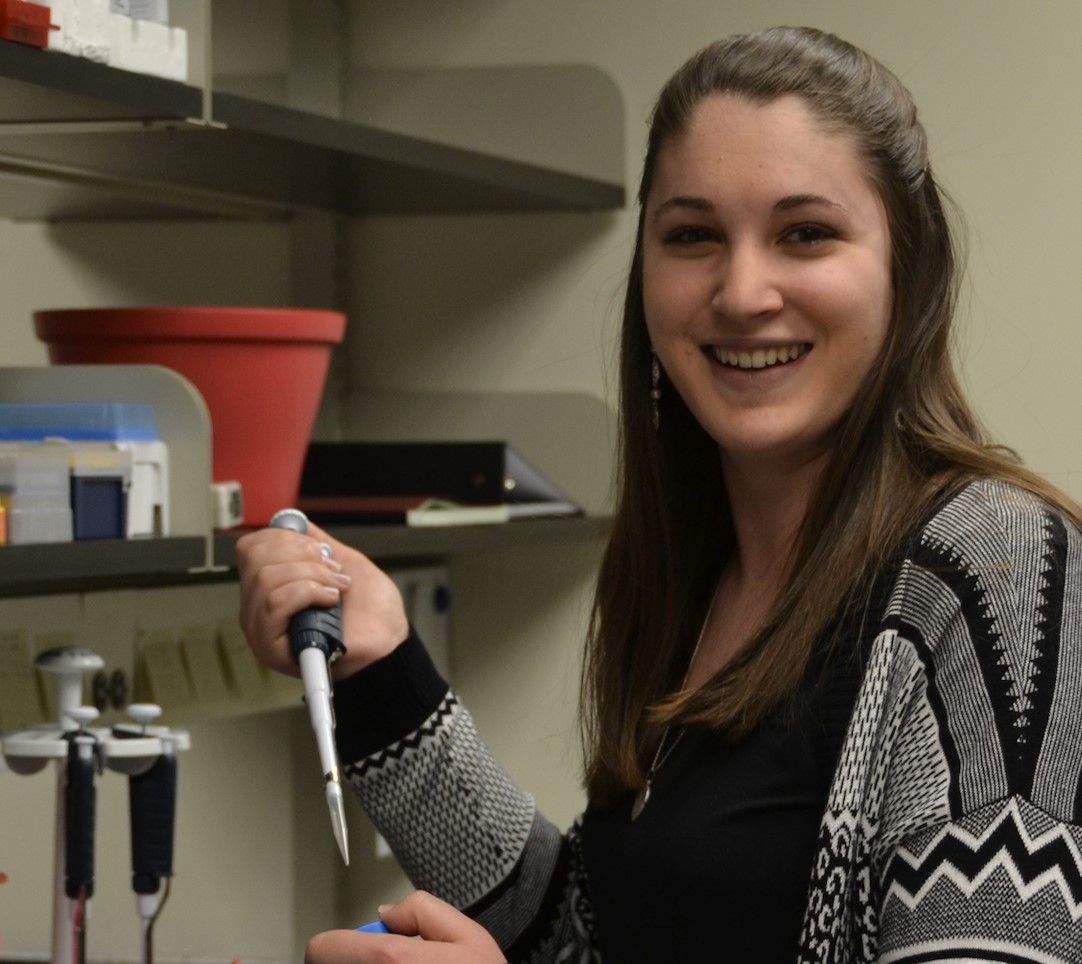 Simply put, I would not be where I am at today without the IWU Biology department. From day one I was constantly supported and encouraged, all while being presented with opportunities to grow as a scientist. From participating in SEA lab my freshman year to my two years of research in Dr. Cozy's lab, I was able to gain significant research experience throughout my time at IWU. The depth and quality of my research experience at IWU led to my acceptance to the University of Virginia where I am currently earning my PhD in Microbiology. I cannot say enough about the foundational knowledge that I gained at IWU; it allowed me to easily transition into and excel in my graduate coursework. However, all of this comes second to the faculty of the IWU Biology department. They made the time to get to know me not only as a student but as a person, and for that I will always be grateful."

- Rachel Ende '16