Criley Student Research Endowment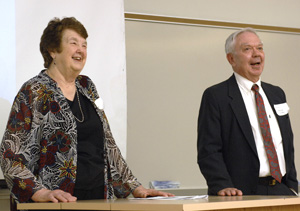 The Criley Endowment Fund supports a summer scholarship for student research in the field of biology. Alumni announced the creation of the fund at a symposium in honor of the Crileys in November 2008.
Keynote speaker at the symposium, Dr. Gregory A. Poland, director of the Mayo Vaccine Research Group in Minnesota and a 1977 Illinois Wesleyan graduate, summed up the esteem of those present in his address. "We, your students over more than the three decades, owe you both a debt of gratitude," said Greg. "You have inspired us. You demonstrated daily the skills of master teachers and professors."
The Crileys both taught at Illinois Wesleyan for 37 years and worked diligently on the biology curriculum and assisted students with medical school references. Bruce, chair of the Illinois Wesleyan University Biology Department from 1971 to 2002, was the George C. and Ella Beach Lewis Endowed Chair of Biology for 29 years and won the University's top teaching prize in 1985.
Founders of the Criley Endowment Fund hope to see it grow even more over the years, and create a lasting legacy to the professors who guided them. "You gave us the tools, the knowledge and the critical thinking and discernment skills that guaranteed our collective successes," said Greg.