SEP Interns Gain New Perspective on Careers and Community
August 3, 2018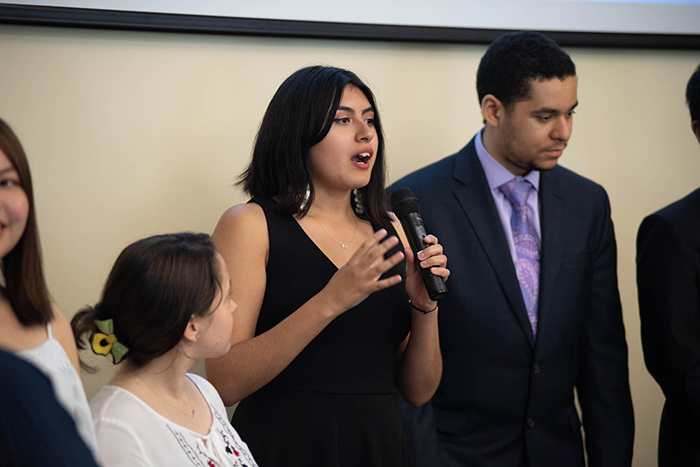 BLOOMINGTON, Ill. — This year's 12 participants in Illinois Wesleyan University's Summer Enrichment Program (SEP) took away valuable insights into themselves, their peers and their potential careers, upon graduating from the program during a ceremony held Thursday, Aug. 2.
Each year for the past two decades, a cohort of students from diverse, underrepresented backgrounds take part in the summer-long internship program at sites across the Bloomington-Normal area. Students develop hands-on experience in their field of study and explore themes of diversity in weekly group discussions and activities.
"I think the professional development is incredible," said Hanna Mesouani, assistant director of the Office of Diversity and Inclusion. "This is the first time a lot of the students have had eight-hour work days, so it's kind of cool for them to figure out their path. But, I think the most impactful thing about SEP is the way that individuals are navigating their own identity, but in a space that is encouraging of discomfort, encouraging of challenge, and encouraging of all of us to figure out each other as well."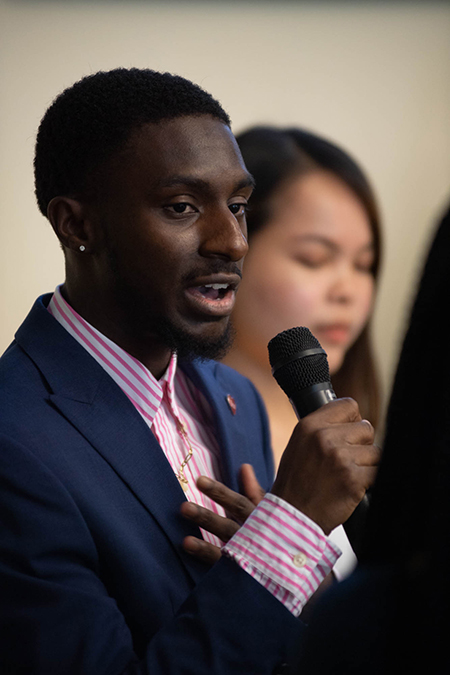 The program began at IWU more than 20 years ago as a means to provide minority students with meaningful work experience. It has since expanded to include international students, who made up nearly half of this year's cohort.
One international student, Theo Bantas '21 (Bucharest, Romania) found herself interning at the McLean County Law and Justice Center for Illinois JusticeCorps. As a member of the Illinois JusticeCorps team, Bantas helped patrons without the means to hire legal representation navigate the judicial system. Throughout her internship, she also made connections with attorneys, clerks, judges and other professionals in the field.
"Interning with JusticeCorps was the perfect first step for me in becoming more familiar with the legal field," said Bantas, a pre-law philosophy and political science double major.
While the chance to participate in a summer internship helped students like Bantas solidify their intended career paths, other experiences proved just as valuable in helping students discern which avenues to avoid.
"I had a great time at my internship, but being in a hospital is just not for me," explained psychology major Ivana Valencia '21 (Villa Park, Illinois), who interned at Advocate BroMenn Medical Center. Not only did Valencia spend time assisting nurses in her area of interest at the Mental Health Unit, but she also gained insight into the inner workings of a hospital as a whole by tackling various assignments in guest services, the emergency unit and other departments.
Through hours of providing comfort to anxious families or attending to the needs of patients, Valencia learned that a hospital is not her best fit, but she did discover a passion for engaging one-on-one with a wide range of people.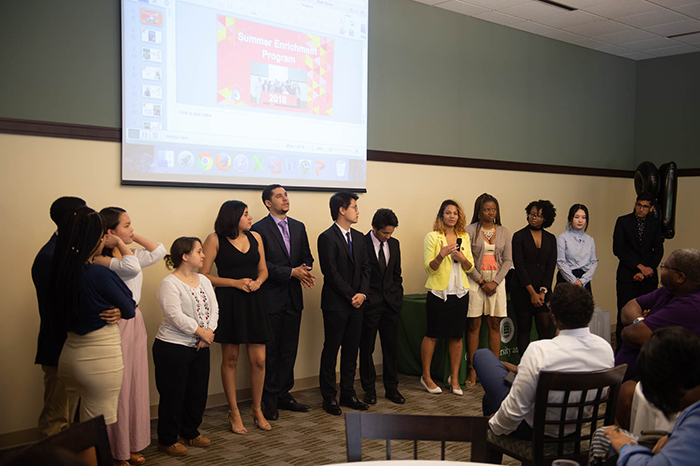 "I loved it, going to talk with patients," she said. "I love understanding a person and the events they've gone through during their life, how that has changed them and made them into the person I'm meeting right now."
Beyond professional experience, SEP aims to foster similar moments of self-discovery in its participants. During weekly Thursday meetings, guest presentations and bonding activities, the group explored their personal views on current social topics in a setting that promoted understanding and respect toward differing opinions.
"I think the personal development is incredible," Mesouani said. "I don't think there's any other opportunity in a classroom or outside a classroom to get this deep with a room full of strangers."
Valencia said joining the program was "the best decision" she has ever made in her life.
"It was fantastic. I learned so much about myself as well as the community I live in and how our generation is trying to create a new and better world," Valencia said. "Being a minority at the moment, it's difficult, especially in this climate. Not a lot of minorities get these opportunities. But with SEP, it brings these opportunities to amazing, smart, gifted students."
The SEP class of 2018 included:
Theodora Bantas '21, philosophy and political science double major, Bucharest, Romania
Davida Boron '20, psychology major, Country Club Hills, Illinois
Kaylan Boyd-Harris '19, business administration major, Calumet City, Illinois
Patrick Capalad '19, political science major, Chicago
Shaurya Gulia '19, finance and theatre arts double major, Kolkata, India
Quentin Jackson '21, French & Francophone Studies and international studies double major, New Orleans
Ziyan "Sevyn" Liu '19, computer science and physics double major, Beijing
Jinyu "Cathy" Peng '19, interdisciplinary education studies major, Nanchang City, China
Ngan Pham '19, biology major, Chicago
Shaela Phillips '21, philosophy and political science double major, New Orleans
Ivana Valencia '21, psychology major, Villa Park, Illinois
Robin Williams '21, design, technology and entrepreneurship major, Chicago
By Rachel McCarthy '21