Patterson to Direct Office of Diversity and Inclusion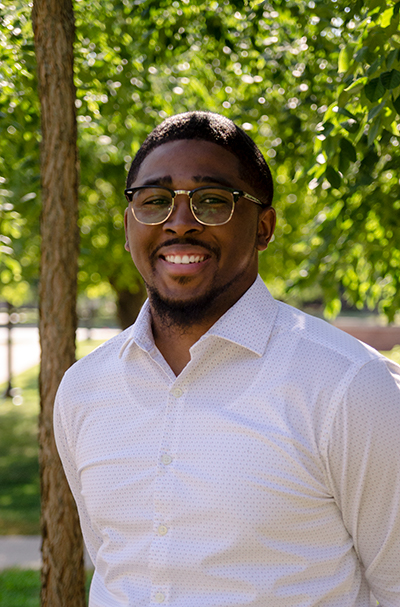 July 19, 2018
BLOOMINGTON, Ill. — Kwame Patterson has been named director of Illinois Wesleyan University's Office of Diversity and Inclusion (ODI), replacing Greta Franklin as she takes on a new role as director of the Office of Multicultural Student Affairs at Virginia Commonwealth University.
Patterson has served Illinois Wesleyan since fall 2017 as a residence director in the Office of Residential Life (ORL), a role in which he oversaw several first-year and themed residential halls, including Blackstock, Gulick, Kemp and Pfeiffer.
Patterson received a Bachelor of Science in health education from Eastern Illinois University, where he later earned a master's in science in college student affairs.
In his time at IWU, Patterson has managed projects relating to campus inclusiveness through his supervision of residential assistants (RAs), work with the Rainbow Floor in Pfeiffer, redesign of the Multicultural Educator position in ORL and responsibilities as co-advisor for the newly established Male of Color RSO.
As director of ODI, Patterson said he looks forward to continuing to lead initiatives that foster a greater inclusive environment in the campus community.
"I am especially excited about the opportunity to work with ODI's newest initiative, the Peer Mentoring Program," said Patterson. "Additionally, I hope to continue to make IWU a haven for students, faculty and staff to engage in conversation on topics centered around diversity and inclusion."
The Office of Diversity and Inclusion seeks to promote diversity that reflects the increasingly diverse and global society that students will encounter throughout their lives. By paying particular attention to the experiences and needs of underrepresented and marginalized students, ODI services student populations including but not limited to: multiracial, African American, Latino/a-Hispanic, Native American, Asian American, lesbian, bisexual, gay, queer (LBGQ), first-generation students, transgender non-conforming (TGNC) and women.


By Rachel McCarthy '21