Camardella '03 Pilots Harvard Curriculum in the Classroom
August 14, 2018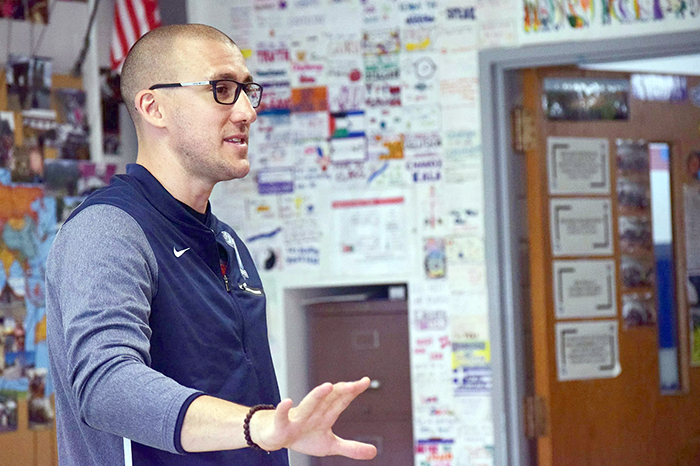 BLOOMINGTON, Ill. — Illinois Wesleyan University alum John Camardella '03 is piloting an innovative approach to teaching high school religion courses as an education fellow for Harvard Divinity School's Religious Literacy Project (RLP).
After encountering RLP founding director Diane Moore at a National Council for the Social Studies workshop to establish guidelines for public school religion classes, Camardella reinvented his curriculum at Prospect High School (Mount Prospect, Illinois). Rather than instructing his students to memorize a series of dogmas and rituals for every religion, he now encourages students to view religion with less absolutism and more awareness of the dynamic ways in which doctrine relates to modern-day culture and social change.
"The biggest thing I've noticed this semester — and this is my 16th semester of teaching religion — is that kids are walking out of the classroom feeling less like experts, but feeling more equipped with the skills to approach and engage with religion," Camardella told The Harvard Gazette in a recent article.
Students in Camardella's classes have the freedom to select and present on case studies that explore how a religious group applies millennia-old traditions to present-day concerns surrounding gender, climate change and social justice. By exploring their interests and realizing the various interpretations that exist within a single religion, students come away prepared to confidently engage with diverse populations in an informed, respectful manner.
Camardella strives to continuously expand his awareness of global issues by staying in dialogue with other cultures. In 2006, he attended the "Quest for Global Healing II: Inspiring Actions for World Renewal" conference in Bali, Indonesia, with a focus on working with diplomats, heads of state, religious leaders and activists to find peaceful solutions to international conflicts. The conference included presentations from three Nobel Peace Prize Laureates and a private reception from the Ubud Royal Family.
"My experience at IWU gave me all the tools I needed to enter the professional world prepared to take risks and handle difficult situations," Camardella said.
During his time at Illinois Wesleyan, Camardella was a four-year letterwinner on the men's basketball team. As a senior co-captain, he helped the Titans advance to the NCAA Division III Sweet 16, was named the team's "Most Valuable Player" and earned All-College Conference of Illinois and Wisconsin accolades. Camardella also served as president of Phi Gamma Delta.
Given the success of Camardella's approach to teaching religion, he will adopt the RLP method in his full-year curriculum and work with other teachers who are interested in implementing the method. The hope is that his work will inspire more colleagues in the future, similar to how his mentors from Illinois Wesleyan inspired him.
"I will forever be in debt to the faculty and staff at Illinois Wesleyan," Camardella said. "From those who taught me how to research, write and teach in the History and Education Departments, to the support I received from those in the Admissions Office and Career Center, to the memories I shared with those in the Athletics Department, the people at IWU played, and continue to play, a pivotal role in my life."
By Rachel McCarthy '21