Curtis C. Trout
Professor of the School of Theatre Arts
M.F.A., Western Illinois University; B.A., Western Illinois University
Curtis has been a faculty member at Illinois Wesleyan University since 1990. In December 2003, Curtis was promoted to Professor of Scene Design. He has taught courses in stagecraft, scene design, properties design and construction, lighting design, scene painting, History of Decor. He has accomplished seventy-six designs in scenery, lighting, costumes and sound for the University and an additional twenty-seven credited designs for professional venues since 1990. He has been a scene design member of United Scenic Artists since 1989. His academic designs for The Triumph of Love and an original play, Front, were recognized by the American College Theatre Festival.
Some of his professional design credits include: Greater Tuna for the Studio Arena Theatre in Buffalo, NY; Oklahoma and Man of LaMancha for the Candlewood Playhouse in Danbury, CT; Nutcracker and Beauty and the Beast for the Augusta Ballet in Augusta, GA; Die Fledermaus for the Tri-Cities Opera in Binghamton, NY; Christmas Carol and The Hardy Boys and a number of touring productions for the Lexington Children's Theatre in Lexington, KY; Music Man for the Lincoln Amphitheatre in Lincoln City, IN; and season residencies as the scene designer at Western Illinois University in Macomb, IL; and at Dartmouth College, in Hanover NH.
In 1998 Curtis joined The Edwards Design Group as an architectural designer where he designed a historically accurate interior for St. Patrick Catholic Church in Decatur, IL. His $1.3m design for the large, 1908 neo-Gothic church, included furniture, architectural detail, paint scheme, and an architectural lighting design, and was one of two chosen for the highest level of award at the Central Illinois Chapter of the American Institute of Architects (AIA) Biennial Design Awards. The design was recognized by the City of Decatur Historical and Sites Commission with an Award for Excellence in Architectural Restoration.
Curtis spent seasons as the resident scenic artist or properties artisan with such companies as: The Santa Fe Opera, Studio Arena Theatre, and Center Stage-the State Theatre of Maryland in Baltimore, MD. His proudest achievement is that his design and technical graduates move fluidly from IWU into internship and staff positions with professional organizations like: Santa Fe Opera, Utah Music Theatre, Center Stage, Williamstown Theatre Festival, Goodman Theatre, and the Berkshire Theatre Festival.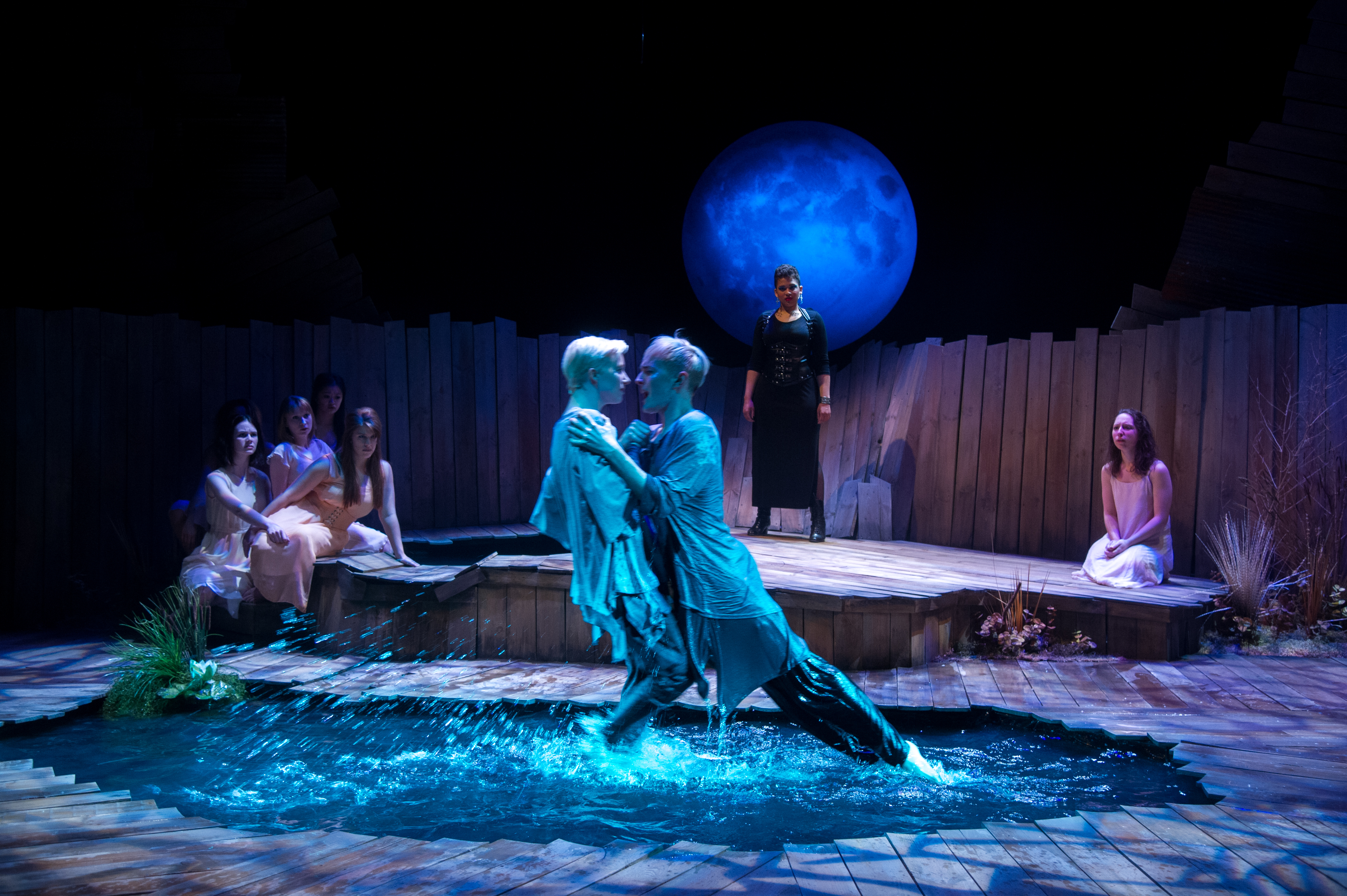 "12 Ophelias" Scenic Design, Fall 2014
School of Theatre Arts News