Hansen Student Center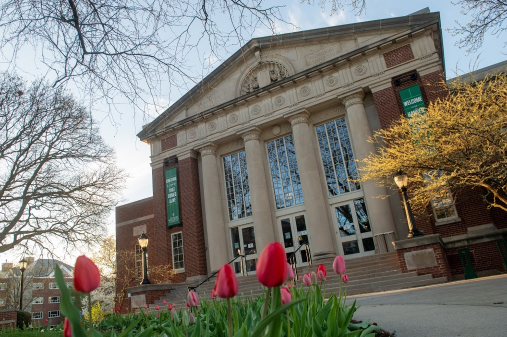 The Hansen Student Center was renovated in 2002 from the former IWU gymnasium and in the summer of 2012, the Hansen Student Center received some additional improvements with functionality, comfort, and ease in mind for students. These updates were funded by Student Senate. The Hansen Student Center provides IWU students, faculty, and staff the opportunity to live out the mission of the institution through programs, services, and staff support. The Office of Student Involvement is located in suite 110, while the Office of Diversity & Inclusion, Student Senate, Campus Activities Board offices are housed on the second floor. The Hansen Student Center facility includes several areas to relax, study, or meet up with friends. Most of these spaces can be reserved through the 25Live system. The Hansen Student Center also provides several services that include an information desk, the campus bookstore, Tommy's dining, event support/resources, and computer stations to check your email and print. On the navigation bar above, there are links that will direct you on how to best reserve a space in the Hansen Student Center.
Each year, hundreds of meetings and events happen within Hansen Student Center. These events are supported by the Hansen Crew and Desk staff. In order to provide the best event support, 25Live reservations should be made two weeks in advance with updated resource requests. Additionally, requests for space in the Hansen Student Center that overlap major university events (including but not limited to Homecoming, Family Weekend, Graduation, and Orientation) will be considered on a case by case basis at the discretion of the Office of Student Involvement. As certain events are more complex and require additional support, you may set up a meeting with the Office of Student Involvement at least two weeks in advance by calling 309-556-3555 or e-mailing getinvolved@iwu.edu.
Hansen Student Center Hours
When classes are in session during Fall & Spring Semesters:
Monday-Friday
Building 7:30 AM - 10:00 PM
Book Store: 9:00 AM - 5:00 PM
Tommy's: 5 PM - 10 PM
Saturday-Sunday
Building 10:00 AM - 10:00 PM
Book Store: 10:00 AM - 2:00 PM on Saturday Only
Hansen Student Center Summer Hours:
Monday-Friday
Building 7:30 AM - 4:00 PM
Book Store: 9:30 AM - 2 PM
Saturday-Sunday
Closed