Titan Pantry Opens to Fight Food Insecurity on Campus
January 28, 2022
BLOOMINGTON, Ill. — Illinois Wesleyan faculty, staff and students have come together to fight food insecurity on campus through the creation and promotion of the Titan Pantry Project.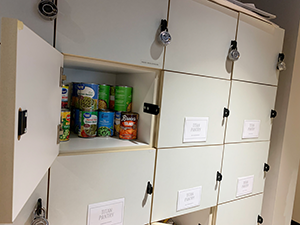 After soft-launching in December, the Titan Pantry is now open and located in the Hansen Student Center in the lockers by the information desk. Canned foods, snacks, quick meals and hygiene products are available. The project is based on the Little Free Pantry model where campus community members take what they need and leave what they can. The pantry is open to anyone who is a part of the IWU campus community.
The project is a collaboration between the JEDI (Justice, Equity, Diversity and Inclusion) staff group and Weir Fellowship recipient Viktoriya Salgalova '22. JEDI founder, Kristen Buhrmann, said the pantry serves as an immediate resource for Titans who are food insecure.
"The 'take what you need, leave what you can' model makes it so there are no barriers or judgment involved when folks need help the most," said Buhrmann. "While there are other longer-term solutions and services available to the IWU community to combat food insecurity, the Titan Pantry offers immediate assistance."
Statistics from the campus Counseling and Consultation Services show that 43 percent of students said they could not afford to eat balanced meals and 33 percent of students reduced or skipped meals due to a lack of funds.
Those statistics inspired Salgalova to take action.
"I know that there are food pantries in the Bloomington-Normal community that are available to IWU students, but these are not within walking distance, making it extremely difficult to access, especially during the winter," said Salgalova. "I think this is a topic that is often overlooked because of our meal plans, but you have to take into account that Sodexo does not operate over extended breaks. Many students are still on campus during this time and I want to ensure they can have access to food."
With the funding and support of the Weir Fellowship program, Salgalova is allocating supplies and assembling feedback and information about other resources on campus.
"I am grateful that I'll be able to utilize the Weir Fellowship to start up a project that I am hopeful will continue to thrive for years to come," said Salgalova.
Salgalova and the JEDI committee plan to distribute more promotional and resourceful materials during the spring semester.
The JEDI staff group includes 22 members whose goal is to educate and engage with various university offices to boost allyship on campus. The committee works to affect smaller-scale changes via grassroots efforts and information sharing. Past projects from the JEDI staff group include a coat and mitten drive in winter of 2021. A monthly staff newsletter is also shared, focusing on the importance of Diversity Equity & Inclusion in work and personal education and highlighting events with a DEI focus.
By Kailee Galloway '23