Evans and Shipley Honored with University Leadership Awards for Inclusive Excellence
April 9, 2021
BLOOMINGTON, Ill. — Maggie Evans and Chandra Shipley have been named 2021 recipients of the fourth annual Illinois Wesleyan University Leadership Awards for Inclusive Excellence.
The award recipients, announced virtually to campus on Friday, April 9, were nominated by members of the Illinois Wesleyan community, and selected by The University Council for Diversity (UCD).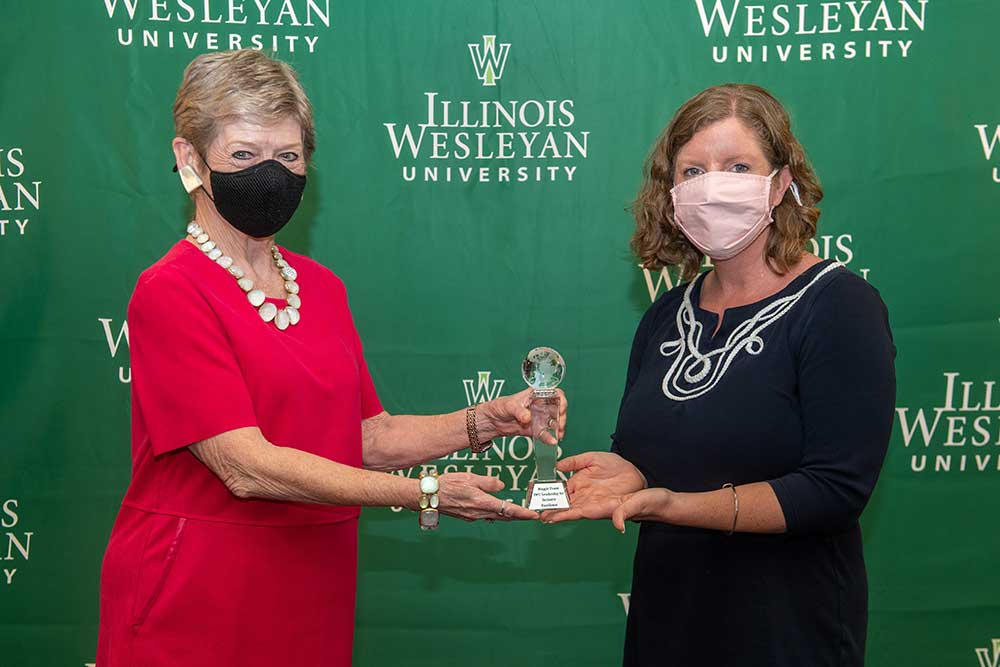 Maggie Evans
An Assistant Professor of Educational Studies, Evans's courses actively explore social justice in education with a broad definition of diversity including race, disability, sexual orientation and gender identity and socio-economic status.
In her role as a champion for inclusive excellence outside the classroom, Evans also advocates actively for inclusive practices, including recent advocacy for Illinois Wesleyan's COVID-19 grade forgiveness policy and for inclusive course evaluations. As an active collaborator with NEXTStem initiatives, she helps ensure access for women to STEM fields.
A faculty nominator wrote that Evans "demonstrates an extraordinary commitment to inclusive learning not only in her own classrooms, but also in the way that she prepares future teachers to navigate diverse classrooms and communities."
A student nominator wrote, "I attribute much of my understanding of the social justice inequalities experienced in our education system to her. Before my experience in (her class), I truly did not understand the inequalities that exist in the education system. In this class, (she) showed us what it means to be a teacher for social justice and why it is important for us to become teacher-advocates for students of diverse populations."
Evans began her career as a middle school teacher in Chicago Public Schools and worked as an adjunct professor at the University of Illinois at Chicago. She then returned to her hometown and alma mater, the University of Illinois Urbana-Champaign to complete her doctoral work, before joining Illinois Wesleyan's faculty.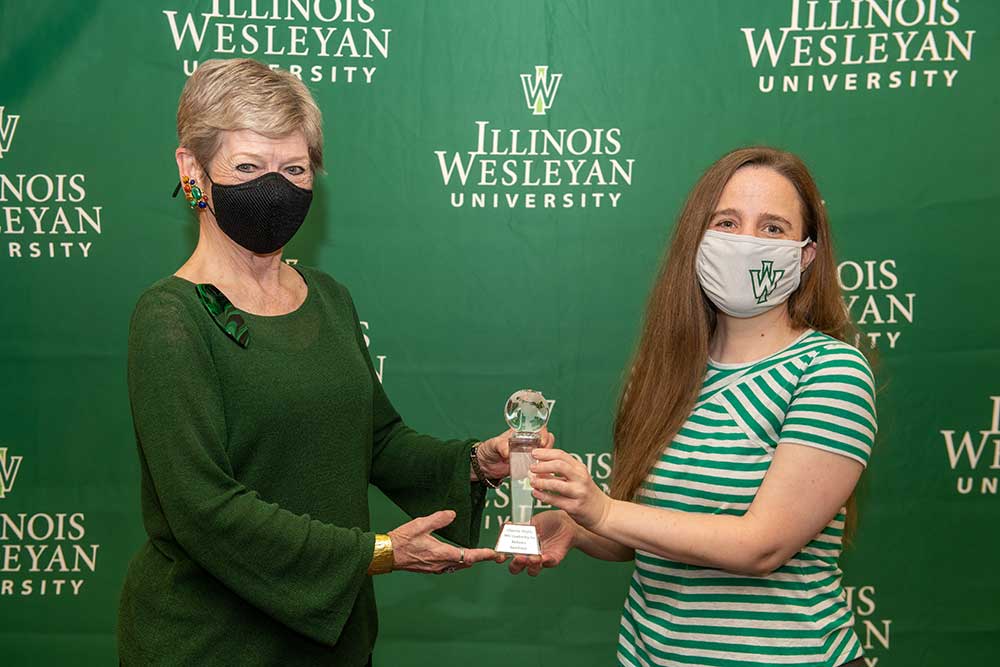 Chandra Shipley
Illinois Wesleyan's Director of Academic Advising and Student Accessibility Services, Shipley plays a leadership role in supporting students with disabilities, a growing and often overlooked part of diversity and inclusion. She ensures students have accommodations and the individualized support they need in order to be successful in their academic pursuits and personal growth.
A parent nominator wrote, "From the moment my daughter stepped on campus or we first talked to (the nominee) on the phone, she put my daughter at ease. She was there to support her and that was very evident. She never made my daughter feel like she was less of a student. Instead she encouraged her and showed her the support she needed to push on and reach those goals."
A student who supported the nomination said, "After talking to (Chandra) about how my accommodations would work with school, for the first time (in my educational journey) I felt like someone cared about me and my success."
Another student added, "Chandra is one of Wesleyan's finest employees. When I look back at my years at Wesleyan, I will always think about Chandra Shipley and her ability to pull me out of deep waters when I felt I was sinking."
Shipley is a tireless advocate and educator for students with disabilities, now about 10% of Illinois Wesleyan's student body. She joined the University in 2010 after serving as the assistant to the dean at the University of Illinois at Chicago. Shipley earned both a master's degree in college student personnel administration and a bachelor's degree in business administration from Illinois State University.
About the Leadership Award for Inclusive Excellence
The Leadership Award for Inclusive Excellence – presented to a faculty member and staff member annually – is intended to lift up the critical work of advocacy, education and community, as we strive to be a campus committed to social justice, equity, and inclusion.