Vora '19 Pursuing Patent for Sleep Study Invention
Feb. 8, 2019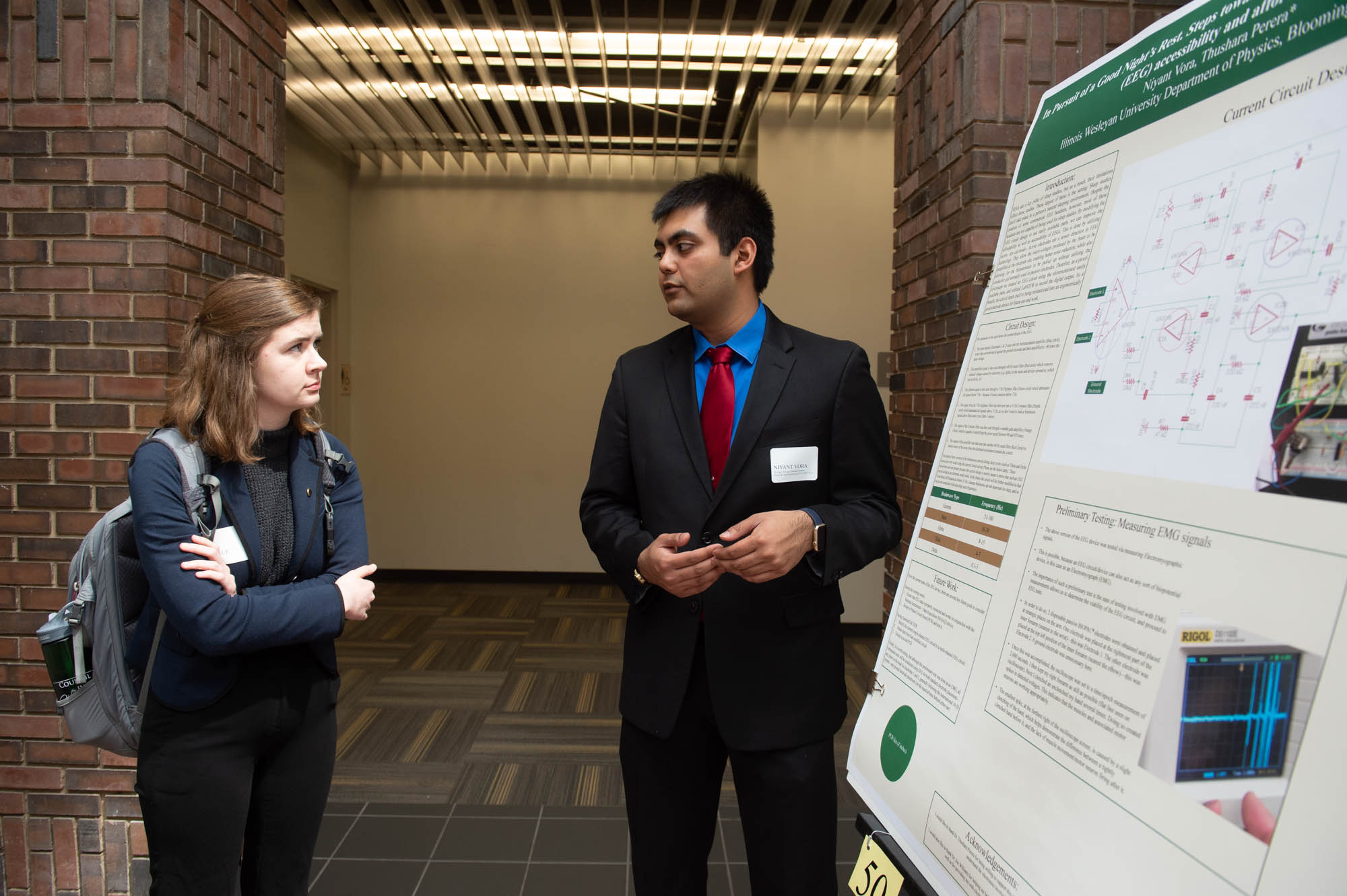 BLOOMINGTON, Ill. –– Add "inventor" to Illinois Wesleyan University senior biology major and Bloomington, Illinois native Niyant Vora's title.
Vora is spending his final semester as an undergraduate student working toward earning a patent for his invention of an in-home polysomnogram (PSG) device, which is a wireless version of the machine used by sleep centers to conduct detailed sleep studies. He hopes his PSG device will reduce the cost and stress that patients undergo when visiting a sleep center.
"I suddenly realized there was a big problem with the way we approach sleep studies," Vora said. "It's not that doctors haven't noticed it or that it hasn't been noted in research or anything, it's just that the only way people can do a sleep study is by going to a sleep center which involves taking three nights out of their time and spending thousands of dollars in insurance to do that. And, I thought, why can't we do it at home?"
Vora, who plans to attend medical school, needed guidance beyond his areas of academic focus as a biology major and German minor. He approached Associate Professor and Chair of Physics Thushara Perera, who agreed to serve as Vora's research advisor.
With Perera's guidance, Vora conducted a live demonstration of the PSG device prototype at the 2018 John Wesley Powell Research Conference. Vora's focus then began to shift toward the patent process. He discovered that at many universities, research projects undertaken in collaboration with faculty become school property. But, not at Illinois Wesleyan.
"It turns out that Wesleyan is really, really nice to their students and allows them to own the patent on things they create," Vora said. "Wesleyan's attitude is that if the student comes up with it, the student owns it."
Vora will soon begin the three-year patent application process and said if things continue as planned, he will soon have a provisional patent.
The inspiration for Vora's idea came from his grandfather who, in the early 1980s, suffered an unidentified brain trauma which led to an array of health complications, including narcolepsy, a condition which causes the person to randomly fall asleep.
"And so I was thinking, it would have been helpful if we could have known what was actually going on with him," Vora said. "So I thought, 'Let me see if I can do something about that, maybe help someone else who might be struggling.'"
Although he did not arrive at Illinois Wesleyan with the intention of developing a patent-worthy invention, Vora will graduate this May and enter medical school having already created something that could change the way sleep is studied – and the lives of the patients being studied – for years to come.
By Megan Baker '21