Ethics Bowl Team Competes at Nationals
March 1, 2019
BLOOMINGTON, Ill. — In preparation for competition at the Intercollegiate Ethics Bowl, the Illinois Wesleyan University Ethics Bowl team called upon alumni, friends of the University, faculty and staff to judge practice rounds leading up to Nationals, held March 2-3 in Baltimore.
Practice round judges included Don Knapp (McLean County State's Attorney), Andy Kriess '86 (IWU Director of Marketing), Puneet Leekha (Chestnut Health Systems Chief Operating Officer and General Counsel), Adriane Powell (IWU Director of Alumni Engagement), and Trevor Sierra '05 (McLean County Assistant State's Attorney).
"The judges were invaluable in simulating the Ethics Bowl experience," said team member Jared Schneider '22, an economics major. "The guest judges brought in their varied perspectives on the ethical issues and exposed dimensions of the cases that we might not have considered before, as they bring with them experience from multiple careers."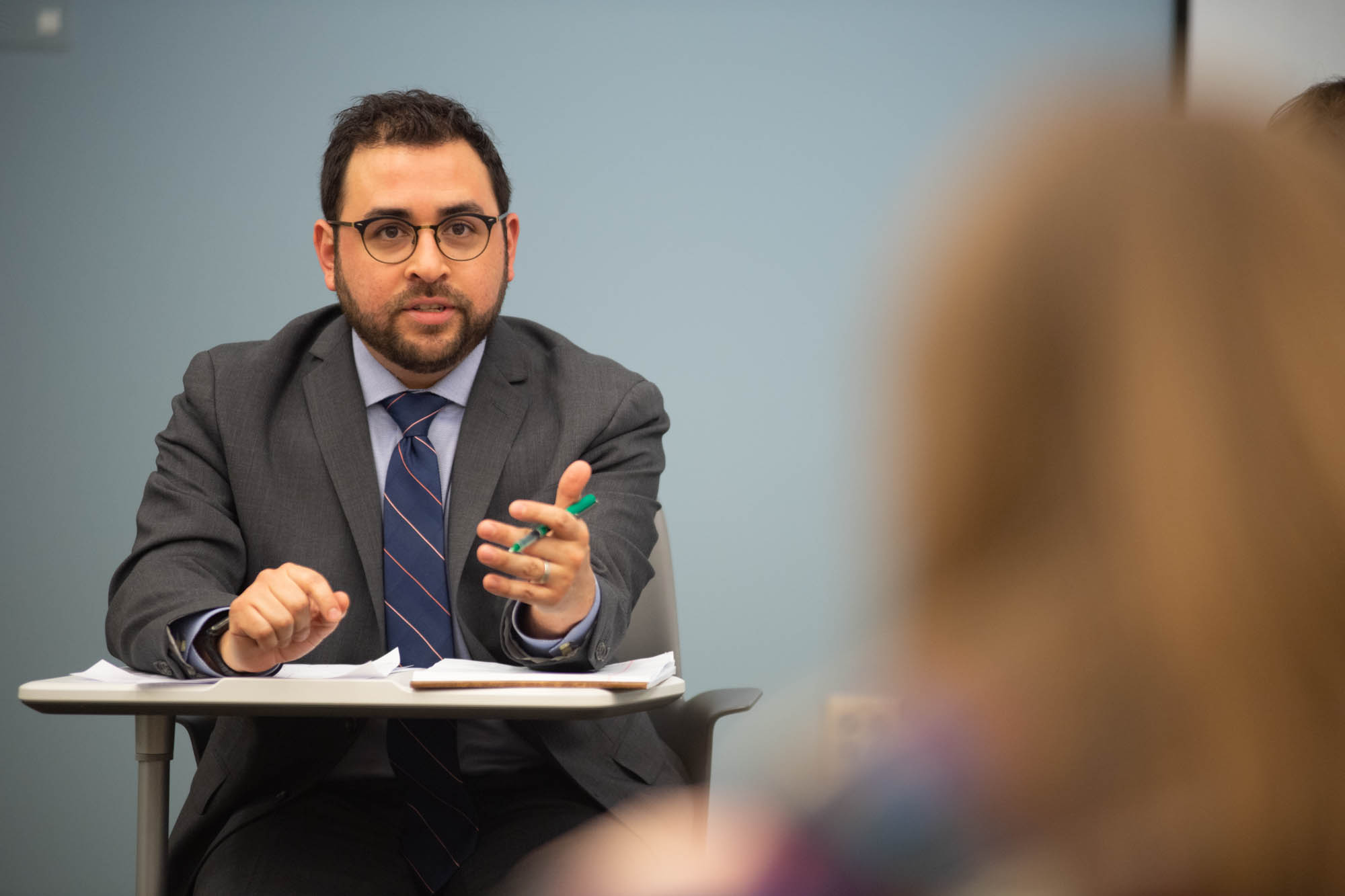 Assistant Professor of Philosophy Andrew Engen and Associate Professor of Philosophy Emily Kelahan '05 coordinated the series of practice rounds in which the team worked together to present arguments in response to various ethical questions.
"In addition to asking stimulating questions, our judges are people with whom our students can connect for professional guidance and mentorship," added Kelahan. "They give the students things to think about that I never could."
From real-world controversies in society ranging from gene editing to mass automation, Ethics Bowl cases are designed to prepare students for careers in law and other related fields. In preparation for Nationals, team members conducted extensive research into a series of cases which will be debated amongst 35 qualifying teams from across the U.S.
Illinois Wesleyan's Ethics Bowl team qualified for Nationals for the fourth time in the past seven years by placing fourth out of 32 teams at the Upper Midwest Regional competition on Nov. 17.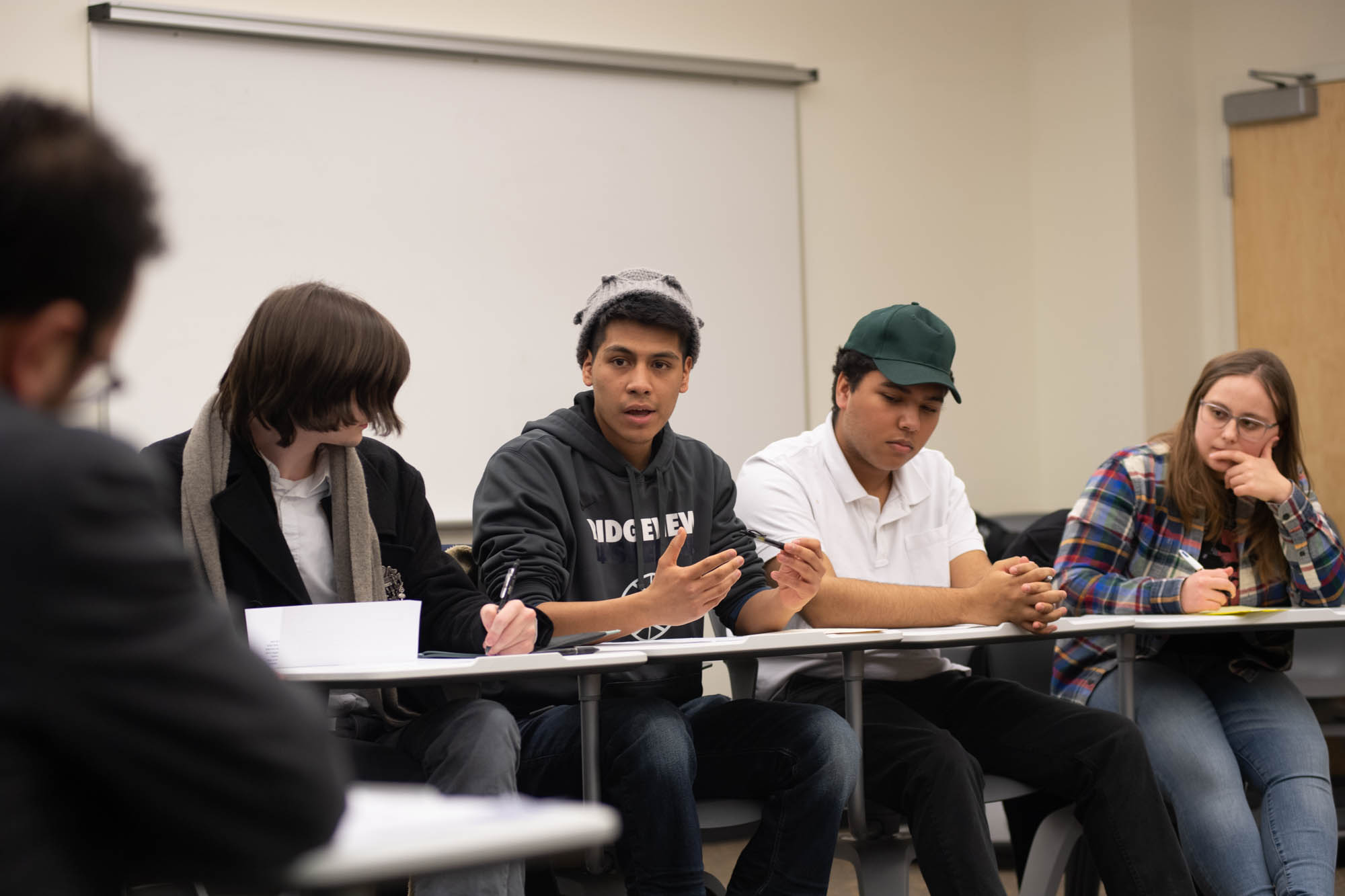 "Since this is Nationals, we're surely going to face some very good teams, but I think it's going to be enjoyable to work through the rounds as a team," Schneider said.
With five first-year students on Illinois Wesleyan's eight-student team, Kelahan said this is an exciting opportunity for the young squad to experience Nationals and learn from competing teams.
"I always enjoy seeing the other teams in action," Kelahan said. "Whether we win or lose, we always learn a lot from watching the way other teams perform."
"We all want to have a strong showing at Nationals and be competitive with all of the other accomplished teams who will be there to compete with us," Schneider added. "I'm looking forward to experiencing Nationals for the first time, as I think it will be valuable experience for the future."
Updated: Nationals Results
Illinois Wesleyan went 2-1-1 at Nationals. IWU tied Tufts University, lost to Oklahoma Christian University, and defeated both Seton Hall University and Cal Poly, San Luis Obispo.
The 2018-19 Ethics Bowl Team members include:
Allen Cook '22 (Springfield, Ill.), physics and political science double major
Matthew Galvan '22 (Los Angeles, Calif.) political science major
Emma Gray '21 (Urbana, Ill.) biochemistry major
Jonas Maes '22 (Redmond, Wash.), political science major
Kayley Rettberg '20 (Carol Stream, Ill.), political science major
Juan Rios-Narcisco '22 (Arrowsmith, Ill.), design, technology and entrepreneurship (DTE) and political science double major
Jared Schneider '22 (Lombard, Ill.), economics major
Adeline Schultz '20 (Bloomington, Ill.), philosophy major
By Rachel McCarthy '21