IWU Ethics Bowl
Interested in ethical problems? Enjoy discussing issues related to animal rights, law, medicine, foreign policy, work, free speech, gun control? Interested in a career in law, advocacy, or public policy? Join the IWU Ethics Bowl Team. The Intercollegiate Ethics Bowl (IEB) is a team competition that combines the excitement and fun of a competitive tournament with an innovative approach to education in practical and professional ethics. For more information, contact one of our coaches: Prof. Emily Kelahan (ekelahan@gmail.com) or Prof. Andy Engen (aengen@iwu.edu)!
Ethics Bowl Team Advances to Nationals
Nov. 30, 2022
BLOOMINGTON, Ill. ⁠— Illinois Wesleyan University's Ethics Bowl team will advance to the national competition in Portland, Oregon, after finishing second place at the Upper Midwest Regional Ethics Bowl competition on Nov. 12.
"The Ethics Bowl is an intercollegiate debate-style competition in which teams argue for positions on a number of contemporary moral and political issues," said Andy Engen, IWU Ethics Bowl faculty advisor, associate professor and chair of the philosophy department.
Colleges from Illinois, Michigan, Minnesota, Tennessee and Wisconsin competed in the regional competition which was held at Harper College in Palatine, Illinois.
Issues debated at the regional competition included the morality of zoos, content moderation and free speech on social media, as well as vaccine access for minors without parental consent.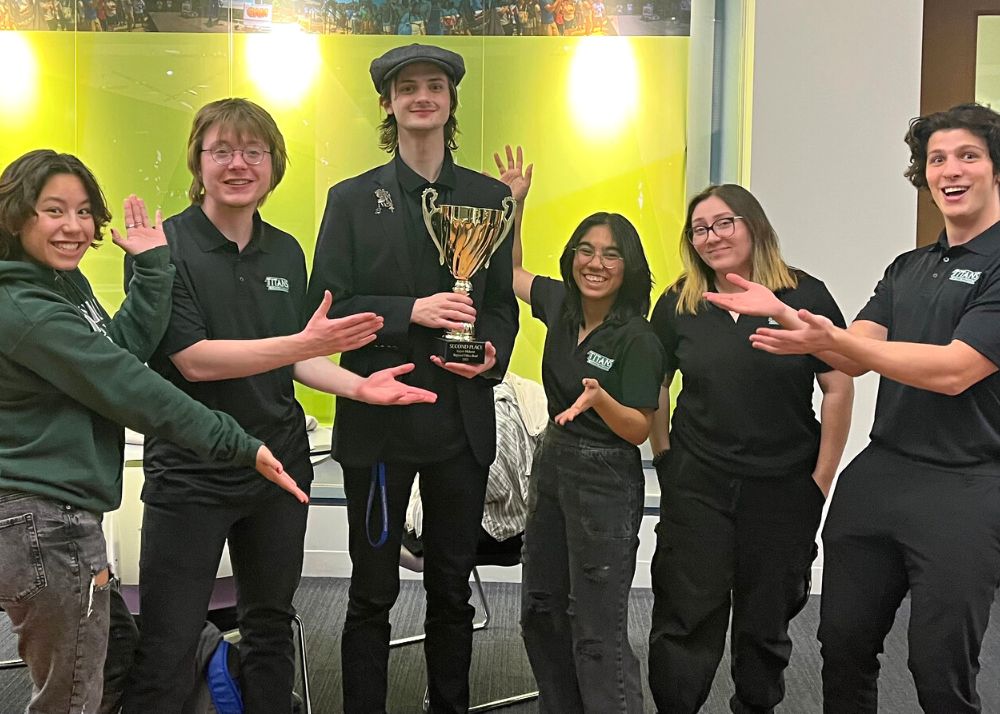 IWU Ethics Bowl team members are Jonas Maes '23, Hailey Meneses '24, Sage Shindler '24, Liam Kilian '25, MJ Soria '25 and Anjali Malali '26.
This year's team consists of students majoring in education, English, international studies, history, neuroscience, philosophy, political science, psychology and sociology. Students can register for an ethics bowl class at IWU; however, students who want to join the competitive team do not need to be in the class.
Junior team member Hailey Meneses said that while she has no prior experience with philosophy or ethics, "my teammates and professor Engen did an amazing job of teaching me so much this semester to prepare."
According to Meneses, the team has been practicing frequently and had tough competition at the regional. "We are proud that we were able to do well in the competition."
Ahead of the national competition March 4-5, 2023, the team will receive a new set of cases describing contemporary ethical issues.
"We will meet to brainstorm about the moral dimensions of the cases. Then students will do research on the details of the cases. Finally, we will go through mock debate rounds that simulate what will happen in the competition," Engen said.
A total of 36 teams across the nation advanced to the national competition. The top three teams at the Upper Midwest Regional Ethics Bowl competition were Macalester College, Illinois Wesleyan University and the University of Chicago.
By Maria Harmon '23
2018-19 Ethics Bowl Headed to Nationals
The IWU Ethics Bowl Team competed at the Upper Midwest Regional Ethics Bowl Tournament hosted by Illinois Institute of Technology in Chicago, on November 17, 2018. The team qualified for the Twenty-third Intercollegiate Ethics Bowl Competition in Baltimore, Maryland on Saturday and Sunday March 2-3, 2019.
This is the fourth IWU Ethics Bowl squad to qualify for the national tournament since the team was founded in 2011.
The team is coached by Philosophy Professors Emily Kelahan and Andrew Engen and supported by the Provost's Office.
2018-19 Ethics Bowl Team Members
Front row: Juan Rios-Narcisco '22, Jared Schneider'22, Matthew Galvan '22, Allen Cook '22
Second row: Kayley Rettberg '20, Emma Gray '21, Adeline Schultz '20, and Jonas Maes '22