Ethics Bowl Team Qualifies for Nationals
Nov. 27, 2018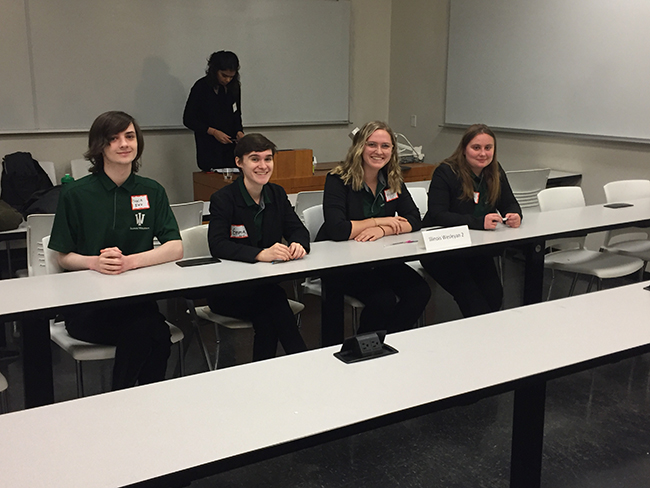 BLOOMINGTON, Ill. — For the fourth time in the past seven years, Illinois Wesleyan University's Ethics Bowl team qualified for Nationals by placing fourth out of 32 teams at the Upper Midwest Regional competition on Nov. 17 at the Illinois Institute of Technology in Chicago.
Illinois Wesleyan went 4-0 and earned 40,473 total points at the regional to top 28 contending schools, including Carleton College, DePauw University and Northwestern University. By finishing among the top-four teams, IWU earned a spot in this year's National Ethics Bowl, to be held March 2-3 at the Inner Harbor Hyatt Regency in Baltimore, hosted by the Association for Practical and Professional Ethics (APPE).
"I'm especially excited about Nationals this year because no member of our current team has ever made it this far," said Associate Professor of Philosophy Emily Kelahan '05, who serves as one of the team's faculty advisors. "They're all rookies. That makes us underdogs going into competition against more experienced teams."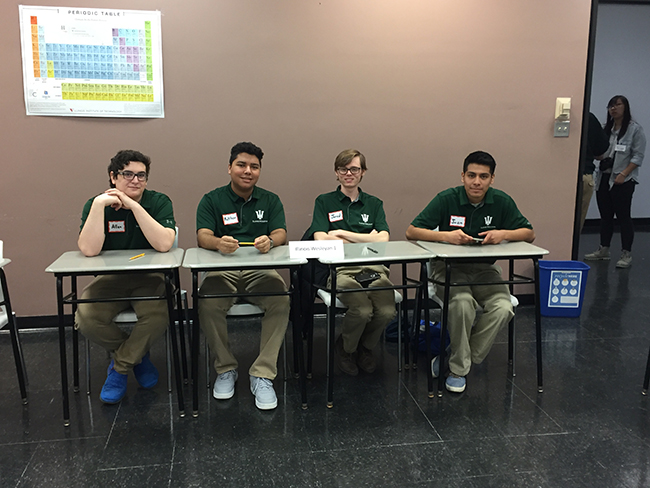 In several rounds of head-to-head debates, team members collaborate to present compelling arguments for a series of cases regarding current ethical concerns, and then rebut the opposing team's argument. Since the team was established in 2011, Illinois Wesleyan has qualified for Nationals in 2013, 2014, 2016, and now, in 2019.
The team's success this year is notable given that most of the members are first-year students, many of whom are exploring their passion for ethical debate through their First-Year Experience (FYE): Policy and Ethics Partners, taught by Assistant Professor of Philosophy and Ethics Bowl faculty sponsor Andrew Engen. With five first-year students on the eight-student team, Kelahan is eager to see how these young competitors will gain experience and develop in the coming years.
"Our team is resilient and self-aware," Kelahan said. "Each member has a good sense of his or her strengths and weakness as well as those of his or her teammates. They pick up each others' slack and set each other up to shine. They know how to take criticism in stride. They are tenacious and never rest on their laurels. Even after the competition ended, they spent the ride home vigorously debating the cases. They are a team, sharing successes and taking responsibility for disappointments as a unit."
The 2018-19 Ethics Bowl Team members include:
Allen Cook '22 (Springfield, Ill.), physics and political science double major
Matthew Galvan '22 (Los Angeles, Calif.) political science major
Emma Gray '21 (Urbana, Ill.) biochemistry major
Jonas Maes '22 (Redmond, Wash.), political science major
Kayley Rettberg '20 (Carol Stream, Ill.), political science major
Juan Rios-Narcisco '22 (Arrowsmith, Ill.), Design, Technology, and Entrepreneurship (DTE) and political science double major
Jared Schneider '22 (Lombard, Ill.), economics major
Adeline Schultz '20 (Bloomington, Ill.), philosophy major
By Rachel McCarthy '21