Coulter-Buford '12 Returns to Co-Choreograph "The Life"
Nov. 8, 2019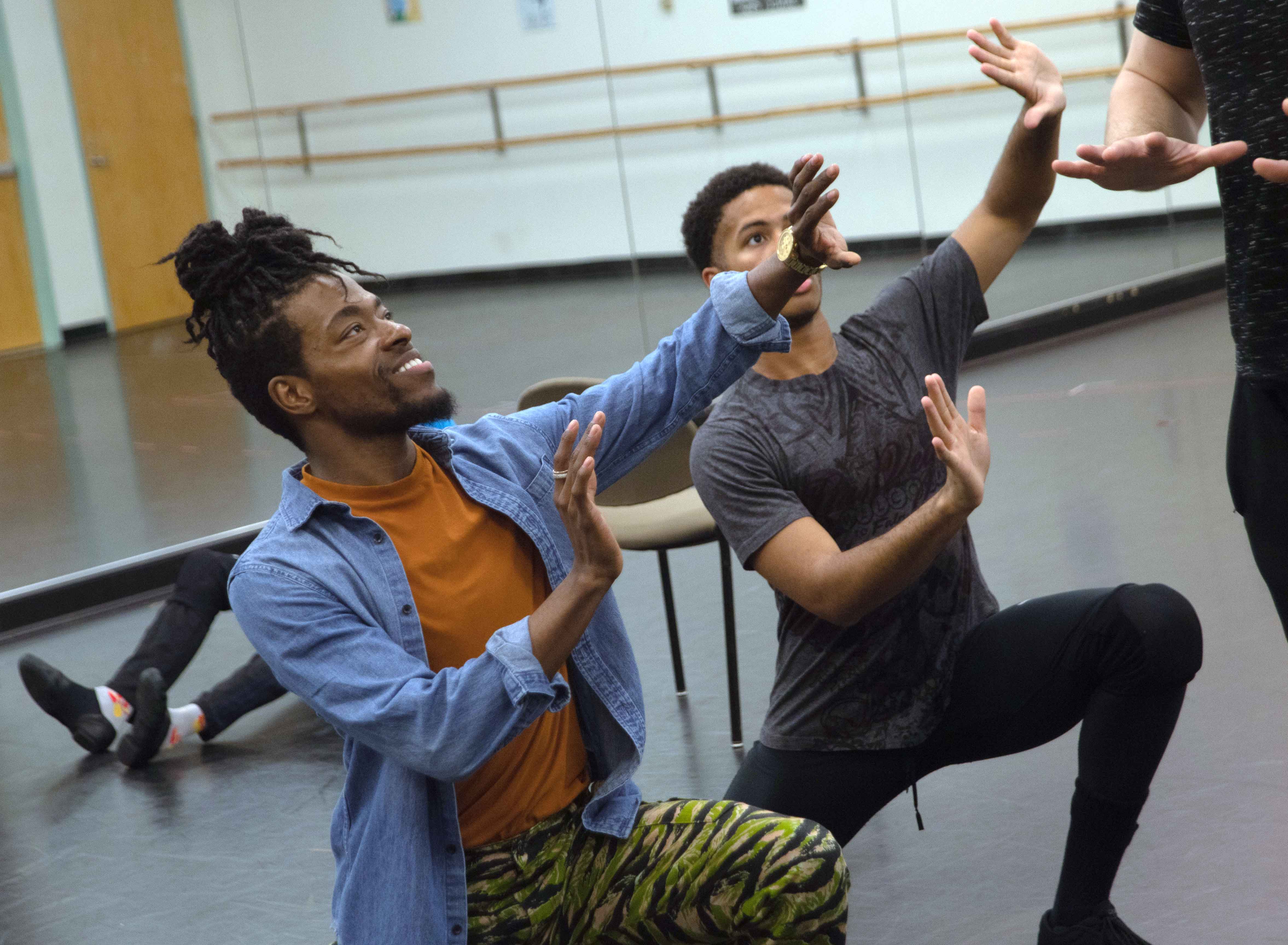 BLOOMINGTON, Ill. — Ian Coulter-Buford '12 is "an actor, performer, and choreographer," and he's "also a coach and a teacher."
Coulter-Buford returned to campus for a week in October from his professional career in New York City to coach, teach and mentor current students while co-choreographing Illinois Wesleyan's upcoming musical, The Life.
Coulter-Buford was originally introduced to The Life during his time at Illinois Wesleyan, in a music theatre history class taught by Associate Professor of Theatre Arts Scott Susong. The Life, which takes a gritty, dark and vibrant look at the inhabitants of 1980's Time Square, features emotionally revealing songs, with a jazz and pop-inflected score, a score which Coulter-Buford "fell in love with."
When the School of Theatre Arts (SOTA) announced the 2019-20 season of shows, Coulter-Buford contacted Susong, the show's director, and offered to help choreograph The Life.
"I was very bold, which I usually am, and I talked to Scott," Coulter-Buford said. "Initially you have to be bold and step out on faith and see what happens."
Susong embraced the opportunity for alumni assistance, and soon, Coulter-Buford was en route from NYC to Bloomington.
"It is very nostalgic, being back on campus. I feel very grateful and grounded. New York is very busy so this is a nice moment to breathe. I feel awesome to be here," Coulter-Buford said.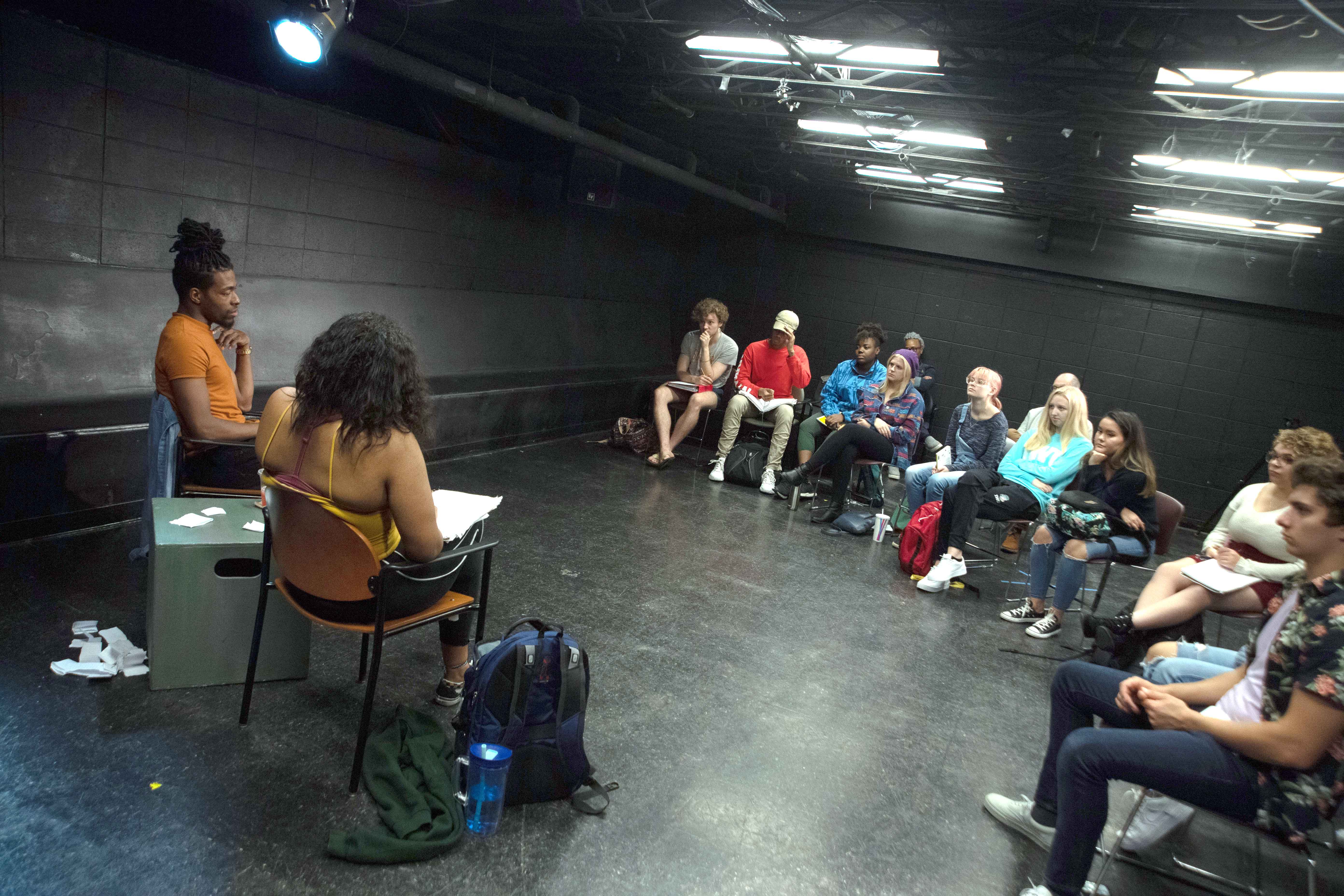 During his week on campus, Coulter-Buford collaborated with Susong and brought his choreographical "vision" to life. Working with SOTA students, Coulter-Buford began choreographing four musical numbers in the show. He also spoke with and mentored many students, including members of Illinois Wesleyan's multicultural theatre company, Shringara Theatre Co. Throughout his visit, Coulter-Buford was reminded of the talent and rigor of the music theatre program.
"I already had an expectation because I came from this program, and I know the training that goes into this program," Coulter-Buford said. "So I already knew the students were going to be fierce and amazing, and they are. They're really good."
Currently ranked top-10 in the country for musical theatre programs, Coulter-Buford noted the evolution of the program since his time as a student.
"People (in the theatre industry) know who Illinois Wesleyan is. People know exactly what they're in for, the work that they're in for, the talent they're in for, when you say you go to Illinois Wesleyan," he said.
Coulter-Buford, a Belleville, Illinois native, still recalls the inviting and inclusive feel of Illinois Wesleyan during his audition experience as a prospective student.
"Out of all the schools I auditioned for, it was the warmest experience that I had. They genuinely wanted to know more about you and where you are as a person, as an actor, as a performer," he said.
This feeling carried into Coulter-Buford's first week at Illinois Wesleyan as he connected with news classmates during the University's Pre-Orientation Program.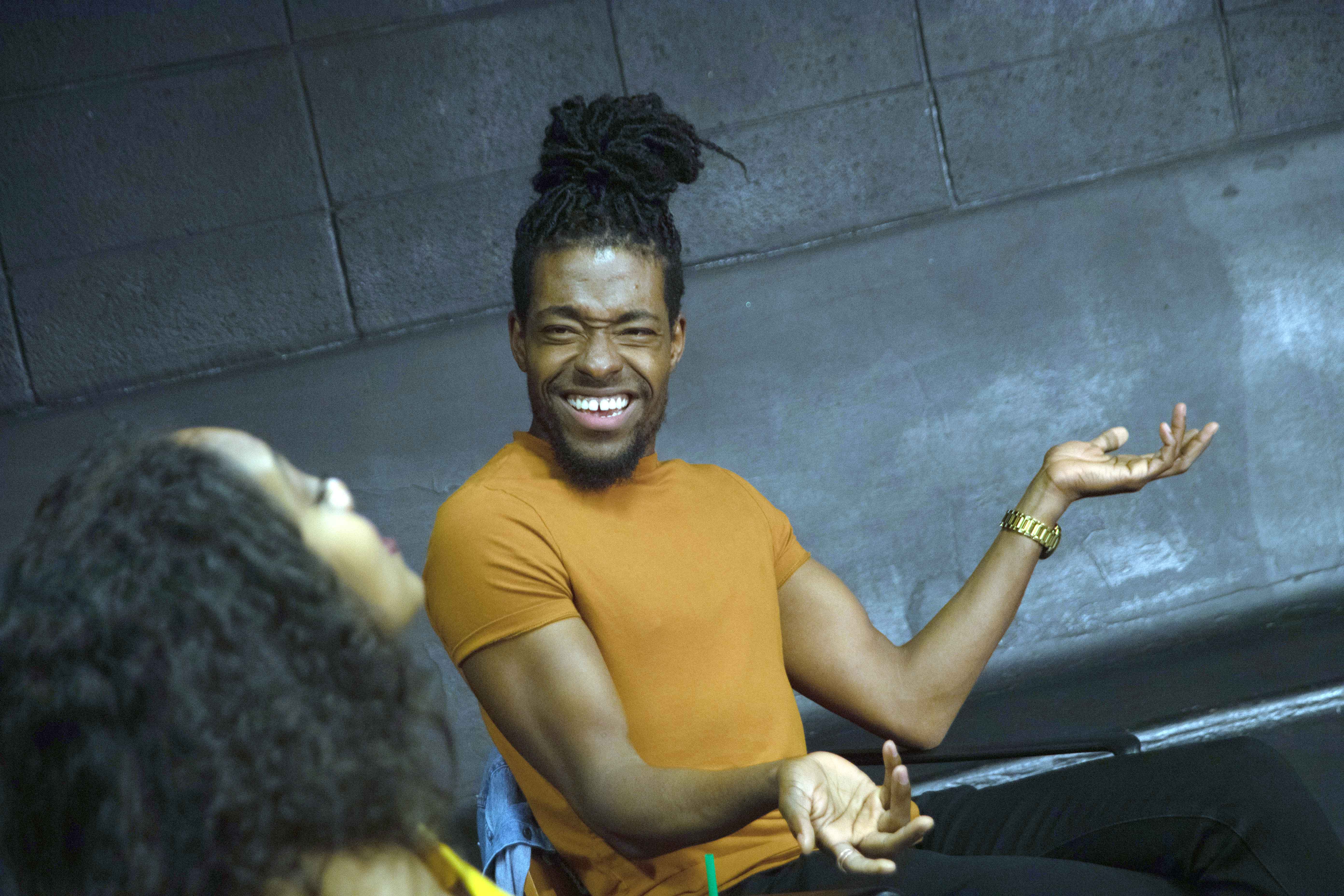 "It helped me already have a built-in network right when I started. It was nice to have people on campus that you identify with," he said. "And then going into the theatre department and having an even bigger network really broke the ice for me, so I'm very grateful to have had that experience."
Coulter-Buford said his theatre cohort of 12 students, some of whom he sees on trains and during auditions in New York, were –– and still are –– very supportive of each other.
"You're all in this together," he said. "You know that you have that network."
This network is one that strengthened over Coulter-Buford's four years at Illinois Wesleyan, as the support of his faculty, staff and peers allowed him to experience a "breakthrough moment" during his senior year. Coulter-Buford recalled experiencing this moment during a repertory class in which senior music theatre majors had the opportunity to sing for their peers and receive feedback.
"I sang and it felt right –– everything felt right. I kept on that feeling," he said.
During his return to campus nearly eight years later, Coulter-Buford told current students that as performers, it is important to "always be prepared first and foremost, and be confident in your choices. Be confident in your choices and intentions," he said.
But also, "always be nice."
"That's a big thing. I know that's very simple and basic, but word gets out fast especially in the industry, and if you're not nice, people will know," he said.
Coulter-Buford said he developed this simple skill throughout his time at Illinois Wesleyan. And, although he is primarily a performer and choreographer, Coulter-Buford said his theatre classes exposed him to all aspects of theatre, both on and off stage, allowing him to "work with an assortment of people."
"It makes you respect those jobs and the people who do them because even though I don't do those things anymore professionally, I know what it takes to do those things, and you're just a nicer person about it because you know. It gives you empathy to say 'I get it,'" he said.
Coulter-Buford said the classes outside of his major also helped him develop many important skills as an actor. He encouraged students to "dip their fingers in" as much as they can over the course of their four years and take a variety of classes.
"There's so many aspects of education that relate to life –– you can't tell a story on stage if you don't know anything about life," he said.
Through the classes and many skills students develop at IIllinois Wesleyan, Coulter-Buford said they become the best version of themselves as actors and performers, which is why the program is so unique.
"It's not cookie cutter. You're not going to come out sounding like anybody else –– it's particular to your experience, to your journey, and I think that Wesleyan does a great job of that," he said. "Putting all those things together, you become an amazing package of yourself."
Coulter-Buford reminded students to be the best versions of themselves in future auditions beyond their time at Illinois Wesleyan. He also encouraged them to use their strong network to support them in their journey post-graduation. Coulter-Buford said when he graduated, he reconnected with music theatre alumnus Kevin Schuering '09, who helped him during the transition from Bloomington to NYC.
"Any time I have current students or alums, I always ask if they need anything," Coulter-Buford said. "If you can get a leg up, why not? And, if I can be a service or a help, why not?"
Having this support system is important in the competitive musical theatre industry, according to Coulter-Buford. He said it is also important that students find happiness, and "find joy within the moments that aren't very joyful."
"There's going to be a lot of rejection in the industry –– you get no's all the time. But find those moments that bring you peace and joy. That's a big thing for me," he said.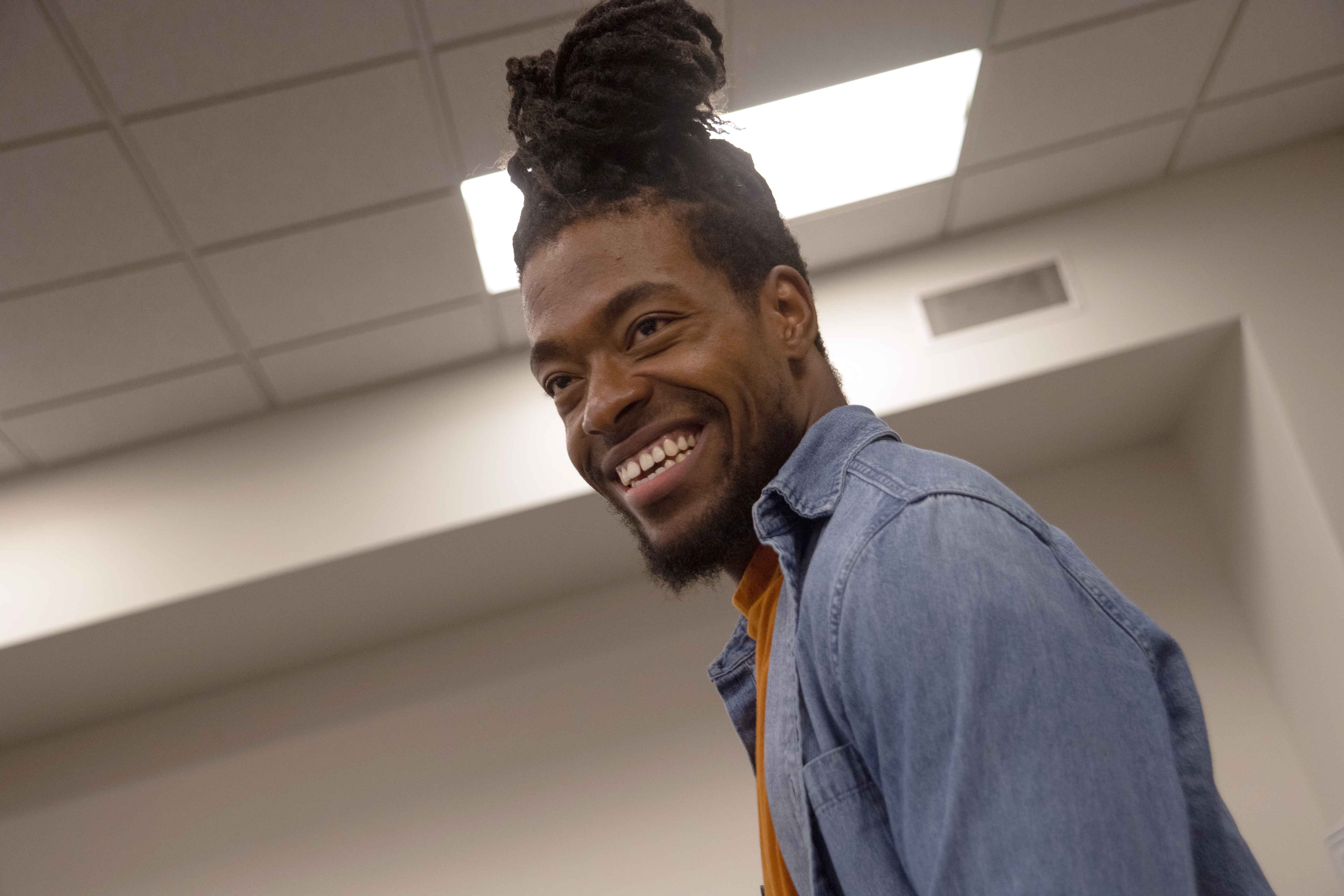 Coulter-Buford is proof that Illinois Wesleyan theatre arts students are equipped with the necessary tools to succeed in the theatre industry and find joy.
"You're going to make your strides, you're going to push forward and be great," Coulter-Buford told current students. "It's an honor to be able to instill that wisdom into the kids of SOTA and Illinois Wesleyan in general."
The Life runs Wednesday, Nov. 20, 2019 through Saturday, Nov. 23 at 7:30 p.m., with an afternoon performance on Sunday, Nov. 24 at 2 p.m., in the Jerome Mirza Theatre. Tickets are available for purchase beginning Monday, Nov. 11 at the Jerome Mirza Theatre Box Office located at 2 Ames Plaza East in Bloomington, or by calling the box office at (309) 556-3232.
The box office is open Monday through Friday 12:30 to 5 p.m. General admission is $12 on Wednesday, Thursday and Sunday, and $14 on Friday and Saturday. Tickets are $2 for students with a valid I.D., and seniors receive $1 off. This is a show intended for mature audiences due to its language and themes.
By Vi Kakares '20