Williams '18 to Serve in Peace Corps
Sept. 10, 2018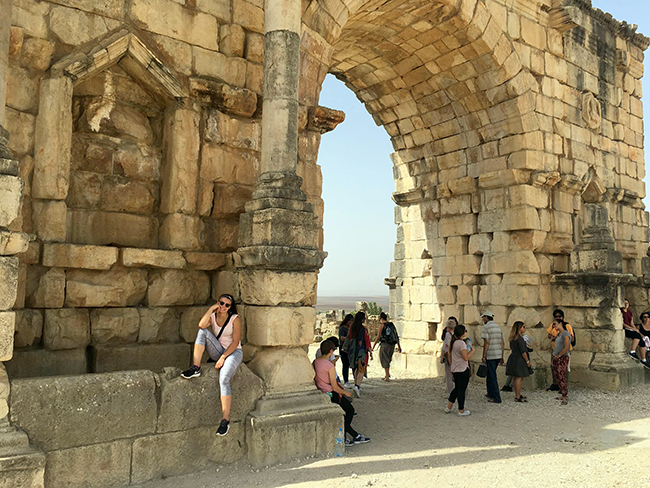 BLOOMINGTON, Ill. — Originally an education major who recently graduated with a degree in sociology, Shante Williams '18 said her time at Illinois Wesleyan University has come full circle, as she will "be going back into education," spending the next 27 months teaching English to students in Zambia as a member of the Peace Corps.
"I will be the first person to say this – I don't think that I would be going into the Peace Corps had it not been for Illinois Wesleyan," Williams said.
Spending a semester studying abroad in Amsterdam helped Williams identify her desire to serve in the Peace Corps. As a junior, Williams' three-and-a-half month sociology program in Amsterdam consisted of a two-week excursion to Morocco, where she discovered her "love for North Africa," and met with a Moroccan student, who shared his experience of growing up with a Peace Corps volunteer in his village.
"His volunteer was like family to him," Williams said. "He looked up to them and he's still in contact with that person, and I thought, 'That's what I want to do. I need to go into the Peace Corps.'"
When Williams returned to the U.S. and realized her time spent abroad was "too short," she decided to begin researching Peace Corps programs during the summer and began applying in December of 2017. After a two-month application process and 75-minute interview, Williams woke up to an acceptance email in February, granting her an invitation to serve in Zambia.
As part of the program which begins this fall, Williams will teach students for 12 hours per week. The rest of the time will be dedicated to community involvement, community development and connecting with the people in her village, "which I'm so excited for," she said. In addition to her two years of service, Williams will partake in a three-month training program where she will learn how to assimilate into the culture and begin learning a new language. Through these experiences, Williams said she hopes to broaden her global perspective.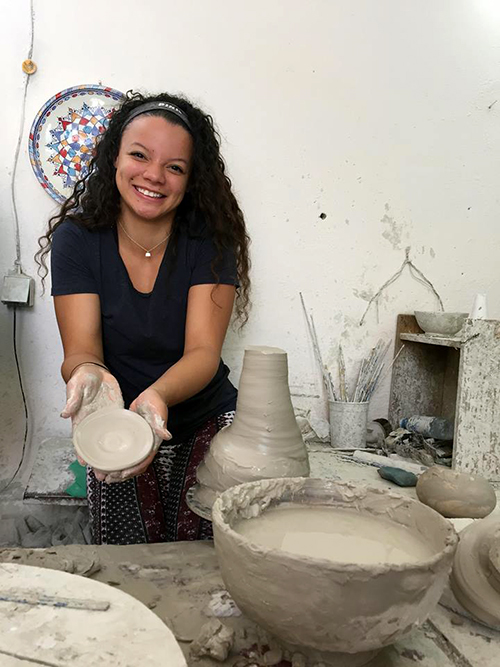 "I really want to immerse myself in another culture where they do things differently," Williams said. "Everybody has a different way of doing things, and there's no right or wrong way. I feel like the Peace Corps is really going to help me develop that perspective even more."
In addition to developing her own global perspective, Williams hopes to "leave a lasting impact" and change the lives of her students, similar to how her professors at IWU have changed her life. Williams said it was two professors in particular – Professor of Business Administration Rob Kearney and Associate Professor and Chair of Sociology and Anthropology Meghan Burke – "who taught me to be who I am today as a student and as a well-rounded person."
"Professor Kearney really taught me what it means to be a student, and Professor Burke taught me what it means to question and think about things," Williams said.
In addition to her professors, Williams said it is "IWU as an institution – the resources, the amazing study abroad office and being surrounded by peers that also want to do well and succeed," that have contributed to her success.
"I know more people this year who are thinking about going to the Peace Corps than I've ever even heard of, which is something that is really cool and special to this institution," she said.
Williams hopes to embody the qualities she has learned from her peers and professors at Illinois Wesleyan in her own classroom in Zambia, especially the quality of respect.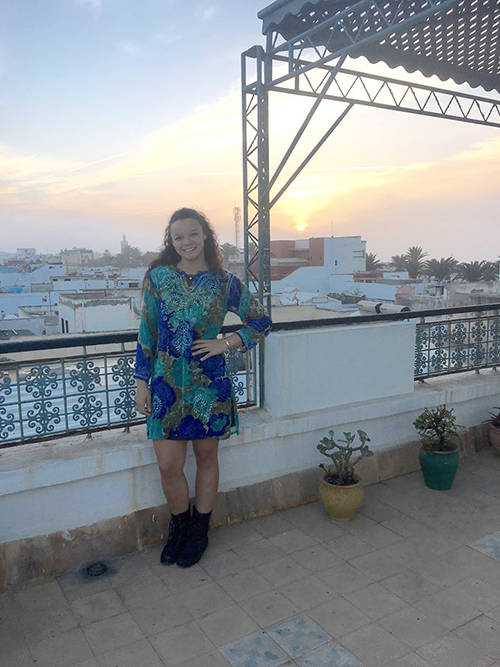 "The one thing I would like is that in my classroom, everything is open for discussion and that we all respect each other's perspectives," Williams said. "We all come to a conclusion for different reasons – I have an experience that is different than yours that would lead me to a conclusion that might be different than yours, and I respect your conclusion and I would hope that you respect mine. That's going to be my main goal in my classroom."
In addition to fostering a sense of respect in her classroom, Williams hopes to share her own love for literature with her students. She said that in order to prepare for living abroad and while living abroad for two years, she is going to do the thing she loves most: read.
"I'm going to have a lot of free time," Williams said. "The most exciting thing that I'm going to prepare for is reading books and sitting down, having time to myself while I'm abroad. I think that will help me stay myself."
Besides reading, Williams said there is no way in particular that she is going to prepare for living overseas for two years.
"I think the biggest thing for me, and I did this when I went to Amsterdam and when I also went to Morocco, is I just wake up and take the day by the day," she said. "I think that's going to be my biggest mindset when I'm there: to take today by only today."
By taking the days as they come and embracing the uncertainty, surprises and opportunities, Williams hopes to fulfill her own goals while inspiring and helping her students fulfill their goals and dreams.
"I want to touch a life – at least one. I want to grow as a person and learn to live in an environment that is completely different than my own. I want to learn a language. I want to be as involved in the community as I can be. I want to broaden my global perspective, learn things about other people, and just be a good, well-rounded person."
By Vi Kakares '20