Kooken and Brown-Ajayi Earn Inaugural Inclusive Excellence Awards
April 6, 2018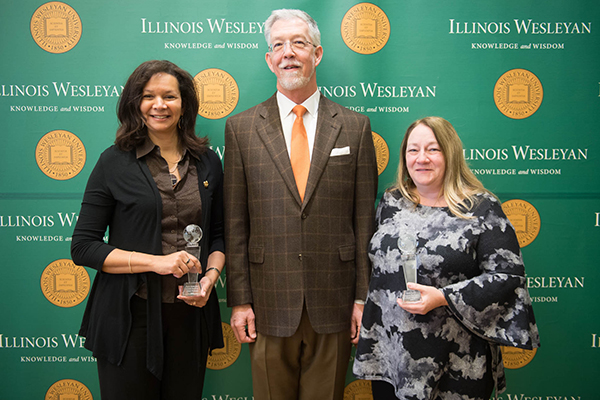 BLOOMINGTON, Ill. — Wendy Kooken and Sharla Brown-Ajayi have been named 2018 recipients of the inaugural President's Award for Inclusive Excellence at Illinois Wesleyan University. The award recipients, announced at Friday's annual Faculty-Staff Recognition Celebration, were nominated by students, faculty and staff, and selected by The University Council for Diversity (UCD).
Wendy Kooken
An assistant professor of nursing, Kooken was described by a student nominator as "the people's champion because she is constantly putting the needs of students before her own so that she can make sure (students) are getting what (they) need from faculty." Another student said, "Dr. Kooken is aware and addresses the different cultural needs of her students including social, emotional, and cognitive needs. Dr. Kooken leads a judgement-free classroom and incorporates cultural sensitivity in lectures."
Colleagues noted Kooken's efforts to create a dynamic and inclusive learning environment in the classroom. "Wendy mentors students and supports student-led research and scholarship projects in diversity, and encourages colleagues to do the same," according to a faculty nominator. Another faculty nomination stated that "intercultural fluency permeates her classroom and interactions with students, staff and fellow faculty colleagues." Kooken's research has included an analysis of important things African American women with breast cancer had to say about their experiences and their treatment. Kooken also discussed in an article how to provide nursing students with a means to know homeless men as people, not just "homeless." According to a colleague, "Students have consistently reported that her method changed everything about the way they perceive homeless people, as well as other vulnerable and underrepresented groups."
Kooken received an A.A.S. in nursing at Illinois Central College in 1985. She earned a B.S.N. in 1999 and a M.S.N. in Nursing Administration in 2002 from Bradley University. Her Ph.D. and post doctoral fellowship were completed at Indiana University in 2008 and 2011, respectively. Prior to joining the faculty at Illinois Wesleyan in 2012, Kooken taught for Bradley University, Western Illinois University, Indiana University in Indianapolis, and for Kansas University Medical Center.
Her nursing positions have been diverse and include post anesthesia care at Pekin Hospital, tissue services coordinator for the American Red Cross and American Tissue Services Foundation, and staff nurse at Crittenton Care and Counseling in Peoria. In recognition of her work to increase the diversity of donor families from diverse backgrounds, Kooken was flown to Washington D.C. where, in 2000, she was presented the American Red Cross Second Level Tiffany Award for Employee Excellence.
Sharla Brown-Ajayi
The Senior Administrative Assistant to the Provost, Brown-Ajayi manages the daily operations of the Provost's office and is the liaison between the Provost and all internal and external constituents.
Brown-Ajayi was described by a nominating faculty member as having "become a force for inclusion and support for diversity on campus." The nomination continued, "She is kind in her interactions with others and insightful about their struggles. She has a strong core of beliefs about the way the world is and the way the world could be when individuals like her speak up, and out, and make diversity and inclusiveness actionable."
Since joining Illinois Wesleyan in 2012, Brown-Ajayi has served the University as the Office Coordinator for MCLL/Hispanic Studies and the Language Resource Center and as the Senior Administrative Assistant to the Mellon Center for Curricular and Faculty Development. She is the co-founder and co-director of the IWU Language School for Kids, and she serves as the advisor of the IWU Black Student Union. Brown-Ajayi is also a co-founder and co-chair of the IWU Black Faculty and Staff Association, and she served on the inaugural Unity Gala planning committee. In these roles, Brown-Ajayi "quickly, yet effectively, puts into action the intentions of many."
Additionally, Brown-Ajayi has participated in the Search Advocate/Validity, Equity & Diversity in Hiring Workshops, the Office of Diversity and Inclusion Safe Zone Training, and she attended the Posse Plus Retreat.
"Sharla is a dynamic powerhouse of a leader whom students and colleagues seek for guidance and mentorship," according to a faculty member. "Sharla not only creates change, she leads others in their efforts to create a more inclusive work environment for all."
Brown-Ajayi earned her bachelor's in history from Illinois State University and has over 10 years of experience in education administration.
About the President's Award for Inclusive Excellence
The President's Award for Inclusive Excellence – presented to a faculty member and staff member annually – is intended to recognize outstanding contributions made by individuals that champion diversity, inclusion, and sustained commitment at Illinois Wesleyan University. The Award for Inclusive Excellence is intended to recognize the commitment of Illinois Wesleyan faculty and staff who have made exceptional efforts in celebrating diversity and demonstrating a commitment to advancing inclusion to create a safe and supportive community.
Recipients of The Award for Inclusive Excellence are recognized at the springtime Faculty-Staff Recognition Celebration and receive a one-time monetary award of $1,000 for their leadership. Awardees display understanding of the dynamic issues surrounding the intersectionality of race, gender, gender identity, ethnicity, religious heritage, national origin, socioeconomic status, disability, and sexual orientation.
Alumni, students, staff and/or faculty will once again be invited to submit nominations next year. Nominations submitted this year will also be considered for 2019 President's Award for Inclusive Excellence. The University Council for Diversity (UCD) and the previous recipient of the award will select awardees based on submitted nominations.
By John Twork