Illinois Wesleyan Celebrates Class of 2018
May 6, 2018
BLOOMINGTON, Ill. — Illinois Wesleyan University celebrated more than 400 graduating members of the Class of 2018 during Commencement exercises on Sunday, May 6 in the Shirk Activity Center.
Board of Trustees President George Vinyard '71 congratulated the more than 380 graduates who attended Commencement and cited the University's motto – Scientia et Sapientia, generally translated as "knowledge and wisdom."
"In your time here on campus we trust that you not only developed your intellects but also cultivated the essential curiosity, perceptiveness and values to set a pattern that will serve you well as you strive to live fulfilling lives of reason, romance, passion, integrity, good humor and joy," Vinyard said.
President of the Alumni Association Board of Directors Scott Huch '86 shared that the Class of 2018 consists of 25 legacy graduates, with at least one parent or another close relative who attended Illinois Wesleyan before them. Huch further noted that 44 international graduates signify the University's largest-ever class of international students.
For the first time in school history, Sunday's Commencement ceremony was real-time translated in Mandarin and Spanish according to Huch who also announced the launch of Illinois Wesleyan's International Alumni Network. He concluded by congratulating the University's newest alumni.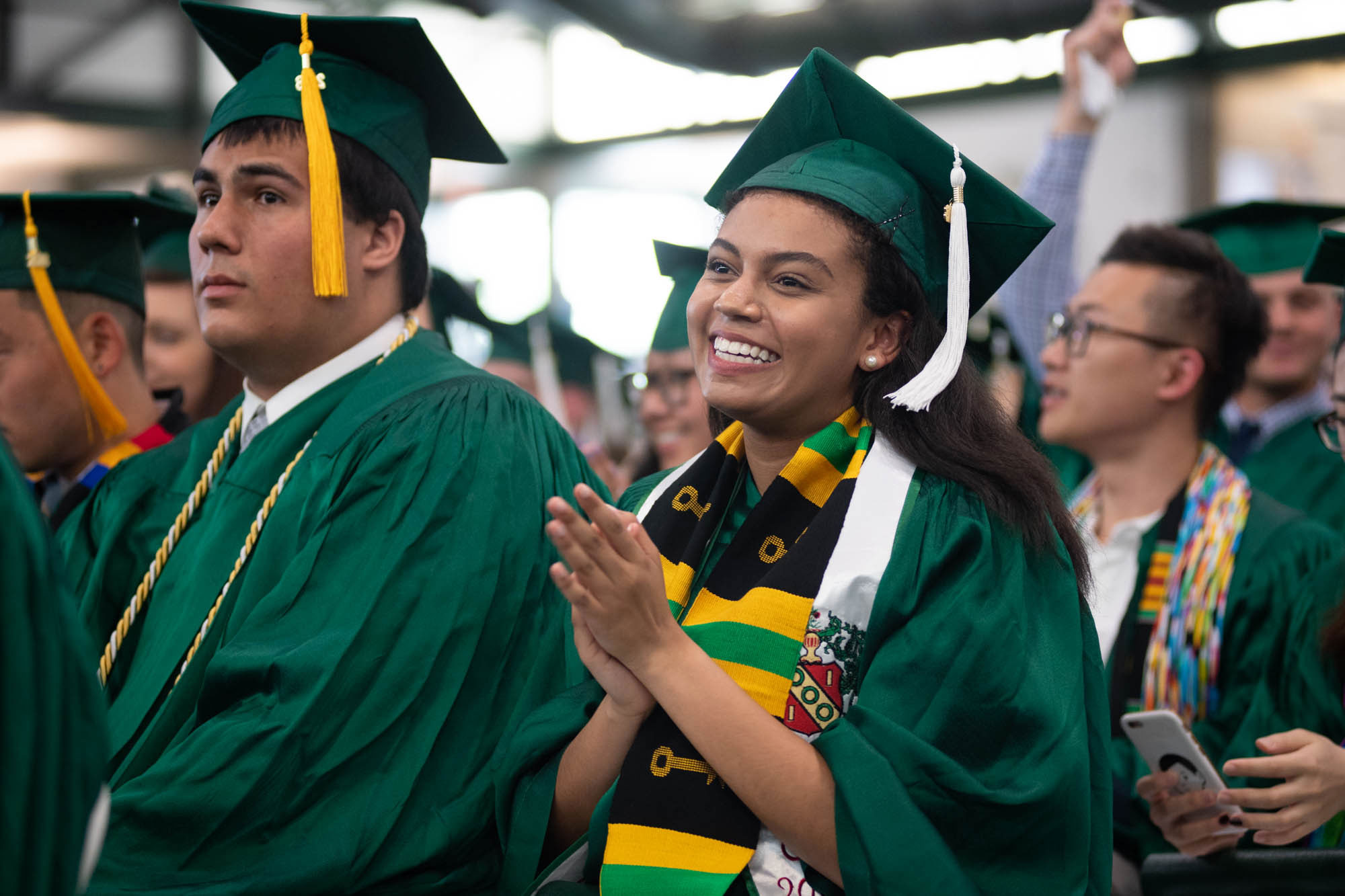 "Whatever you do, and wherever your life takes you from here, never forget your teachers and this place," Huch said. "Illinois Wesleyan has been good to you, so please always be good to Illinois Wesleyan. Keep in touch, and don't be strangers."
Class of 2018 President Alex Stogin '18 told his fellow classmates that, as graduating seniors, they had reached the top of the undergraduate ladder. However, they will soon start their journey up yet another symbolic ladder by either beginning their career or starting graduate school.
"Thanks to everything we have learned here – from the liberal arts foundation, from each other, and from our mentors – I am confident that we will continue to climb the ladder," Stogin said.
Representing the faculty, the Class of 2018 Most Influential Professor Ellen Furlong credited her father and her first-year advisor Nancy Wolsk – who helped Furlong land an internship at the Louisville Zoo – as major professorial influences. Furlong, an assistant professor of psychology, said she is pleased to now find herself among faculty who "move mountains to create opportunities for you, challenge you to reach goals you thought you could never attain, and inspire you by their obvious delight in their chosen fields."
Furlong credited the Class of 2018 with supporting and challenging each other, and she said, as new graduates, it is now their turn to become influencers.
"Introduce someone to something you're passionate about. Create opportunities when you can. Give a pep talk when it's needed. Provide quiet, every day influence. Provide big life-changing influence. Get out there and use your good influence," Furlong said.
President Eric Jensen and Provost and Dean of the Faculty Mark Brodl then conferred an honorary doctor of humane letters upon Kirk Schroeder '84, a life science researcher and entrepreneur who has co-founded two life science companies. In his Commencement address, Schroeder related some of his career and life experiences to three topics: Fences and barriers; Moving the ball forward; and, Inspiration.
While discussing crossing fences and breaking down barriers, Schroeder said after studying physics and engineering in college, he spent the majority of his career conducting cell biology research despite having never taken a single biology course. Out of necessity, he became adept at cell biology. Schroeder told the graduating class that, like him, many of them will be faced with adapting the focus of their careers.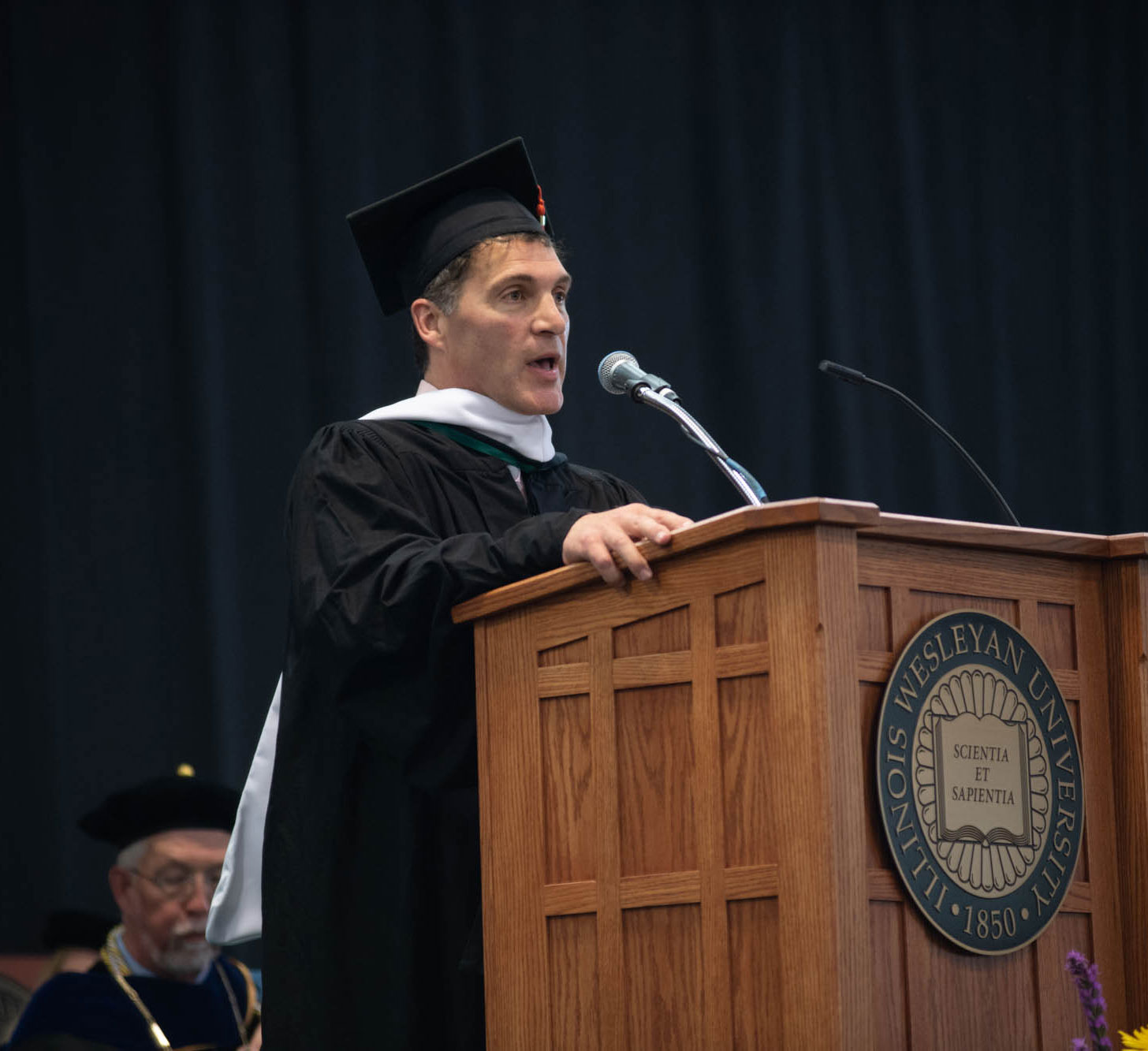 "Your liberal arts education at Illinois Wesleyan has prepared you to handle that," Schroeder said. "I'd like to think that as a science major taking courses in philosophy, history and religion – at the very least – it creates a willingness to explore the other side. And, if you mix that with a little bit of innate curiosity, in my opinion, that might be the key to your success."
Schroeder told the graduates that, to him, "moving the ball forward" means leaving the world in a better place than you found it. He charged the Class of 2018 with this responsibility.
"You believe you can change the world, and because of that belief, you probably can," Schroeder said. "You should all make something happen now."
Inspirational leadership, Schroeder told the graduates, is one of the best ways to accomplish greatness and accomplish change. Inspiration, he said, can be the source for a life's best achievements.
"If you can get everyone rowing the boat in the same direction and lead by inspiration, it's a great thing. Inspiration makes people work in unselfish ways toward one common goal."
Schroeder concluded by congratulating the graduates. After conferring degrees upon the Class of 2018, Jensen offered a parting thought.
"Remember who you are, remember how you got there, and remember Illinois Wesleyan."
By John Twork