Life Science Researcher and Entrepreneur to Speak at Commencement
April 25, 2018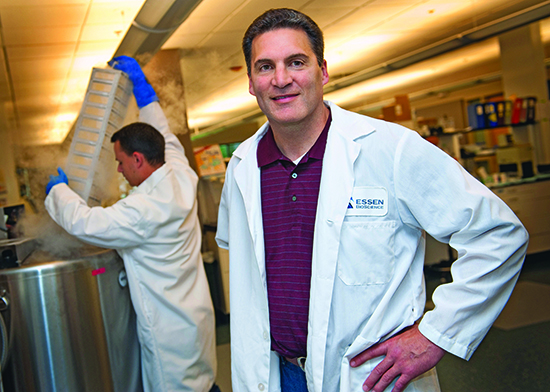 BLOOMINGTON, Ill. — Kirk Schroeder '84, the co-founder of two life science companies, will deliver Illinois Wesleyan University's Commencement address on Sunday, May 6.
The ceremony will take place at 1 p.m. in the Shirk Activity Center (302 E. Emerson St, Bloomington). New this year, a real-time translation of the ceremony will be offered to guests in both Mandarin and Spanish. Commencement will also be live streamed, both domestically (www.iwu.edu/live) and internationally.
After graduating from Illinois Wesleyan in 1984 with a degree in physics, Schroeder earned a master's degree in electrical engineering from the University of Illinois Urbana-Champaign in 1986 with an emphasis in optical engineering. Schroeder first worked as a research engineer with the Environmental Research Institute of Michigan (ERIM) where he contributed to Department of Defense remote sensing applications. In 1992 he, along with Brad Neagle, co-founded his first company which invented, manufactured and commercialized the first high-throughput cell-based drug screening system in the life science industry, FLIPR®. This company and technology was purchased in 1996 by Molecular Devices Inc. of Sunnyvale, California.
In 1999, Schroeder co-founded a second company, Essen Bioscience of Ann Arbor, Michigan, for which he served as president and CEO for 16 years. During that time, Schroeder oversaw the organic growth of Essen into a global company with employees and facilities in the U.S., Europe and Japan. As a leading innovator in the development of laboratory instruments and software, Essen's inventions included analytical instruments for making electrical measurements on living cells, IonWorks®, as well as the real-time imaging system IncuCyte®. Essen Bioscience was purchased by Sartorius AG of Germany in the spring of 2017.
After more than 25 years of managing his companies, Schroeder has now redirected his energy toward technical consulting in life science research. He is also actively involved in developing and sponsoring philanthropic programs to advance life science research and course curriculum at the undergraduate collegiate level.
By Rachel McCarthy '21