Symposium of Contemporary Music 2015-16
February 12-13, 2016

Kyle Gann, guest composer/musicologist

Friday, Feb. 12, 7:30 PM
School of Music room 258
"Charles Ives: Translating Literature into Sound"
Lecture by Kyle Gann

Saturday, Feb. 13, 7:30
Westbrook Auditorium
Concert of Music by Kyle Gann featuring the world premieres of Transcendentalist Songs for voices and piano and Implausible Sketches for two pianos
Kyle Gann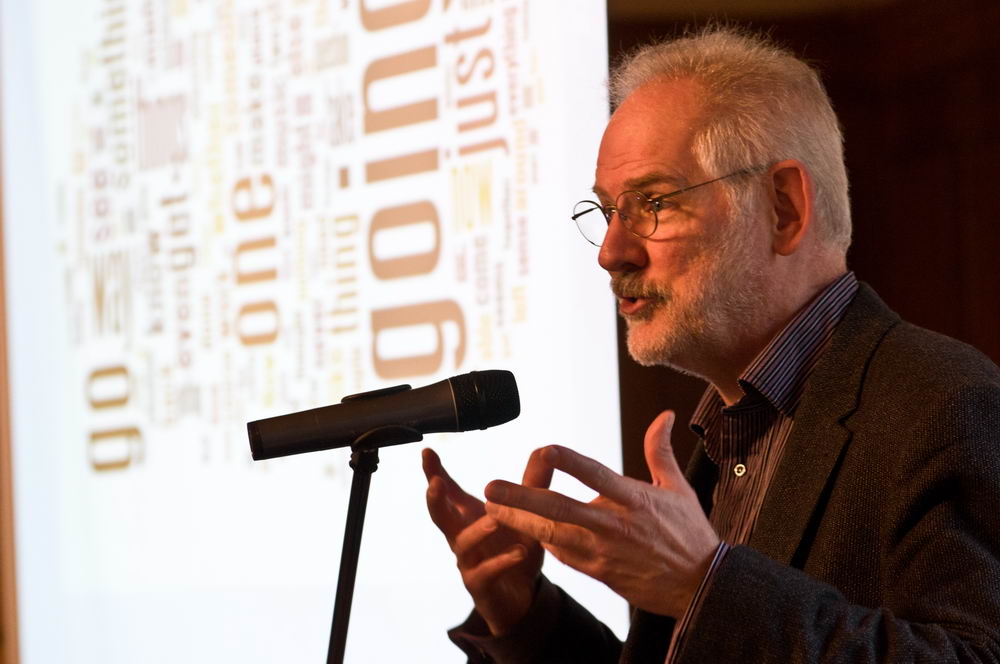 Just as Harry Partch called himself a "philosophic music man seduced into carpentry," I'm a composer who's been seduced into musicology – because you can't be a visible composer in an invisible scene, and no one else was writing well about the scene I came from.
I've been teaching music theory, history, and composition at Bard College since 1997, and I was the new-music critic for the Village Voice from 1986 to 2005. I've published five books: The Music of Conlon Nancarrow (Cambridge University Press, 1995), American Music in the Twentieth Century (Schirmer Books, 1997), Music Downtown: Writings from the Village Voice (U. of CA Press, 2006), No Such Thing as Silence: John Cage's 4'33" (University of California Press, 2010), and Robert Ashley (U. of Illinois Press, 2012). I also wrote the introduction to the 50th-anniversary edition of Cage's Silence. I'm now working onEssays After a Sonata: Charles Ives's Concord, for Yale U. Press (2015). With composer David McIntire, I directed the Second International Conference on Minimalist Music. I am a founding member of the Society for Minimalist Music and Vice-President of the Charles Ives Society.
Much of my music can be heard and seen at kylegann.com. About a third of my music is microtonal, in just intonation, using the notation of my teacher Ben Johnston. I've performed my one-man opera Custer and Sitting Bull more than 35 times, from Brisbane to Moscow; Cinderella's Bad Magic, my opera with librettist Jeff Sichel, premiered in Moscow and St. Petersburg. The Orkest de Volharding in Amsterdam commissioned my piano concerto Sunken City (a New Orleans memorial), and the Indianapolis Symphonic Choir commissioned my Transcendental Sonnets. My CDs are on the New World, New Albion, Mode, Cold Blue, Lovely Music, Meyer Media, Brilliant Classical, and Monroe Street labels. I've lived my entire life immersed in and involved with classical music, and started making the transition to postclassical many years ago.
About the Symposium
The Annual Symposium of Contemporary Music, established in 1952, brings prominent guest composers or performers to campus each year for a two-to-three-day residency. IWU faculty and students participate in the performance of works by guest composers and in discussions on aesthetic or analytical issues.  Guests also give master classes and presentations to composition and performance students.
Recent guests of the Symposium include renowned composers Louis Andriessen, Shulamit Ran and Chinary Ung, and the acclaimed New York New Music Ensemble, Orchid Ensemble of Vancouver and Ensemble ONIX of Mexico City. The Symposium forms part of IWU's New Music Series, which also includes concerts of contemporary music by guest composers and performers, faculty performances, the New Music Cafe concert series, ensemble concerts featuring new music, and programs of student compositions.
Previous Guest Composers, Performers, Scholars
2015—Fifth House Ensemble, Jonathan Green, Mario Pelusi, David Vayo
2014—John Daversa
2013 —Chinary Ung, Adam Greene, Susan Ung, Stacey Fraser, Jocelyn Chang
2012 —Shulamit Ran
2011 —Song Ming-zhu, Yang Xiaozhong, Zhou Tianli
2009 —Onix Ensemble
2008 fall—John Sharpley, Orchid Ensemble
2008 spring—Roderik and Annelie de Man
2007 —Stephen Paulus
2006 —New York New Music Ensemble
2005 —Vince Mendoza
2004 —Louis Andriessen, Monica Germino, Cristina Zavalloni, James Quandt
2003 —Mario Lavista
2002 —Present Music Ensemble
2001 —William Bolcom, Joan Morris
2000 —Libby Larsen
1999 —John Corigliano
1998 —Arvo Part
1997 —Joseph Schwantner
1996 —Morton Gould Memorial Concert
1995 —David Diamond
1993 fall—Leslie Bassett, John Crawford (Society of Composers, Inc. Region 5 Conference)
1993 spring—Alexander Aslamazov
1991 —Alice Parker
1990 —Karel Husa
1989 —Hale Smith
1988 —John Beall
1987 —Jan Bach
1986 —Jean Eichelberger Ivey
1985 —Michael Schelle
1984 —Robert Bankert, Abram M. Plum, R. Bedford Watkins
1983 —George Crumb Concert
1982 —David Ward-Steinman
1981 —Walter S. Hartley
1979 —Leonard B. Meyer
1978 —M. William Karlins
1977 —Lou Harrison, Ezra Sims
1976 —Donald Erb
1975 —David Ward-Steinman
1974 —Scott Huston
1973 —Courtney Cox, Phil Wilson
1972 —Stravinsky Memorial Concert
1971 —Edward J. Miller
1970 —Halim El-Dabh, Olly Wilson
1969 —The Loop Group, Depaul University
1968 —Iain Hamilton
1967 —Frederick Tillis, George Crumb
1966 —Louis Coyner, Edwin Harkins, Philip Winsor, Edwin London
1964 —Robert Wykes, E.J. Ulrich, Salvatore Martirano, Herbert Brun, Ben Johnston
1963 —Robert Wykes, Alabama String Quartet
1962 —Robert Erickson, George Rochberg, Glenn Glasow
1960 —Roy Harris
1959 —Paul Pisk, George Rochberg
1958 —Aaron Copland
1957 —Ernst Krenek, William Bergsma
1956 —Hunter Johnson, Ulysses Kay
1955 —Wallingford Riegger, Peter Mennin
1954 —Normand Lockwood, Robert Palmer
1953 —Anthony Donato, Homer Keller
1952 —Earl George, Grant Fletcher, Burrill Phillips