Students
Research and Internships
Study Abroad
The History Department encourages study abroad. We will gladly count courses taken abroad toward your History major. Members of the History faculty have led courses abroad to places like Ireland, China, and Cuba in May Term. The university offers its own satellite programs in London, England and Barcelona, Spain that have been directed by History faculty. And there are other numerous opportunities to study abroad for a semester or full year. One of the premier opportunities is the Pembroke Program. Due to a special relationship between IWU and Pembroke College at Oxford University, a handful of Wesleyan students are selected every year to spend a year at Oxford. Despite the highly selective nature of this program, our History majors have had great success being accepted into it: Stephanie Carlson in 2013-2014, Sophie Popovich in 2015-2016, and Selena Shen in 2016-2017. You, too, could join this illustrious company.
Stephanie Carlson '15
Oxford University 2013-2014
Sophie Popovich '17
Oxford University 2015-2016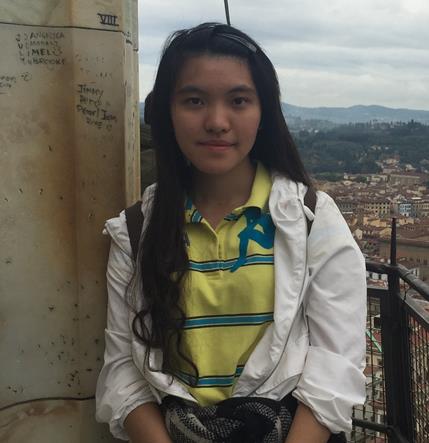 Selena Shen '18
Oxford University 2016-2017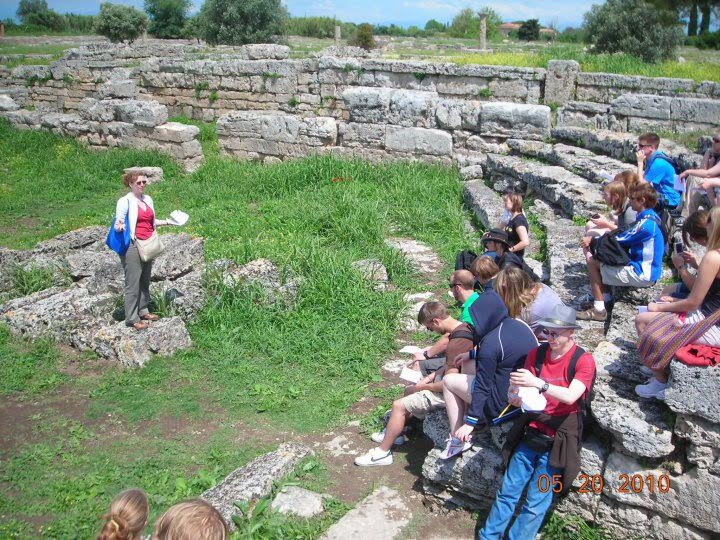 Amy Coles lectures students in the comitium at Paestum, Italy during the Ancient Roman City May Term class, 2010.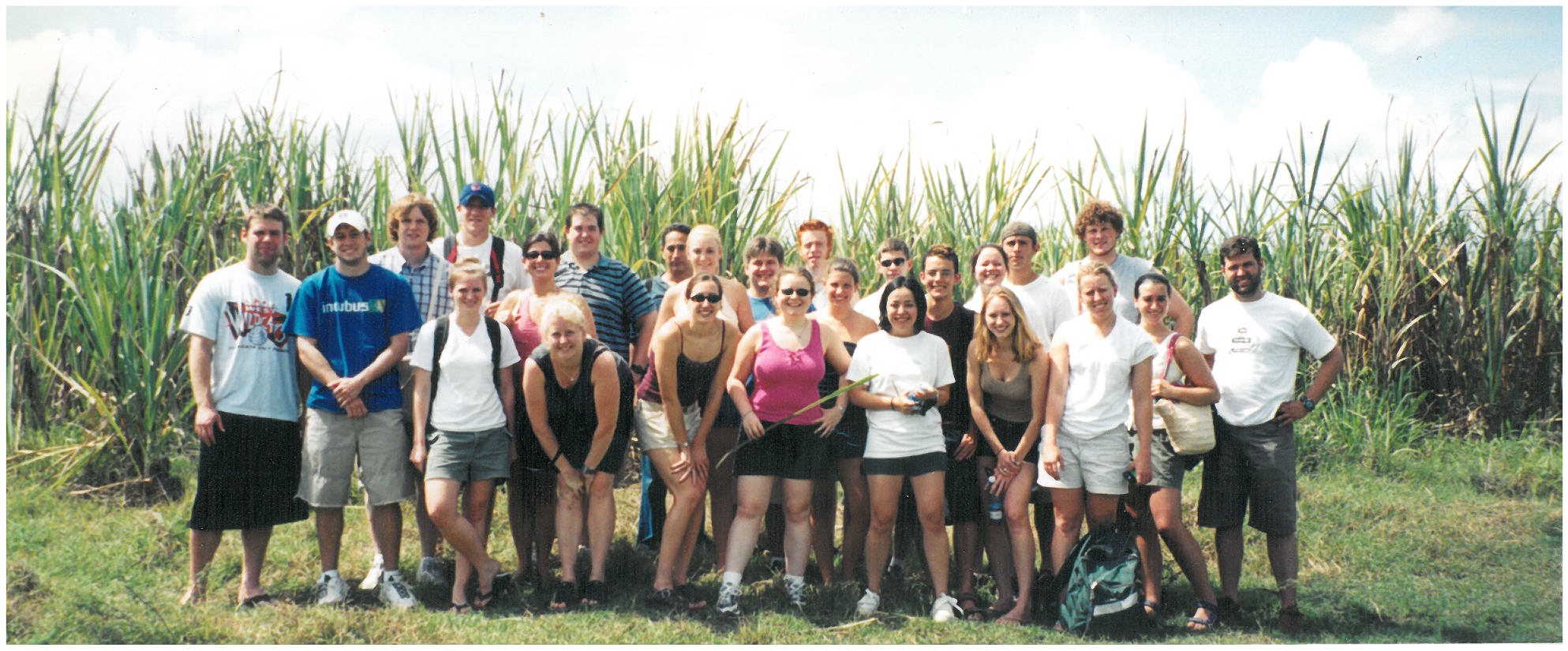 Dr. Weis' students stand alongside a sugar cooperative during the Cuban Revolution May Term class, 2003.
Dr. Weis has also taken students to Nigeria, Japan, England, Italy, and Spain.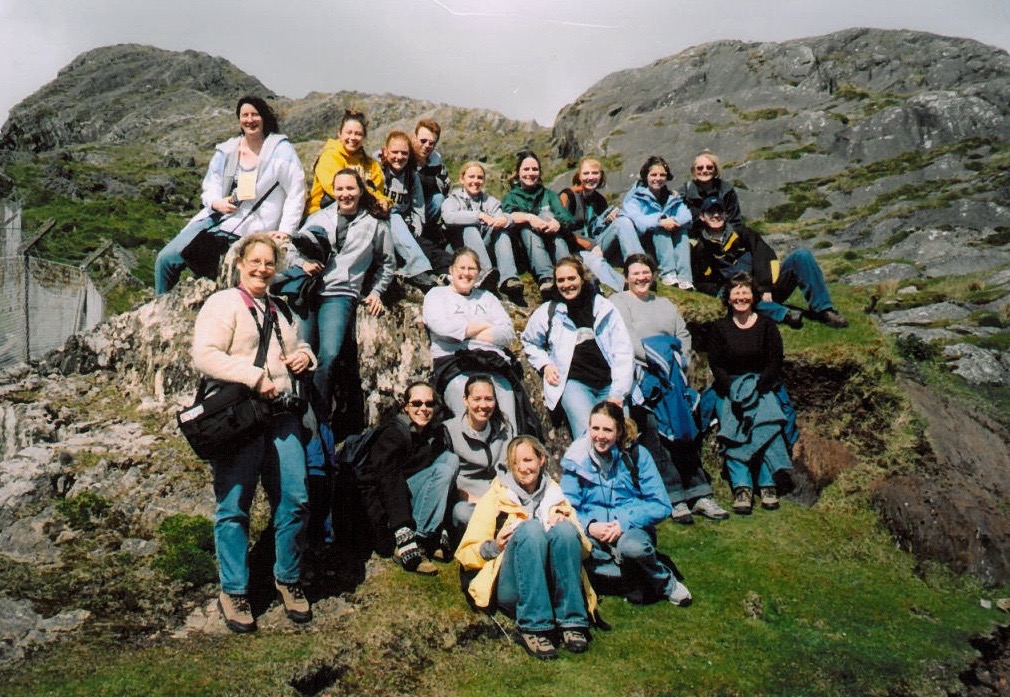 Professor April Schultz, with Professor of Sociology Georganne Sundblad, with students in Allihies, Ireland, 2003, where they studied the 19th century Great Famine and Irish emigration to the United States.
Prizes
We have created two prizes for our majors that we award at graduation. Each prize is accompanied by a certificate of recognition, a book in the area of the student's special interest, and a small cash award. The Christopher Berkeley prize is named in memory of a former student, and we award it to the graduating senior who best exemplifies the kind of enthusiasm and love of history that Chris had. The Paul Bushnell prize is named after a retired member of our department who was an exemplary teacher and civil rights activist. We award this prize to the graduating major who was the most outstanding student teacher of the year.
Click here to see the Berkeley Prize Certificate
Student Spotlight
Christopher Tatara '14
Christopher Tatara, history major and international studies minor, tailored his senior seminar research around his interest in Russian history and U.S.-Soviet Russian relations.
Tatara also played euphonium at Illinois Wesleyan, performing with several ensembles including the "World's Most Dangerous Pep Band."
During May Term, he traveled to Moscow and St. Petersburg before starting an internship in New York City with the Scholars At Risk Network.
The faculty really care about the students and this shows in the fact that they don't let their students become complacent. They don't let them settle for just enough. Faculty challenge them, whether it's to practice harder to master that piece, or nail down that research paper and get it perfect. All the faculty wants to see their students not just thrive but excel, and that's one of my absolute favorite things about Illinois Wesleyan. – Christopher Tatara '14
What is the Senior Seminar?
The Senior Seminar is the capstone class for history major, and modeled after a graduate course in history. We spend our time researching a topic of our choice within the overarching theme of the course, which in my class is War and Revolution in 20th-century Asia.
You really get to know your topic, and become an expert on one slice of history. We write an independent research paper which we present to our class, receive critiques from classmates, as well as our professor, and finally write the final paper and put it all together.
Outside of that, there are other opportunities. I presented my senior seminar work at the John Wesley Powell Research Conference here at Illinois Wesleyan, which is an undergraduate research conference hosted every spring. That was a unique opportunity and one I very much enjoyed doing.
What are your impressions of classmates' projects?
I'm very impressed sometimes by the quality of work that my peers, my fellow students produce. Some of the papers were extremely impressive, very, very well written. I hope they think the same of mine. But I'm constantly impressed by the quality of students here—not just in their academic abilities, but their character as well.
What will you do after graduation?
I didn't originally come in as a history major, so there was a lot of switching of tracks and study abroad just wouldn't have worked. But I am actually going to Russia this May with two of the professors and some other students. That's my May Term travel course. We'll be mostly in Moscow and St. Petersburg. I'm very excited, because that's where my interest in history is: Russian history, U.S. and Soviet Russian relations.
Then this summer in New York, I'll be working for the Scholars at Risk network, which is a nonprofit that works with issues relating to academic freedom and human rights. More specifically, they work in advocacy for scholars who are imprisoned in their home countries because of their research or political activism. The Scholars at Risk network matches applicants up with universities and other places where they can continue working and get them out of harm's way, whether it's in some cases war and actual physical violence, or intimidation or threats of arrests, things like that. The office in New York is a very small group of really dedicated people and they rely on their interns, so it's an opportunity to do substantive work. I'm very excited.
Why did you choose Wesleyan?
It just felt right. There was something about the campus and the people that felt like home in a way, that I could spend four whole years of my life here.
And how has IWU worked out?
My experiences at Illinois Wesleyan have been absolutely wonderful and I don't regret making that decision in any way. It's a great environment to both just live and learn. There were always struggles and frustrations and a lot of hard work, a lot of late nights in the library or in the practice room, but it's all worth it in the end.