Teaching Laboratories
Animal Biology (WN 108)
During the fall semester, Histology is taught in this lab and Comparative Anatomy is taught during the spring semester.
---
Animal Physiology / Plant Anatomy (WS 108)
During the fall semester, this room is equipped for the laboratory portion of the Animal Physiology course. This lab includes stimulators, transducers, and recording equipment designed to obtain data from physiological studies on awake human subjects (students) and on anesthetized experimental animals (frogs and rats). Both hardware and software are used which provide students with the ability to develop virtual instruments on a Power Macintosh, allowing them to be creative as they design experiments for their laboratory presentations. Plant Anatomy is taught in this room during the spring semester. The laboratory contains compound light microscopes (Nikon) and dissecting microscopes for student use.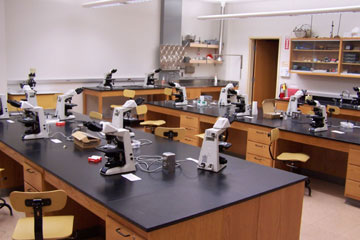 ---
Developmental Biology (WS 102)
Developmental Biology is typically offered in this laboratory which is equipped with Nikon microscopes. Specialized equipment present in this laboratory includes a surgical dissecting microscope and other equipment necessary for various microsurgical techniques.
---
General Biology (WN 102)
General Biology is the only course taught in this lab. Equipped for 24 students, the laboratory contains compound light microscopes (Nikon) and dissecting microscopes for student use.
---
Human Biology: Anatomy & Physiology (WN 107)
Human Biology is the only Biology course taught in this laboratory. Seating is for a maximum of 24 students, but typical laboratory sections contain fewer than 20 students. Students study anatomy and physiology through dissections, experiments, use of compound and dissection microscopes, and study of articulated and disarticulated skeletons.
---
Invertebrate Zoology (WS 113)
Invertebrate Zoology and Advanced (Experimental) Invertebrate Zoology are typically taught in this laboratory which is equipped with a cold saltwater tank, several aquaria, and constant temperature incubators.
---
Molecular Biology (WS 102)
Molecular Genetics, Cellular and Molecular Biology and Biochemistry are offered in this laboratory. This laboratory has recently been equipped with many of the instruments and equipment being used in molecular biology. This equipment includes a refrigerated centrifuge, an ultracold freezer, several constant temperature water baths, a shaking growth incubator, micropipettors, submarine gel electrophoresis equipment, DNA sequencing equipment, and electrophoresis equipment for SDS-PAGE and Western blot analysis.
---
Plant Biology (WS 106)
This laboratory is used to teach Plant and Fungal Diversity, The Microbial World, and Microbiology. It is equipped with Nikon Microscopes and Meiji Dissecting Scopes sufficient for 16 students. This laboratory also is equipped with several constant temperature incubators and a shaking water bath incubator.