Tietz '22 Awarded Technos International Prize
June 20, 2022
BLOOMINGTON Ill. ⁠— Recognizing his outstanding engagement in international affairs through his studies, volunteer activities and beyond, Andrew Tietz '22 was awarded the 2022 Technos International Award at Illinois Wesleyan University.
The Technos Prize recipient is named at the International Studies Honors Luncheon in the spring, "surrounded by the faculty who helped make the most of their international studies education here," Tietz said.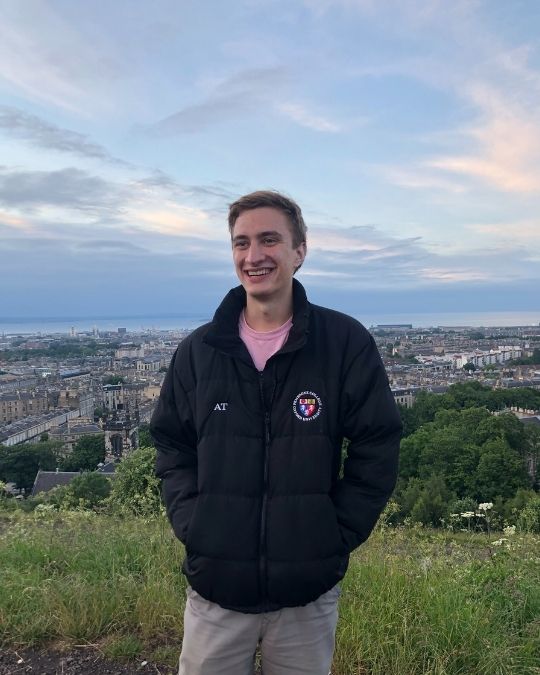 "Since international global studies is such a small major, I'm very glad that the Technos prize is there to recognize the efforts that I and previous recipients have made to further global awareness and education for everyone on campus," he said.
As well as majoring in international and global studies, Tietz minored in French and political science. He served as Model UN co-president his sophomore and senior years, spending his junior year abroad at Pembroke College, Oxford University. There he studied politics and philosophy, taking tutorials such as "International Relations of the Cold War Era" and "Comparative Government."
When he returned to IWU, Tietz took charge of the International Film Series as part of his duties as a student assistant in the International Studies Department. The series featured eight films and partnered with multiple classes for academic credit.
In his senior year at IWU, Tietz volunteered as a medical translator where he helped to communicate patient health histories, symptoms and recommended treatments between doctors and Bloomington's Congolese population.
Tietz has been studying French since 2012, an interest which contributed not only to his volunteer work, but also to his senior research honors paper in which he investigated the effects of French decolonization policy in Guinea and Gabon. His paper is available on IWU's Digital Commons: Ce Qui Reste: Legacies of Decolonization in Guinea and Gabon.
Among the varied subjects Tietz studied at IWU, the classes he took with William Munro, who is the Betty Ritchie-Birrer '47 and Ivan Birrer Endowed Professor, "stand out as some of the most formative in my major," Tietz said.
"In my last semester at IWU, I took global sustainability and Asian development, which opened my eyes to a variety of ecological crises that we face today and will continue to face for decades," he said.
After graduating in May, Tietz will put his knowledge of these environmental crises to useas a new member of the Peace Corps stationed in Togo, West Africa. There he will work with local farmers on developing sustainable agriculture techniques.
"The thing I'm most excited about is getting to meet my fellow volunteers and the members of my community," he said. "I know I'll get quite a bit better at French and I hope I learn other useful skills that I haven't gained yet in life."
The Technos International Prize was established in 1994 as a result of former IWU President Minor Myers jr. and Kenji Tanaka of Technos International College meeting and realizing their shared interest in international relations. Their efforts to connect the universities have resulted in opportunities such as an internship at Technos as part of the Freeman Asia Internship Program, continued support for the Japanese Studies program at IWU and Technos International Week, a 14 day long program which immerses students in Japanese culture.
By Maria Harmon '23