Watson '21 Receives Outstanding Marketing Student Award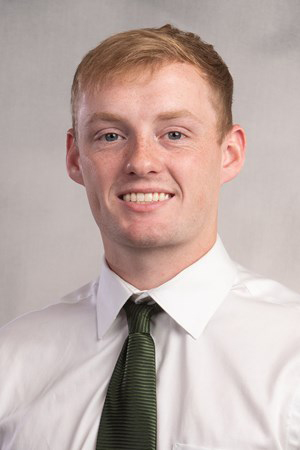 March 12, 2021
BLOOMINGTON, Ill. — Senior marketing major Nick Watson '21 (Normal, Illinois) is this year's recipient of the American Marketing Association (AMA)'s Outstanding Marketing Student Award, presented virtually at the 60th annual St. Louis AMA Conference on March 5, in recognition of his academic excellence and contributions to the collegiate marketing community at Illinois Wesleyan.
"I am beyond grateful to be receiving this award," said Watson. "Looking back at my four years here at IWU, I am amazed by the number of quality instructors I have had within the marketing program. Seeing their passion helped give me the push I needed to take on a leadership role within AMA and gradually work my way to being president."
As president of IWU's chapter of the AMA, Watson has helped the chapter shift to a more community-oriented approach by partnering with Illinois State University's chapter to increase networking opportunities for their members. He also serves as co-president of the Student-Athlete Advisory Committee, pitches for the baseball team and is an active member of Theta Chi Fraternity.
Watson has already put his marketing skills to the test through a number of opportunities. During an internship with Iron Forge Development, a software development agency, he utilized marketing and sales processes to sell around $260,000 of custom software. He also interned with Growth Acceleration Services, a sales training program in Kansas City, Missouri, where he learned various marketing and sales practices. Back on campus, he works as the marketing lead for the student-developed social media app Caption_it.
Reflecting on his time at IWU, Watson attributes his success to the professors, curriculum and internships which culminated in a valuable marketing major experience. "I am grateful to the Marketing program for giving me the resources and support I needed to pursue the opportunities I have been fortunate enough to have," said Watson. "There is an abundance of opportunity at IWU for those who seek it."
By Rachel McCarthy '21