Sperry '22 Continues Her Mother's Research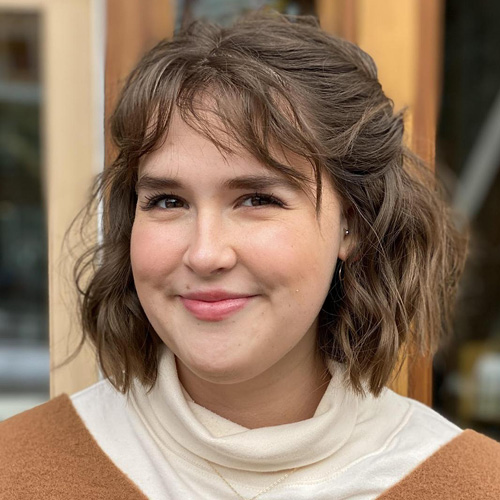 October 27, 2021
BLOOMINGTON, Ill. — Inspired by her mother, Isabel Sperry '22 used ceramic sculpting and sociological theory to engage in her project "Challenging Narrative Form and Prescriptive Messaging through Ceramic Storytelling."
Sperry stated, "This research topic is close to my heart, as it is a continuation of the research my mom did for her dissertation in grad school. Her research, however, was cut short due to violent reactions to reading fairy tales through the lens of feminism. Being able to apply her area of study to my own methods — ceramics and English, primarily — and apply it to my project's special interest in mother-daughter relationships was very meaningful."
In the summer of 2021, Sperry was named an Eckley Scholar. Through the Robert S. and Nell B. Eckley Summer Scholars and Artists Program, Sperry was given a stipend to pursue her project under faculty mentorship from Adjunct Assistant Professor of the School of Art Claire Hedden.
Sperry's project is focused on ceramics as a form of storytelling in combination with sociological research on mother-daughter relationships. Through close readings of the Grimm's Fairy Tales and sociological theory on literature and mother-daughter relationships, Sperry began to create small clay "sketches" to plan her final piece. Once the piece was completed, Sperry wrote the accompanying didactic texts.
"I finished the summer with a body of work exploring mother-daughter relationships, narrative form, and the power of imagery in the stories we tell our children. I did research on the sociology of motherhood, which influenced my view of autonomy in my pieces. But the most interesting findings were much more personal — and often rooted in my relationships with myself, my family, and the clay," Sperry stated.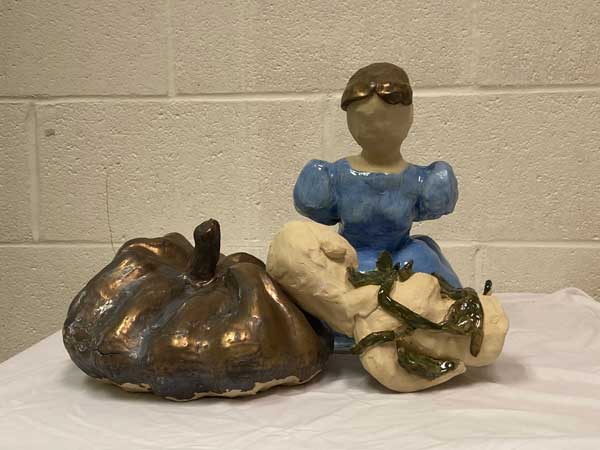 For Sperry, her project was an introspective one. "I recognized both a tension with and an appreciation for motherhood — and by extension my relationship with my own mother — that had been hard to physicalize before this project," she said.
Due to this mix of emotions, Sperry noted her appreciation for the aid of her mentor Claire Hedden.
"She provided a perspective that I could not as a mother. She was open and honest with me about her experiences, and my work is better for her part in it," said Sperry.
Hedden also aided Sperry in the artistic process.
Sperry said, "She provided a foundation of technical knowledge that did not hinder my own artistic expression, but instead bolstered my ability to follow through with my vision."
Through her ceramic work, Sperry was able to explore new techniques: using lusters, operating the kiln, and building large, self-supporting sculptures. She noted her greatest challenge was the nature of clay and working with a piece of this size for the first time.
Sperry stated, "I learned that clay has a mind of its own, which was frustrating at first, but led to a more meaningful and grounding experience overall."
Sperry plans to expand upon her research by pursuing honors research in literature on the topic of autonomy, with a focus on mothers. In her Eckley project, Sperry focused on the daughter's perspective and, therefore, hopes to round out her work by focusing on the literary aspects and mother's perspective.
"My experience was above all, illuminating and affirming," Sperry said. "As an English major, doing an extensive ceramics project was a little unexpected. In fall 2020, I took a class with Claire and fell deeply in love with clay as a medium of expression. Being able to complete this project showed me that I have the drive and passion to pursue art as a serious part of my life — whatever that ends up looking like."
By Kailee Galloway '23
Read about other 2021 Eckley Scholars:
Eckley Scholar Jenna Ney '22 is studying abroad in Budapest, Hungary, this semester.