Kiper '22 Pursues Career Objectives Through Eckley Research Project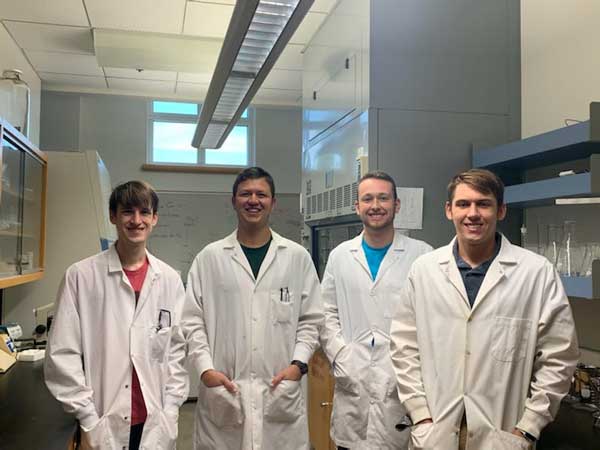 October 27, 2021
BLOOMINGTON, Ill. — With a passion to aid the search for a cure for Alzheimer's, Joey Kiper '22 conducted his summer research project, "Stimulating Membrane Repair in Neuroblastoma Cells that are Compromised by APP Overexpression."
As one of five students participating in the 2021 Robert S. and Nell B. Eckley Summer Scholars and Artists Program, Kiper was presented with a $4,000 research stipend to pursue his project under faculty mentorship from Visiting Assistant Professor of Chemistry and Biochemistry Thomas Kwiatkowski.
"Our preliminary data suggests that overexpressing specific membrane repair proteins in neuroblastoma cells can rescue the compromised repair defects induced by APP overexpression. This was determined by co-expressing APP with various membrane repair proteins in our neuroblast cell lines, and measuring how well they repair themselves after damage," said Kiper.
Through his project, Kiper was able to measure membrane repair efficiency by quantifying the concentration of Lactate Dehydrogenase (LDH) that leaks out of the cells post damage. Higher levels of LDH releases would indicate a worsening in membrane repair. His findings suggest that activating specific membrane repair proteins within the brain could alleviate the repair defects displayed in Alzheimer's patients. Kiper intends to contribute his findings to a larger publication with their collaborators at The Ohio State University in Dr. Noah Weisleder's lab.
Most of Kiper's work was done over the summer term, where he and Dr. Kwiatkowksi had daily lab meetings to review the research goals. Kiper noted his appreciation for the supervision and instruction he received from his mentor that allowed him to get the hang of new techniques before he worked independently.
Kiper stated, "I had a great experience as an Eckley Scholar. Financially, this was a great option for me to be able to study what I love while still earning an income to pay bills. I learned many valuable skills that I know will make me a more confident researcher/scientist in the future."
Kiper plans to continue the project by taking more research credits his senior year and further pursuing the biomedical field in a graduate program. He notes that Alzheimer's disease hits close to home for him, and he hopes to contribute to the field in any way possible.
"The concepts that I learned in the research setting have deepened my understanding not only of my project, but also the scientific process. I am more confident in my ability to ask relevant questions and how to go about answering them from the perspective of a research scientist. Alzheimer's disease is a particular passion of mine that I will continue to pursue in my professional career," Kiper said. "Working on an undergraduate research project that investigates novel pathophysiological mechanisms in this disorder will help guide my career objectives."
By Kailee Galloway '23
Read about other 2021 Eckley Scholars:
Eckley Scholar Jenna Ney '22 is studying abroad in Budapest, Hungary, this semester.