Ring '21 Advances to Finals in Music International Grand Prix Competition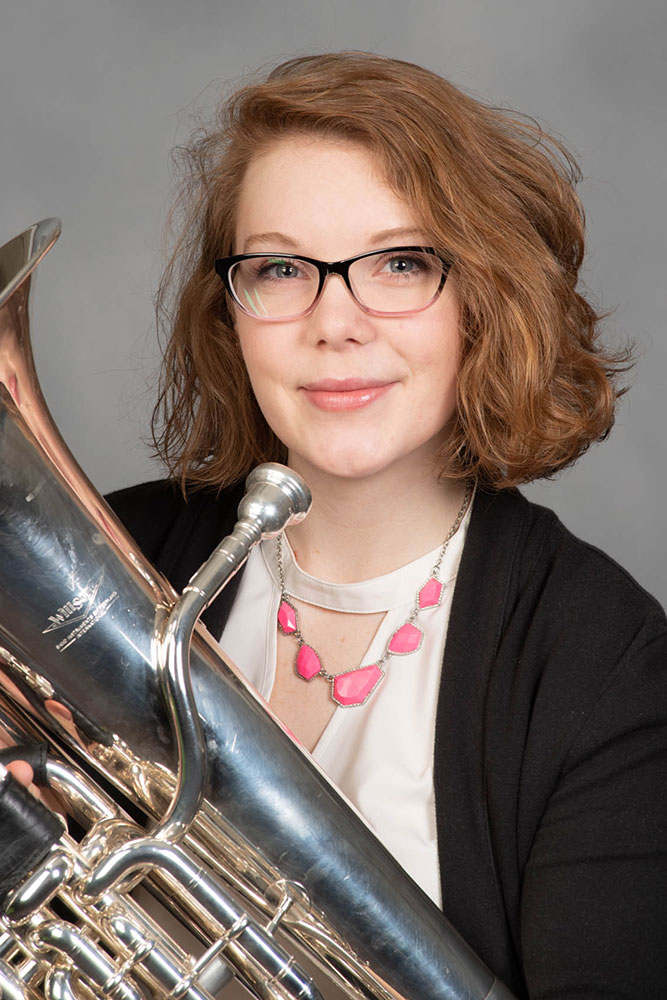 April 2, 2021
BLOOMINGTON, Ill. — Music education major Lindsay Ring '21 (Bloomington, Illinois) is a finalist in the Music International Grand Prix Solo Competition after winning first place in the Young Adult category for Wind and Brass at the semifinal competition in Chicago on March 28.
Music International Grand Prix (MIGP) is a new international competition for musicians of all ages. The Inaugural 2021 Season includes the categories of voice, piano, strings, woodwinds and brass.
In the competition's first round, Ring performed an arrangement of Believe Me, if All Those Endearing Young Charms on the euphonium, a valved brass musical instrument resembling a small tuba. For the semifinals, Ring won with a performance of Harlequin by Philip Sparke. Ring won first place at the MIGP Semifinal Competition and now advances to the finals where she will compete against other winners from their respective semifinal regions, including Canada, Asia, Europe and various regions in the U.S.
Ring acknowledges the support she's received from the School of Music throughout this process, especially from Accompanist in the School of Music Lu Witzig and Instructor of Tuba and Euphonium, Ed Risinger.
"My lovely accompanist, Lu Witzig, has been very supportive and encouraging this semester, and I really appreciate all the extra effort she has put into getting all of my pieces prepared for both this competition and my recital," said Ring. "My wonderful professor Ed Risinger has been the most motivating and supportive person I could have asked for. He's brought up all the competitions I've entered and always encouraged me to try for everything I can. I met him my senior year of high school — and if I didn't decide to take lessons with him, I wouldn't be where I am today. I've grown into the player and the person I am now all from Ed, and I really appreciate everything he's done for me."
The MIGP finals take place on April 30, where Ring will compete as a finalist in the Winds and Brass, Young Adult category. The winners will be announced that evening. On May 1, the awards will be presented and a Winners Concert will showcase the first place winners who will each compete for the Grand Prix Award.
Under normal circumstances, Ring would have had the opportunity to compete in the finals at Carnegie Hall in New York City. However, due to COVID-19 restrictions, Carnegie Hall is closed and the finals have been moved to the Hilton Performing Arts Center in Manassas, Virginia.
"This has been a long journey that started last semester," Risinger said. "Lindsay has accomplished so much and represented IWU very well. I am so incredibly proud of her hard work and dedication."
While Ring initially planned for a career in music education, she recently accepted a full tuition waiver to attend the University of Michigan for a Masters in Performance.
"After competing in IWU's Wind Ensemble Competition my sophomore year and IWU Symphony Orchestra Concerto Aria Competition my junior year, I figured I could see what would happen if I tried the performance route," Ring explained. "I accepted Michigan's offer to study with David Zerkel since he is one of the best known euphonium professors to get his students into military band positions, one of few options for euphonium performance."
During her time at IWU, Ring has earned many accolades, including winner of the IWU Wind Ensemble Concerto Competition, winner of the the IWU Concerto Aria Competition, second place in the 25 year old and under Solo Euphonium Division at the International Women's Brass Conference, second place in the Mock Military Band Audition at the International Euphonium and Trombone Conference, and finalist at the Midwest Region Tuba Euphonium Conference, Artist Division.
By Megan Baker '21