Preserving Experiences of a Pandemic in Class of 2024 Time Capsule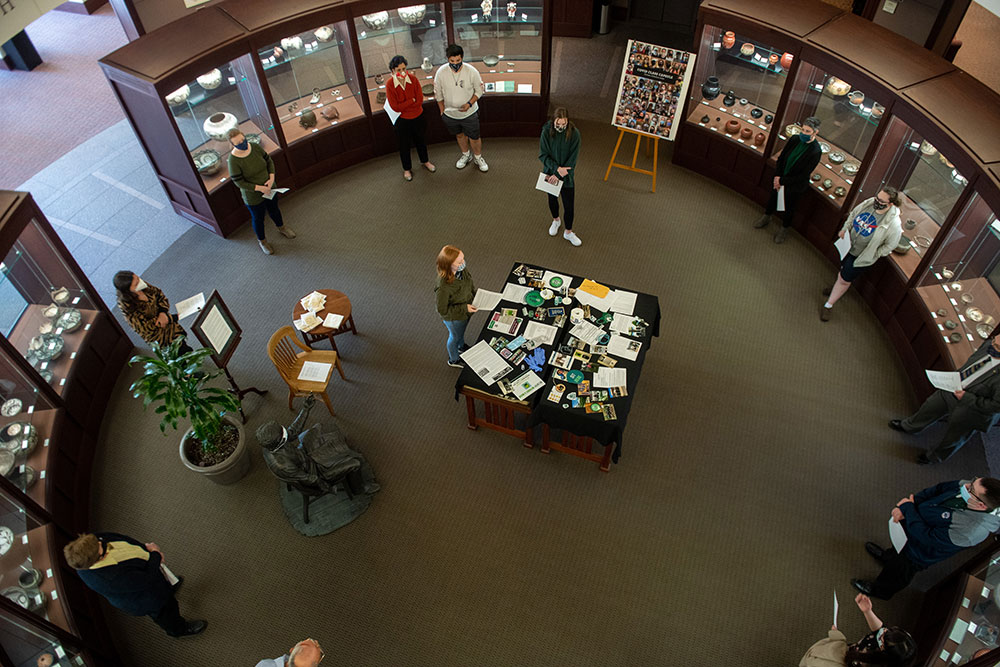 April 30, 2021
BLOOMINGTON, Ill. — As COVID-19 vaccines promise a light at the end of a seemingly endless pandemic, students in the Citizen Scholars First-Year Experience (FYE) housed relics of the past year in a "COVID Time Capsule," dedicated April 14 at The Ames Library.
The dedication ceremony included a poem written and read by Josh Cortez '24 and an introduction from Citizen Scholar Anna Sheaffer '24, who reflected on the project's origins and aims.
"My classmates and I all agreed that we don't really know the campus in the same way that the rest of the students and faculty do," said Sheaffer. "This eventually led to conversation about how our graduating class is the only one to have endured the 'worst' of COVID during our prom, graduation, move-in, orientation, etc., and we all felt very strongly about encapsulating that and recognizing our graduating class that was 'lost' to the pandemic. This project started out as a way to recognize the 'covid class of 2024,' but we found it important to expand to represent campus life as a whole and remember how we lived here at Illinois Wesleyan University during this time."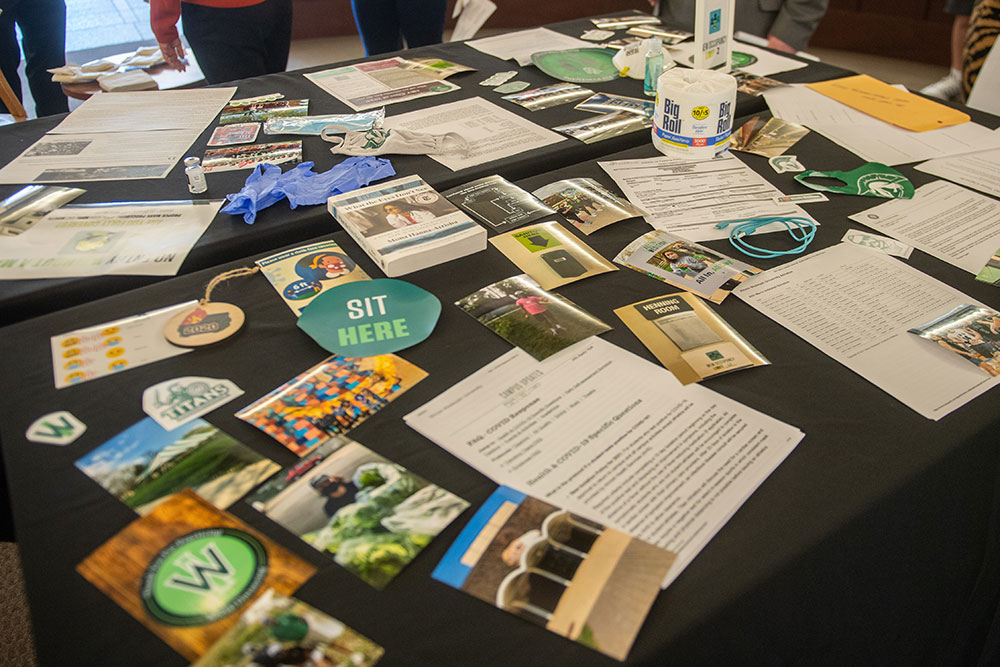 The capsule itself contains items that capture the impact of COVID at IWU, as well as letters from the Class of 2024 that give a first-person perspective on college life during a global pandemic. Topics in these letters, which students will be able to read again when the capsule is opened for their five-year homecoming in 2029, included accounts of first-year orientation, personal takeaways from a year of social distancing and thoughts about post-pandemic life.
"Coming to IWU was full of anxiety because of how unknown everything was," wrote one student. "It would've been anyway, but COVID definitely exacerbated the feelings of anxiety."
"I want future generations to know that COVID was terrible, but we managed and I think there were a lot of unexpectedly great experiences that came out of it," said another.
This project serves as the culmination of the 2020-21 Citizen Scholars FYE, where civic-minded students learn the value of citizenship and community involvement. The first semester consists of a Gateway course, co-taught by Action Research Center Director Deborah Halperin and Professor of Political Science Jim Simeone, which introduces students to community organizations and local leaders. In the second semester, students are challenged to apply principles from their Gateway to a project that fosters connections between campus and the wider Bloomington-Normal community.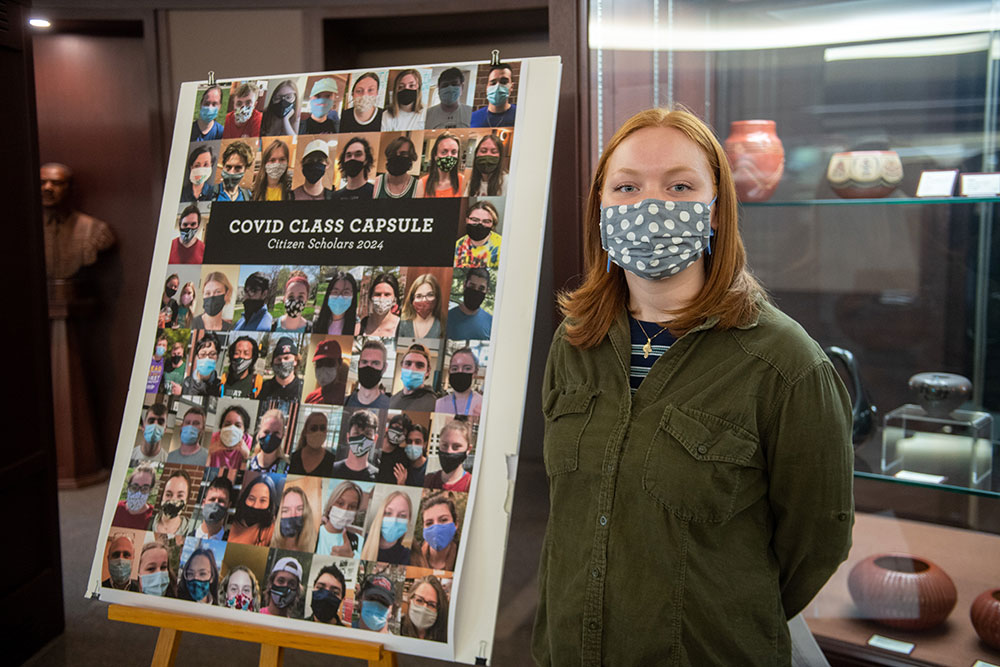 True to the program's aims, the project was a collaborative effort. Scholars worked with University Archivist & Special Collections Librarian Meg Miner on the practicalities of making a time capsule, and they also reached out to the School of Art for help creating a mosaic of masks, which have become synonymous with the COVID-19 pandemic. Both the capsule and the mosaic will be displayed at The Ames Library.
Ultimately, the time capsule reflects more than a scholarly project to document a historical event in real time. At a time when the work of a Citizen Scholar seems nearly impossible, this project gave students a creative outlet to reflect on the stressors of COVID-19, imagine a future beyond pandemic life and forge valuable connections within the Class of 2024.
"I am very proud of our Citizen Scholars," said Halperin. "Even though their world was in chaos, they reckoned with this pandemic in real time. They wanted to capture the day to day experience of COVID so that we would remember it years from now. I believe the campus of 2029 will be grateful for their presence of mind and for their work. A project like this helps us all to see the silver lining on a dark cloud: we are, indeed, stronger together."
By Rachel McCarthy '21