Graduates Honored at Commencement Ceremonies
Highlights
Class of 2021:
Class of 2020: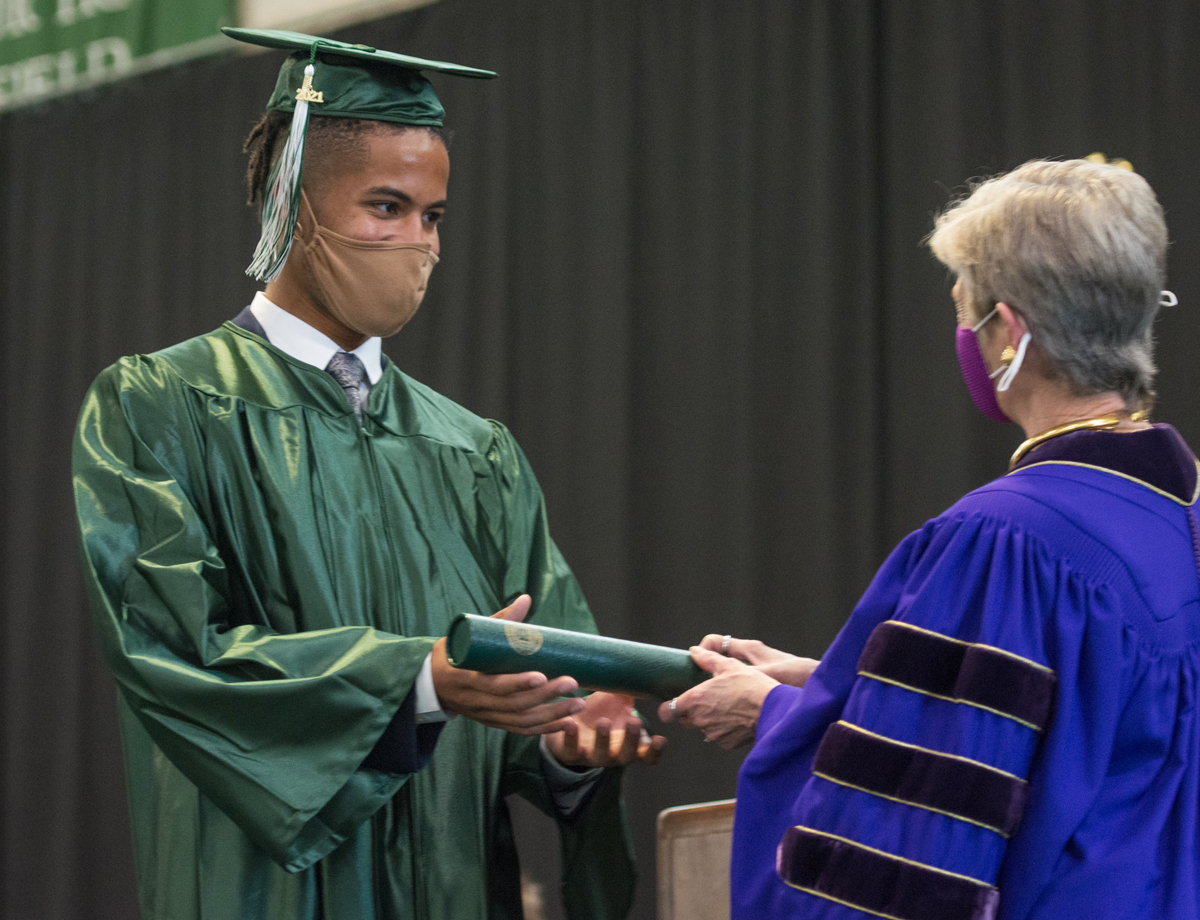 BLOOMINGTON, Ill. — Illinois Wesleyan University celebrated more than 360 graduating members of the Class of 2021 during Commencement exercises on Sunday, May 2 in the Shirk Center.
To reduce capacity due to COVID-19 protocols, two ceremonies were held for the Class of 2021 — one in the morning and another in the afternoon — with the graduating class divided in half. Additionally, members of the Class of 2020 participated in a ceremony Sunday evening, having been recognized virtually in August of 2020.
President S. Georgia Nugent opened each ceremony by congratulating the graduating class for persevering through an "unprecedented, extraordinary, challenging, stressful, unique" conclusion to their college experience. She reflected upon a recent conversation among several college presidents regarding the many challenges arising from the pandemic in which one word eclipsed all other terms during the discussion: sacrifice.
"First, it was a recognition that we have all had to experience sacrifice," Nugent said. "For some of us, the sacrifices may have been mere inconveniences. For others, some in this very room, there has been the terrible sacrifice of losing a loved one. But all of us, in one way or another, had to sacrifice some of what we considered 'normal,' some of our expectations."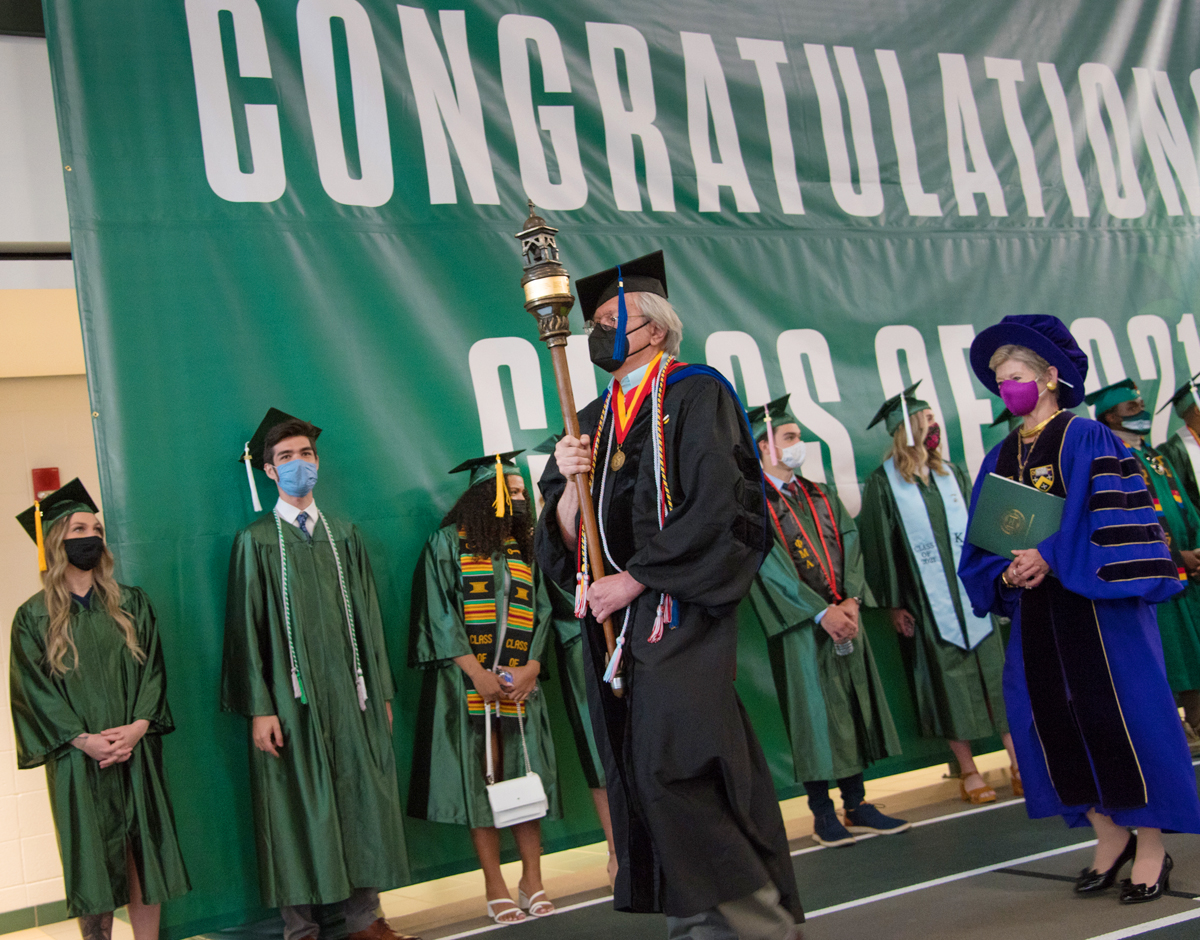 Nugent continued, "Second, the presidents recognized that not only had our campuses experienced sacrifice, they had also offered sacrifices — for one another. This, too, is certainly true of our campus."
Nugent said Illinois Wesleyan, as a community, has been determined to get through the pandemic together. "We sacrificed for the good of the whole, we sacrificed for one another," she said.
This selfless mentality, Nugent said, is important for graduates to maintain as they continue on the path to building their futures. "We can reach out and care for one another, and — yes, even be prepared to sacrifice for one another and for the greater good."
Nugent concluded, "We have seen you do it here, and we believe in your ability to make a difference."
Timothy J. Szerlong '74, Chair of the Board of Trustees, acknowledged that the graduating class is entering a world of turmoil, "perhaps as unsettled as any we have ever seen."
"While this condition creates an ominous challenge, it is an environment thirsty for individual leadership," Szerlong said. "The opportunity to influence and drive change in every corner of our society has never been better. Seize that opportunity."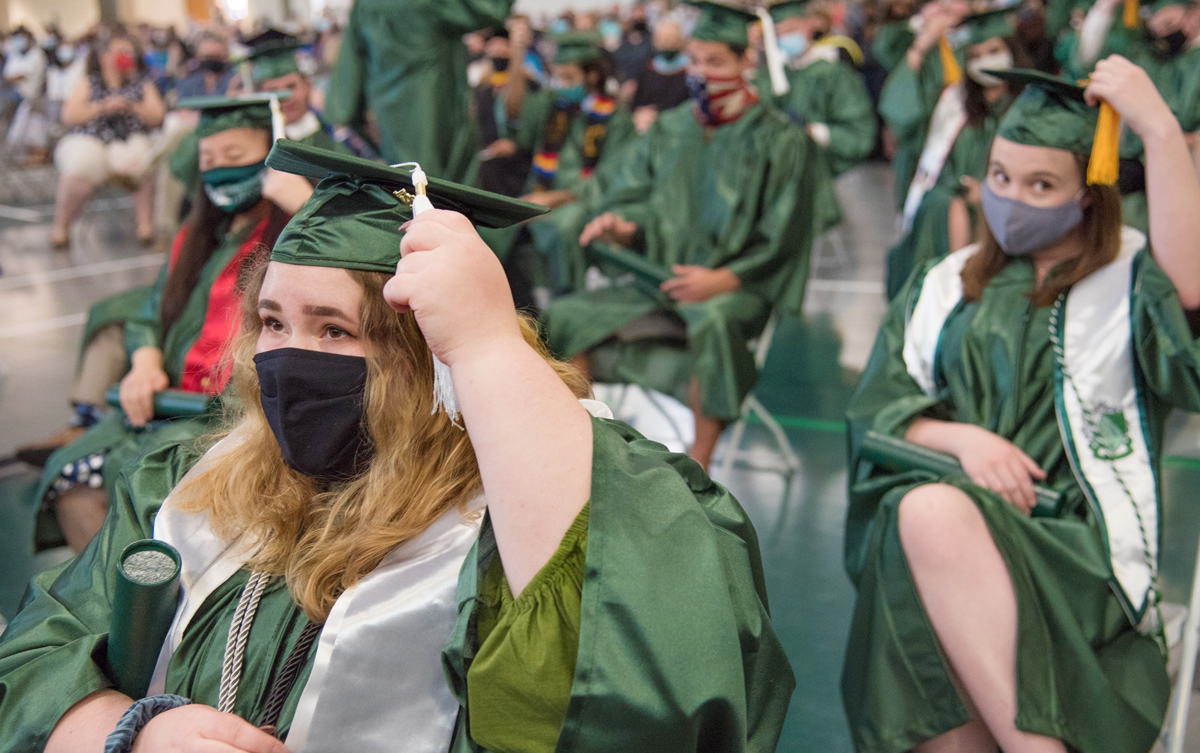 Class President Jarlai Morris '21, reflecting on her time at Illinois Wesleyan, was reminded of something that her middle school English teacher often said: "Leave a place better than you found it."
Addressing her classmates, and specifically fellow students of color, Morris said: "Not only did we strive to make IWU a better place than we found it, as individuals we're leaving with even more pride in our identities and what makes us unique. Equipped with the skills of effective leadership and communication, persistence and — last but not least — resilience, you're leaving here better than you came in because you rose to every challenge, situation, circumstance — and any occasion — with elegance, knowledge and composure."
Morris continued, "Titans — Class of 2021 — job well done. Continue to clean and maintain the spaces around you and all of the spaces you will enter in your life, because on top of making it better for others, it's just what we do as Titans. It's in our nature. As we exit this space and prepare to enter anew, bring what you've learned, preach what you know, and continue to grow where you can."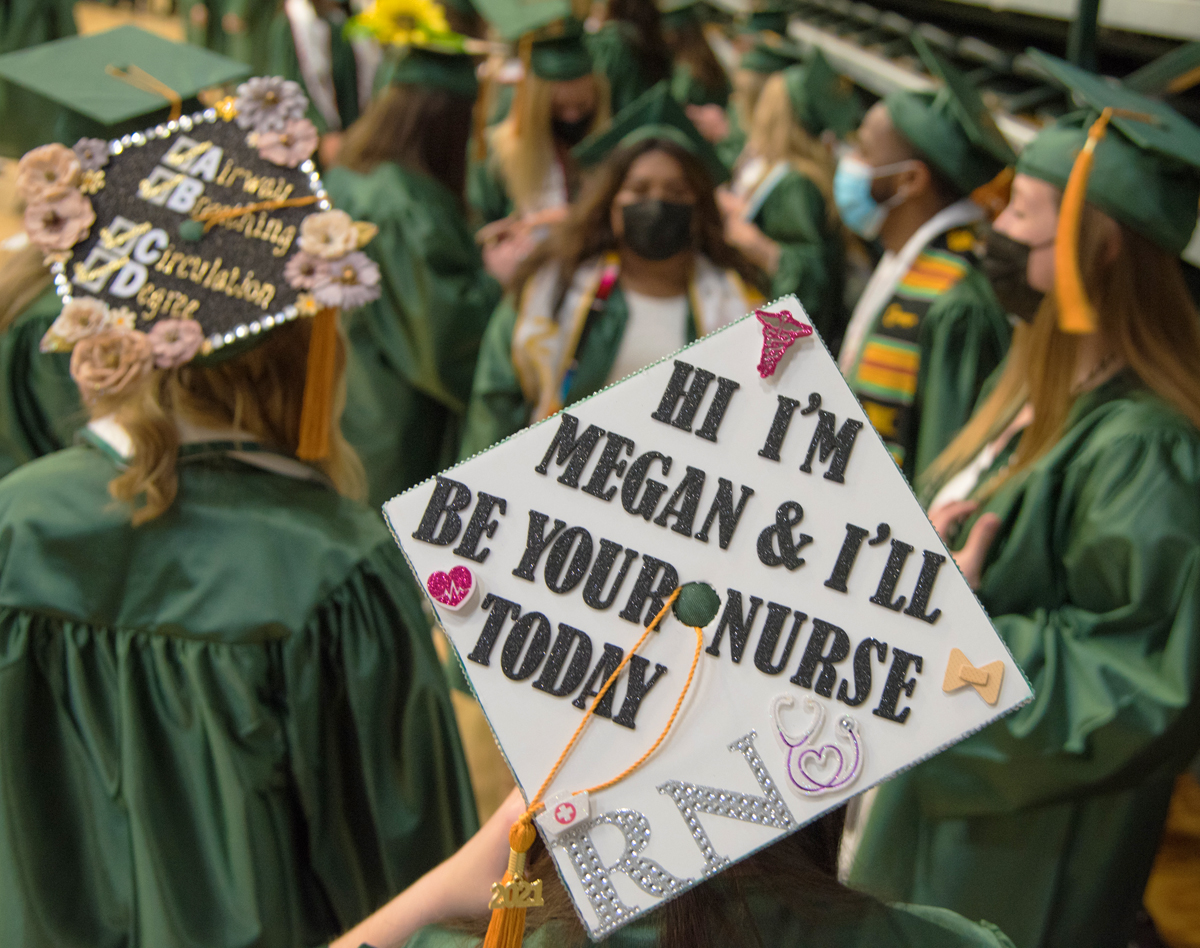 Associate Professor of Nursing Education Amanda Hopkins — the Class of 2021 Professor of the Year — spoke to the graduating class about the power of emotional intelligence.
"Emotionally intelligent people care about the conditions of living for everyone," Hopkins said. "We use our emotional intelligence to imagine what it is like to be the other. What it might be like for someone who experiences life from a completely different, less powerful perspective. And we use that intelligence to transform."
"Speaking of transformation, consider giving up trying to be an ally," Hopkins continued. "Instead, I urge you to consider becoming an accomplice." An accomplice in the quest for racial justice, Hopkins said, has literal skin in the game. "Now is the time to be real, raw and candid with others but most importantly, with yourselves."
Commencement speaker Geisha Jimenez Williams, a business leader with more than three decades of experience in the energy industry who became the first and, so far, only Latina CEO of a Fortune 200 company, addressed graduates at all three ceremonies. Williams was awarded an honorary doctor of humane letters degree at Sunday's ceremonies. She congratulated the graduating class for persevering "in the face of incredible uncertainty and tediousness," as college students amid the COVID-19 pandemic.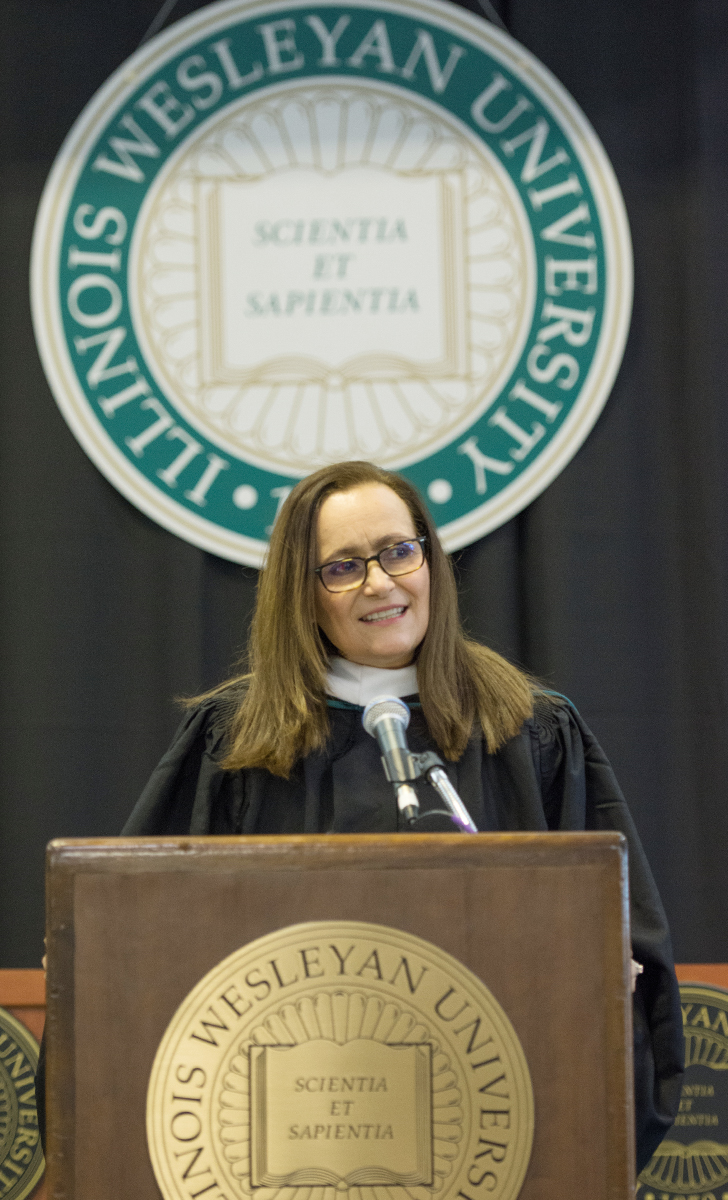 In an address titled "Who will face the challenges of tomorrow? Why not you?", Williams shared her personal story of perseverance which began when she — as a 5-year-old — and her parents fled communist Cuba for Saint Paul, Minnesota. Political refugees who arrived without much more than the clothes on their backs, Williams's parents worked tirelessly and saved enough money to buy a small grocery store where Williams worked as a kid. Over time they expanded their business and taught their daughter that "almost anything was possible if you had the courage and the perseverance to go for it."
Williams became the first in her family to earn a college degree and soon began a career at Florida Power and Light. One day, while speaking with a mentor about her long-term career objectives, the mentor said "Geisha, someone has to run this company someday, why not you?"
"I think we all can remember certain pivotal moments in our lives that rocked our world," Williams said. "Well, this was mine." Williams continued, "For me, 'Why not you?' became something of a mantra throughout my career which continues to this day. Difficult roles, assignments, or opportunities turned into, 'Someone has to do it — Why not me?'
Williams challenged the graduating class to think similarly about current issues. "There are no shortages of challenges in our world: Climate change, systemic racism, poverty, global pandemics, environmental injustice, inequality. The list goes on. These are complicated global problems with no easy solutions. No one person can solve these issues. But someone has to be willing to step up and try."
"So now, I pose this question to you, Class of 2021: Why not you?"
Williams urged the Illinois Wesleyan graduates to use their education, exercise their confidence muscle, be courageous, be tenacious and work hard.
"Because someone has to step up to meet the challenges of tomorrow. Why not you?"
By John Twork