Dr. Stephanie Whyte '91 to Deliver Founders' Day Convocation Keynote and Martin Luther King Jr. Teach-In Talk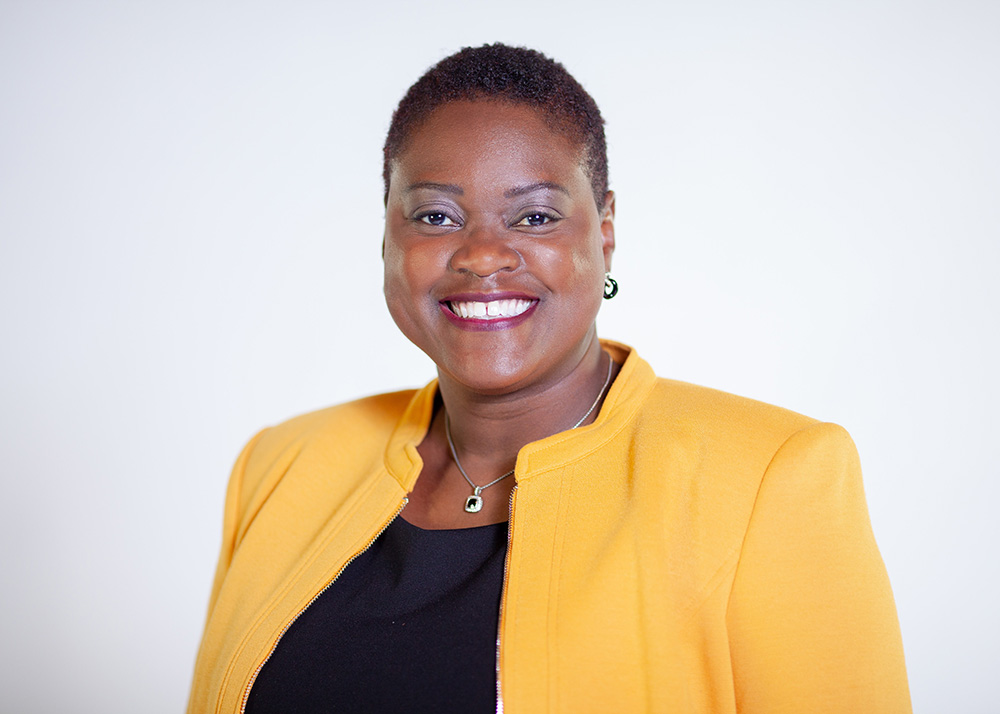 Updated Jan. 20, 2021
BLOOMINGTON, Ill. — Dr. Stephanie A. Whyte, a 1991 Illinois Wesleyan University graduate and 2015 recipient of the University's Distinguished Alumna Award, will present the 2021 Founders' Day Convocation keynote address titled "COVID-19: The great disruptor."
Due to event restrictions caused by the ongoing COVID-19 pandemic, the Founders' Day Convocation –– including prelude music, an invocation, remarks by President S. Georgia Nugent, Dr. Whyte's address, Alma Wesleyana performed by Elena Gjata '23, and postlude music by organist Kevin Chunko –– will be pre-recorded and made available for the public to stream on-demand beginning on Founders' Day –– Wednesday, Jan. 20, 2021.
In addition to Dr. Whyte's prerecorded address, she will also lead a live, virtual talk during Professor of Political Science Greg Shaw's American Healthcare Policy class on Wednesday morning. At 5:30 p.m., Dr. Whyte will deliver a live, virtual presentation and Q&A session for the Martin Luther King Jr. Teach-In on the topic of the intersection of Blackness and U.S. healthcare. Students, faculty and staff will receive an email with a Zoom link for Wednesday evening's session.
Dr. Whyte is a Senior Clinical Solutions Medical Director for Aetna Medicaid, overseeing the medical director team serving Florida, Kentucky and Louisiana covering over 560,000 lives. While at Aetna, she has participated in the Health Care Equity Committee and National Pharmacy and Therapeutics Committee as well as serving as the Interim Chief Medical Officer for the Aetna Better Health of Illinois plan.
Prior to joining Aetna in 2015, Dr. Whyte was the first ever Chief Health Officer for Chicago Public Schools (CPS) –– the third largest school district in the nation. She established a new office to focus on student health and wellness policy and programming, with an emphasis on removing barriers to learning. During her tenure, CPS became the first large urban school district to put undesignated epinephrine auto-injectors in each school for emergency use, and as a result, saved 70 lives. Before CPS, Dr. Whyte served as the Medical Director of Mobile Care Chicago, where she spent over a decade caring for children with asthma in Chicago's most underserved neighborhoods.
Dr. Whyte is a board-certified pediatrician. She received a bachelor's degree in biology from Illinois Wesleyan University, an M.D. from the Chicago Medical School (now Rosalind Franklin University of Medicine and Science) and completed her pediatric residency at Louisiana State University Medical Center in New Orleans. Dr. Whyte also holds an MBA in Public and Nonprofit Management from Saint Xavier University; is a certified health care insurance executive; and board certified in Health Care and Quality Management. Dr. Whyte has been honored with the "Distinguished Alumnus Award" from both the Chicago Medical School (2013) and Illinois Wesleyan University (2015). Dr. Whyte is a published author, lecturer, media spokesperson, and has served on various local, regional and national advisory boards.
Dr. Whyte's Founders' Day Convocation keynote and Martin Luther King Jr. Teach-In address complement Illinois Wesleyan's annual theme, "Health, Healing, and Humanity." The Martin Luther King Jr. Teach-In, held annually at Illinois Wesleyan, coincides with this year's Founders' Day, which honors the 30 civic and religious leaders who came together in 1850 –– 171 years ago –– to establish "an Institution of learning of Collegiate grade."
Formerly held on Martin Luther King Jr. Day, the MLK Teach-In was moved to later in January, beginning in 2020, to include students who do not have classes during the national holiday. Meanwhile, faculty and staff participated in a Day of Celebration during the national holiday, with a professional development objective to listen, reflect, cultivate deeper levels of awareness, learn, and practice what it means to hold space individually and collectively to begin the essential expansion required for anti-racism action and racial justice.
By John Twork