Center for Engaged Learning Serves as Resource Hub in The Ames Library
Updated Sept. 30, 2021
BLOOMINGTON, Ill. — Student engagement and success is the impetus for Illinois Wesleyan University's newly launched Center for Engaged Learning.
Located on the first floor of The Ames Library, the Center for Engaged Learning is a central hub for key educational support services including the Action Research Center (ARC) and Writing Center and Tutoring Services.
"Libraries continue to evolve to support campus initiatives," said University Librarian Stephanie Davis-Kahl. "The mission of the Library has not changed. We've just opened our doors to our colleagues who are also working toward providing our students with the educational support and opportunities we hope all IWU students take advantage of. Having a central location for these services — writing, tutoring, research assistance, experiential learning — communicates our attention to the entire student experience."
A strategic initiative of the Office of the Provost, the Center for Engaged Learning's mission is to promote and strengthen opportunities for students to participate in distinctive programs in the classroom and the community while also ensuring access to faculty, staff and peers who can help to support their success in the classroom and beyond. Planning for the space was guided by student focus groups, a faculty/staff task force, and discussions with colleagues at other institutions.
Spanning the width of The Ames Library's first floor, located off the main entrance, the Center for Engaged Learning features digital monitors, white boards, and comfortable, accessible seating for independent and group study and tutoring sessions. Soft bleachers in the center of the space enable students to learn while standing, sitting or even laying down.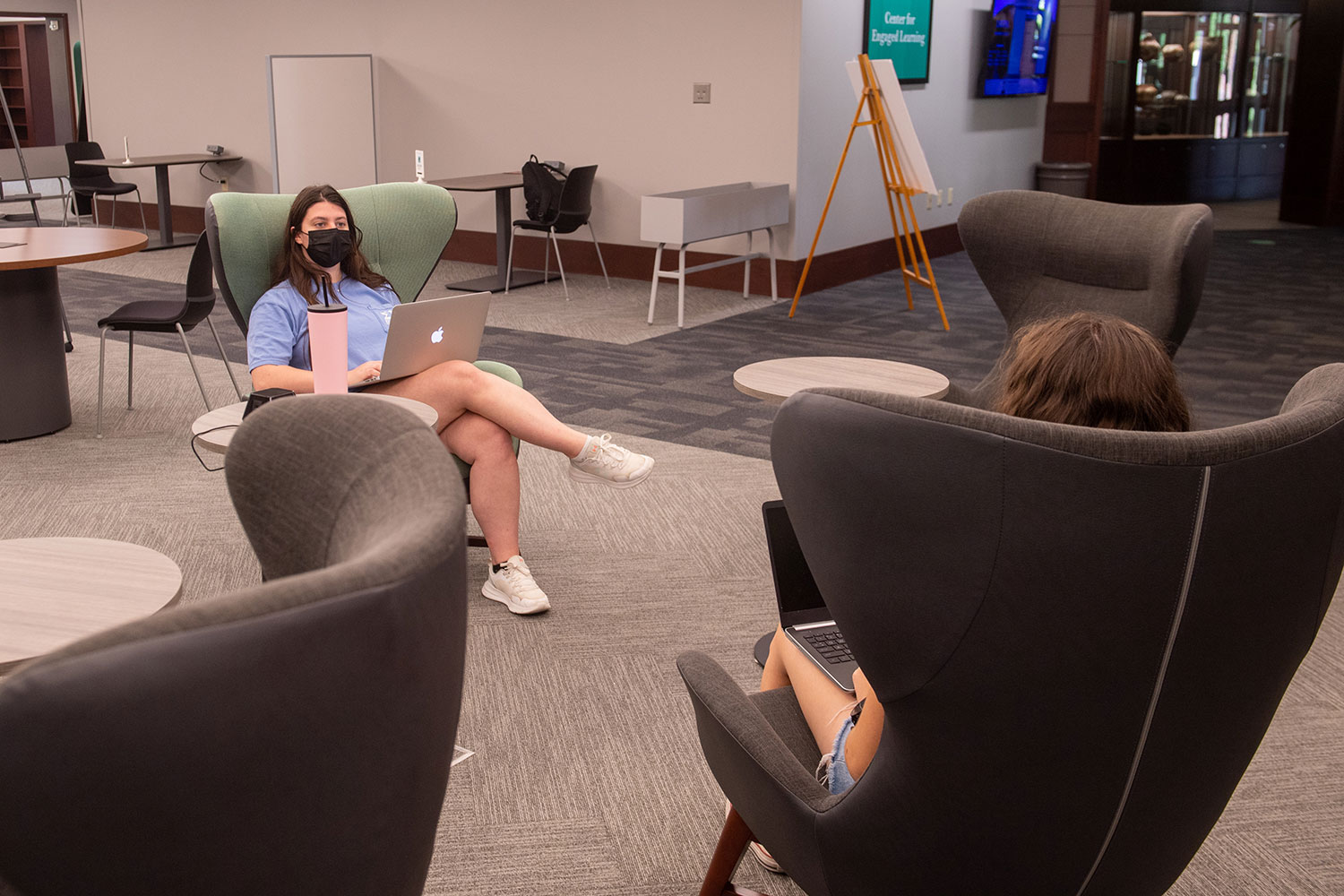 "It's a major improvement to an already lovely space," Davis-Kahl said. "We are so lucky to have a beautiful library building, and we are doubly lucky that our colleagues in Physical Plant have worked with us to change the layout to meet the needs of students over time. The new space is bright and inviting, and has personalized touches from IWU history and collections."
Works from the Campus Art Collection adorn the Center for Engaged Learning's walls, including The Corner Office installation by Lizette Toto '21, winner of the University's Hope Ellen Pape President's Club Award in the Fine Arts. Also included in the space is an exhibit honoring the Ames family, curated by University Archivist and Special Collections Librarian Meg Miner, which reflects on the family's long-standing relationship with Illinois Wesleyan and their leading role in establishing the library.
Looking ahead, Davis-Kahl said, "Our vision for the future is that our campus community comes to love the space, that they seek out the support available to them from the people who are dedicated to helping them become engaged learners and teachers."
A celebration of the new Center for Engaged Learning took place in The Ames Library on Wednesday, Sept. 29.
By John Twork