Campus Activities Board Recognized for Outstanding Programming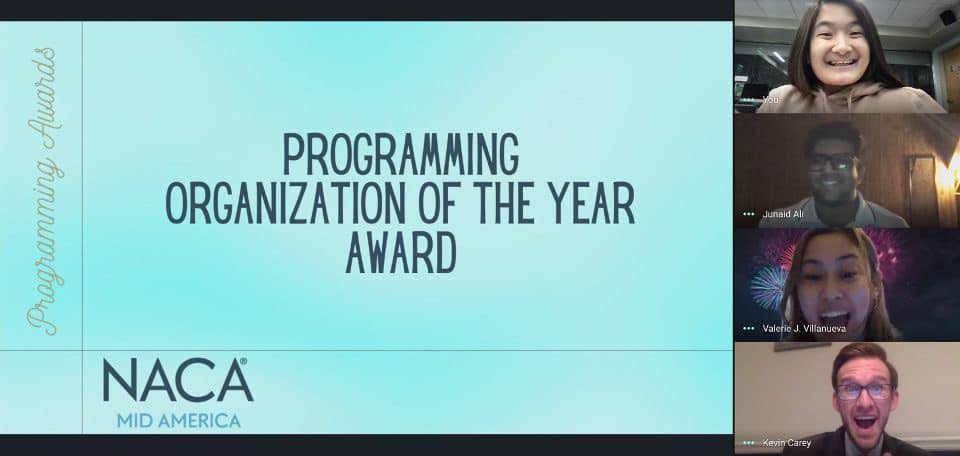 Feb 19, 2021
BLOOMINGTON, Ill. — The National Association of Campus Activities (NACA) has awarded the Programming Organization of the Year Award for the Mid-America Region to Illinois Wesleyan's Campus Activities Board (CAB), a student-led organization committed to creating a vibrant campus life at IWU.
CAB received the honor, along with a marketing award for its fall 2020 calendar poster, during NACA programming awards announced virtually on Thursday, Feb. 18. NACA recognizes students and organizations which transform college communities through inclusive learning, meaningful connections and engaging entertainment.
"I think winning this awards shows us that we've been bringing programming that the IWU community enjoys," said CAB Director Junaid Ali '21. "We would have never won this award if it wasn't for the students, faculty and staff at IWU –– they supported us from the start and are just helping us make it better."
This marks the second time that CAB, formerly named the Office of Student Activities Programming Team, has won this award in the Mid-America Region, which encompasses Illinois, Indiana, Ohio, Kentucky and Michigan.
Kevin Carey '13, Director of Student Involvement and Regional Leadership Team Chair for the NACA Mid-America Region, praised the accomplishments of CAB executive teams during a tumultuous year. "This is such an achievement in a time where much transition has happened around us globally and also internally as the group navigated a new board structure, virtual/hybrid/in-person programming, and continued to find new ways to engage students through different types of programs."
CAB is responsible for pitching, organizing and marketing a range of events for IWU students to connect and have fun together, from relaxing arts and crafts to live comedy and musical performances –– all while following necessary COVID-19 protocols throughout the past year. Popular CAB-run events from previous years include the Homecoming Pizza Taste, Sip n' Paint in Hansen Student Center, and the Big Show –– featuring a popular guest chosen by the student body.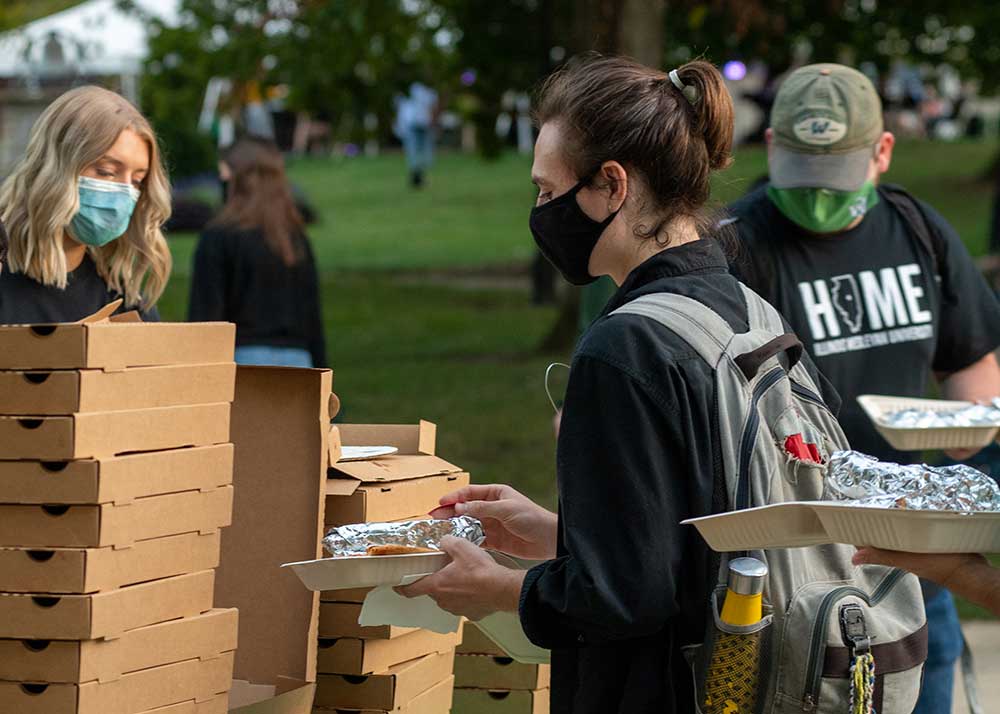 While many other universities have been forced to pull back on campus programming amid the COVID-19 pandemic, CAB executive teams have upped their game to provide students with virtual, hybrid and physically distanced in-person events. In a year defined by setbacks and uncertain schedules, CAB leaders have demonstrated the value of flexibility, optimism, and most importantly, teamwork.
"Having a successful semester of programming with in-person, hybrid, and virtual events would not have been possible without the teamwork of our exec board," said CAB Operations Coordinator Viktoriya Salgalova '22. "I am so proud of us for being able to be recognized for the numerous events that we have put on in the last year."
CAB Lead Programmer Wah Chook '22 added, "I'm super happy and grateful that our exec team got the award. It is an honor and affirmation that we are having an impact on the IWU community. I love the exec board –– they are great teammates and wonderful friends as well."
The result of their hard work was a level of student attendance and engagement comparable to pre-pandemic times. On the whole, the Office of Student Involvement recorded 1,768 engagements at events in Fall 2020 compared to 1,522 engagements the year before, demonstrating the continued need for the social connectedness that CAB and its leaders bring to Illinois Wesleyan.
"This award encompasses the 2019-20 and 2020-21 CAB executive teams, and in that time, so much has been accomplished and celebrated," Carey concluded. "These student leaders are so dedicated to the Titan community and reflect the highest level of peer student-centered decision making there is on campus."
By Rachel McCarthy '21