Zsorey '20 Awarded Technos International Prize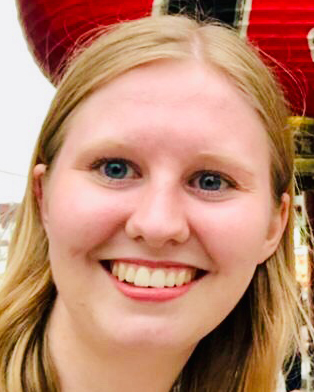 May 7, 2020
BLOOMINGTON, Ill. –– Illinois Wesleyan University graduating senior Tatum Zsorey '20 has been awarded the 2020 Technos International Prize in recognition of her academic excellence and her great contributions to broadening global awareness and understanding.
Zsorey is an international studies major with a concentration in developmental studies and a minor in environmental studies. As a student, Zsorey served as president of IWU's Amnesty International, Scholars at Risk, and Model United Nations. She also worked as a technology specialist for the Language Resource Center. During the summer of 2019, Zsorey interned internationally with Second Harvest Tokyo in Japan as part of the IWU Freeman Asia Internship Program.
"Sometimes even I can't believe all of the opportunities I've gotten over the course of my time at IWU," Zsorey said. "The internship was my first experience abroad, and I don't think I would have had such a fulfilling and memorable experience had it not been for the opportunity IWU gave me to be a part of the internship."
Zsorey also spent a semester studying peace and conflict resolution in Serbia, Bosnia, and Kosovo.
"I've gotten the opportunity to take a wide range of relevant and thought-provoking classes, head three RSOs on campus, as well as spend six months traveling across two different continents. All of these experiences have broadened my horizons and have presented me with numerous opportunities to learn and grow. It has truly been amazing all of the opportunities I've gotten over the course of the last three years with IWU."
The Technos Award is presented by the Tanaka Ikueikai Educational Trust in Japan. The Trust was founded by Dr. Kenji Tanaka, who created it in the spirit of improving international relations all around the world. The award recognizes those students who, through their work and actions, strive to ensure an atmosphere of global understanding.
"Having interned in Japan, studied the language on IWU's campus, and focused my independent project for my environmental studies minor on food security in Tokyo, I am happy to receive an award that stems from the Tanaka Ikueikai Educational Trust in Japan," Zsorey said.
"I'm really honored that I was asked to apply for the award in the first place," Zsorey continued. "I've spent so much of my time in the last year abroad traveling to six different countries and studying a plethora of topics from peace and conflict studies, to food security, to the destruction of the former Yugoslavia. I've dedicated so much time to understanding new environments and cultures, as well as incorporating them into my studies, that it is truly an honor to receive an award that recognizes the importance of global awareness."
In addition to the Technos International Prize, since 1995 Illinois Wesleyan has also awarded a Prize of Distinction at Technos College. This year's prize was awarded to Satoe Sahoda, an electrical and electronic engineering course student of Tokyo Kogakuin College of Technology.
"Ms. Sahoda had an extremely high 94.2% grade average and a 100% attendance record," said Matt Rollo, the International Program Coordinator at the Tanaka Ikueikai Education Foundation. "Her passion for engineering is evident not only in class but also during her participation as an open campus student leader for prospective Technos students. She has already acquired her second-class Electrician's qualification, and is currently working towards the very difficult first-class qualification. Her future in the field is bright indeed."
As a graduating senior, Zsorey reflected on her time at IWU and all the unique opportunities it brought her.
"There are a lot of big and little things I cherish from my time at IWU," explained Zsorey. "I can think of traveling around Serbia, or Japan, or Bosnia and recounting all of the amazing opportunities I had in such unique environments where I truly learned to be self-sufficient and adaptable. But I also really cherish the 1 a.m. McDonald's runs with my friends, and making PB&Js during finals, and going to the Unity Gala. It has been a mix of small and big things, highs and lows, and an overall memorable experience that, although it is coming to an end, I will always love and value."
By Megan Baker '21