Survey Finds 97% of 2019 Graduates Employed or Continuing Education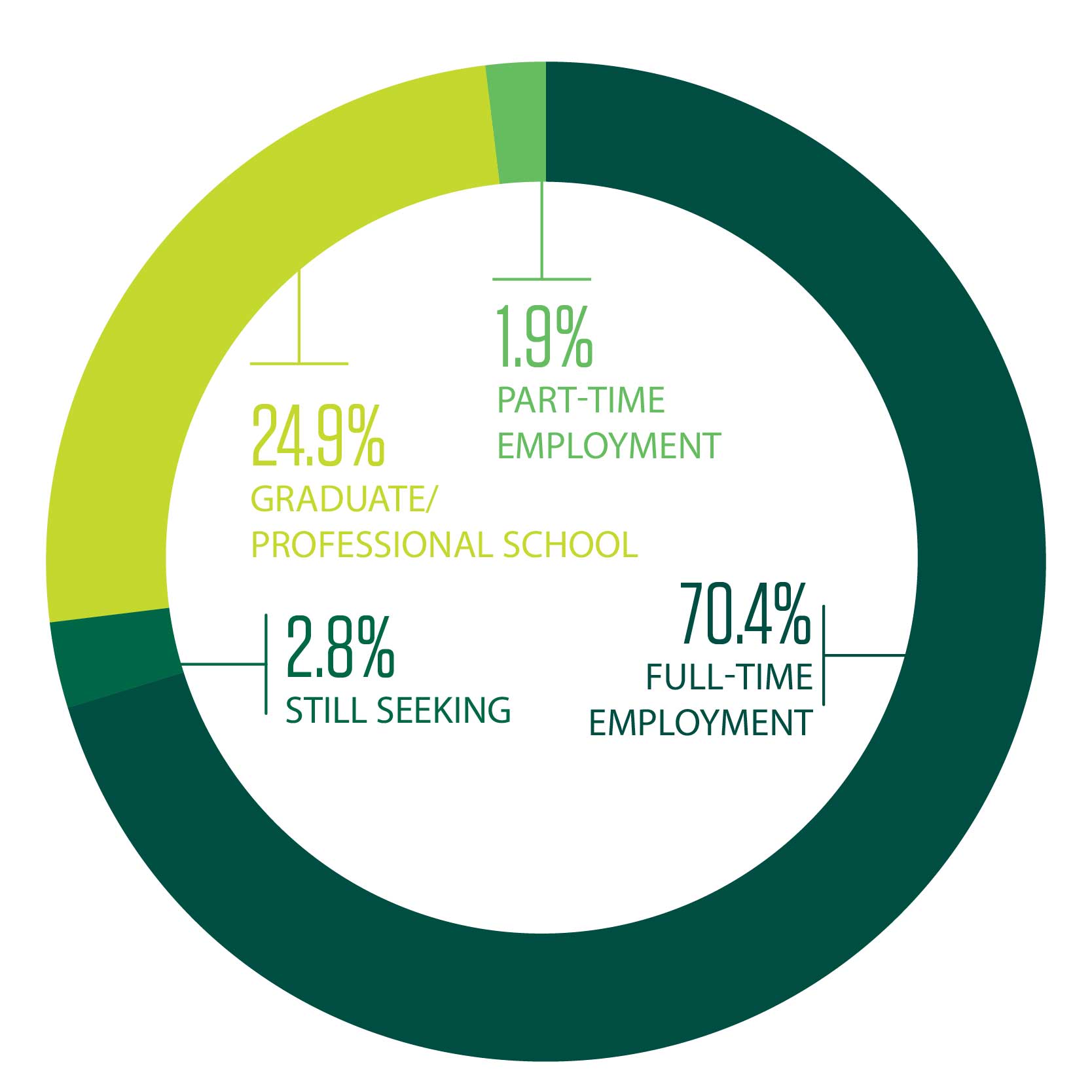 July 7, 2020
BLOOMINGTON, Ill. — Illinois Wesleyan University continues to excel at preparing students for careers after graduation, as demonstrated by the Hart Career Center's annual First Destination Survey.
Based on an 87.2% knowledge rate, 97.2% of 2019 graduates were employed or enrolled in higher education programs within six months of graduating from Illinois Wesleyan.
Of the respondents, 70.4% were employed full time with an average starting salary of $50,646. More graduates were employed in the healthcare industry –– 20.7% –– than any other field of employment. Meanwhile, 24.9% of respondents were enrolled in graduate or professional school.
Many Class of 2019 graduates prepared for their post-graduate careers by working as interns, with 76.6% of students reporting participation in at least one internship during their time at Illinois Wesleyan and 43.4% of those reporting internships indicating completion of multiple internships.
Students reported employment in 22 states and Washington D.C., and in eight locations outside of the U.S. including Germany, Czech Republic, Spain, China, Hong Kong, Japan, Austria and Somaliland. Students reported enrollment at graduate and professional school in 21 states and Washington D.C., and in three locations outside of the U.S. including the United Kingdom, Canada and Singapore.
As a result of Illinois Wesleyan's continued graduate success, Zippia named IWU the "Best College for Jobs in Illinois" in 2019 and also identified IWU as the top "Small College with the Highest Earning Graduates in Illinois" in 2018. Additionally, this year, SmartAsset looked at retention rate, scholarships and alumni salaries to determine which colleges return the best value to students, and ranked Illinois Wesleyan among the top-10 Best Value Colleges in Illinois.
Read more about Illinois Wesleyan's accolades and rankings.
By Megan Baker '21