Students Co-Author Peer-Reviewed Thyroid Hormone Research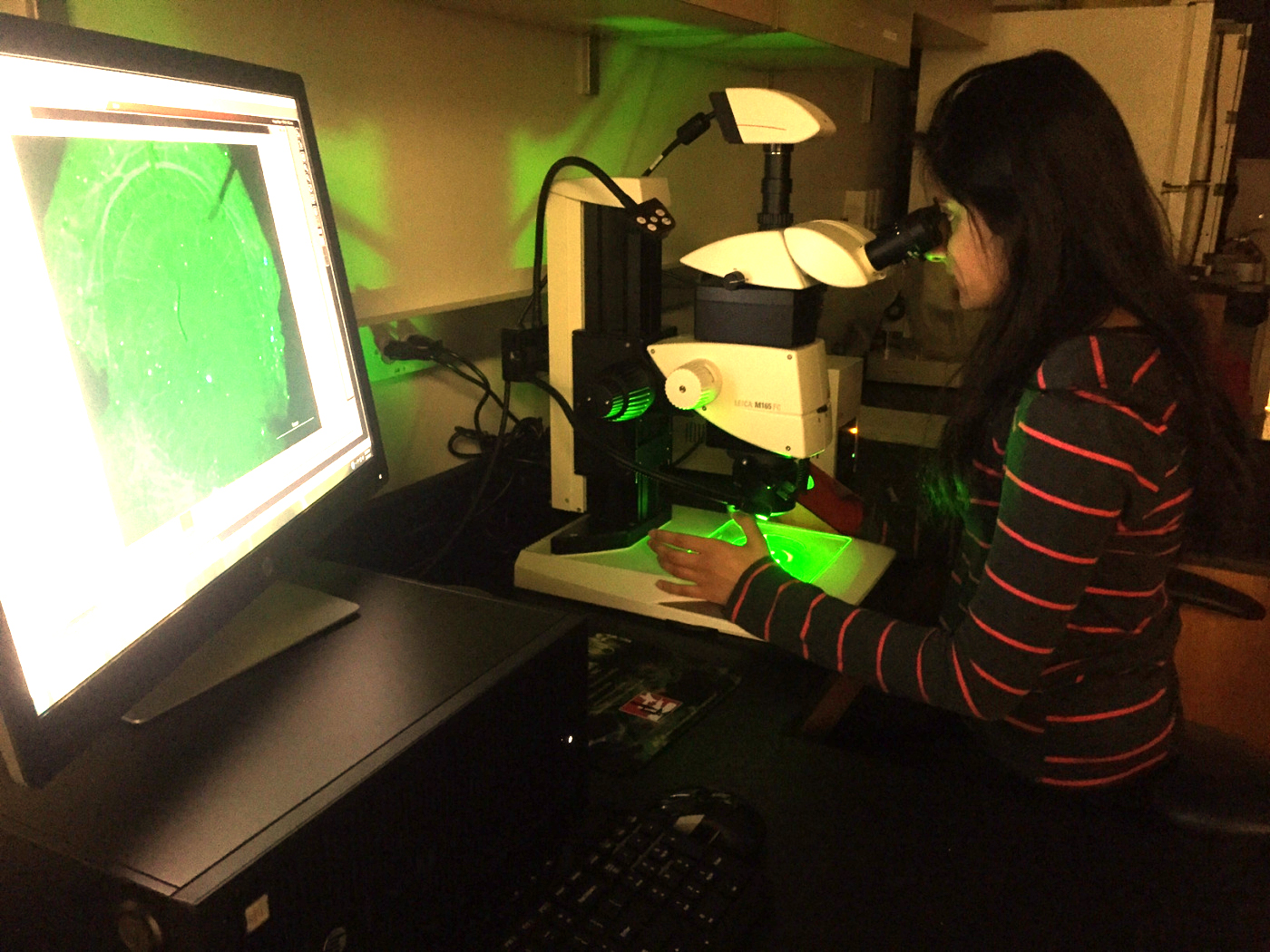 July 15, 2020
BLOOMINGTON, Ill. — Previously a scientific mystery, a team of six Illinois Wesleyan University student researchers recently resolved why increasing levels of thyroid hormone support faster rates of nerve growth within the eye, a finding that may someday have therapeutic implications for humans undergoing corrective vision surgery, such as LASIK.
Under the guidance of Illinois Wesleyan Assistant Professor of Biology Tyler Schwend the students published their findings in a peer-reviewed research article titled: Unique and overlapping effects of triiodothyronine (T3) and thyroxine (T4) on sensory innervation of the chick cornea.
The paper included three lead authors who each contributed equally to the study and are now pursuing professional degrees after graduating from Illinois Wesleyan: Mansi Patel '18 and Ngan Pham '19 are medical students at Campbell University in North Carolina and the University of Illinois at Chicago, respectively. The third lead author, Elise Ziegenhorn '19, is a dental student at Southern Illinois University.
Additionally, three Illinois Wesleyan students contributed to the research as middle authors: Alyssa Pisano '19 is a medical student at Midwestern University in Illinois, Shinho Kim '18 is a medical student at the Medical University of Gdańsk in Northern Poland, and Vandhana Rajarathnam '18 is a doctorate student of occupational therapy at Boston University.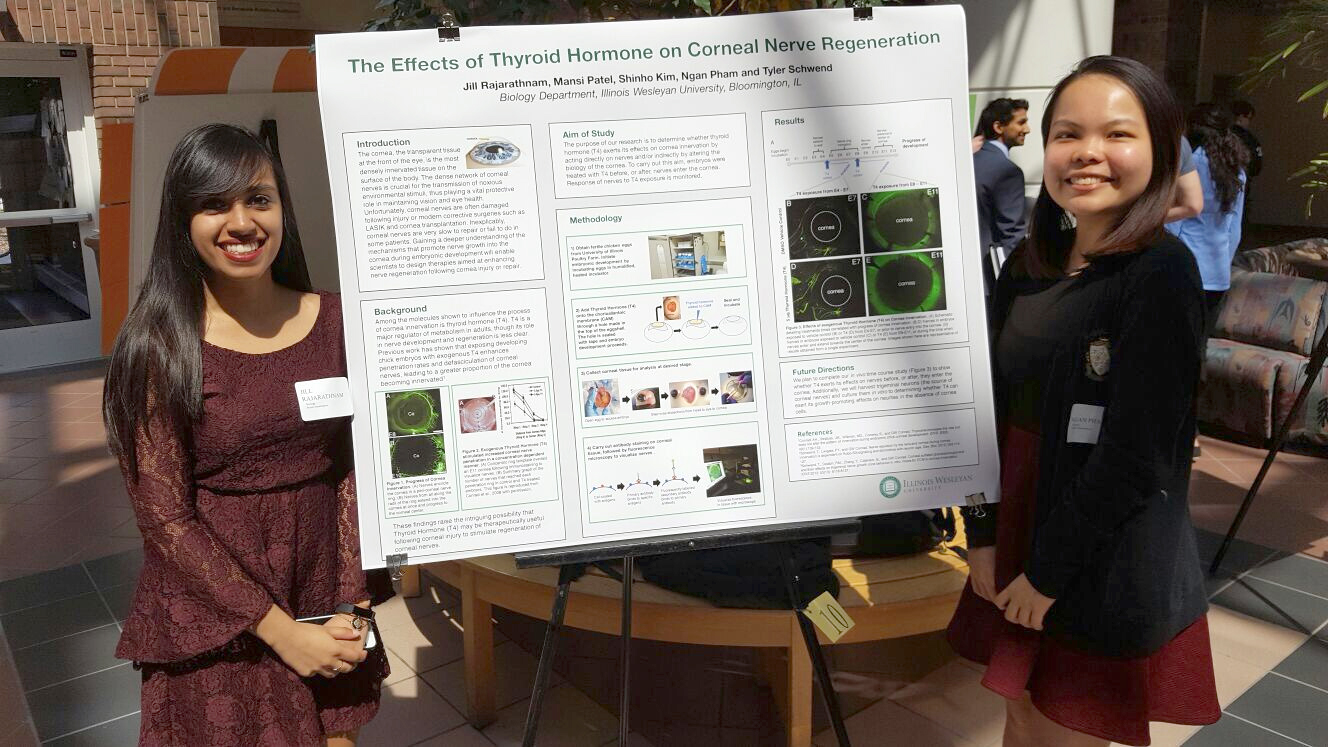 Within Schwend's laboratory, the group of student researchers studied the biology of the cornea, the transparent tissue on the surface of the eye. Specifically, they investigated how the cornea develops and responds to injury. One of the most common ways for a cornea to be injured is during surgeries that correct vision impairments, such as LASIK eye surgery. While this surgery improves vision, it can also cause damage to corneal nerves whose function it is to keep the surface of the cornea healthy and free of harmful debris. Following these surgeries, corneal nerves can take years to properly regenerate, leading to nagging dry eye symptoms and higher risk of infection as patients recover.
" Years ago, a colleague of mine made an exciting but perplexing discovery while studying how the cornea develops in chicken embryos. They found that if they increased the thyroid hormone levels within the eye during development, right as developing nerves were first starting to grow into the cornea, the nerves would grow into and through the cornea at a much faster rate than normal.This finding has caused vision scientists and clinicians to wonder whether ectopic thyroid hormone could support faster rates of nerve regeneration following LASIK surgery or any other corneal insult when nerves are trying to 're-grow' following damage," explained Schwend. "Despite the promise of thyroid hormone to corneal nerve regeneration, the mechanism of how thyroid hormone works has remained elusive for years and this has stymied any effort to utilize the hormone therapeutically. A team of six IWU students has now solved that mystery."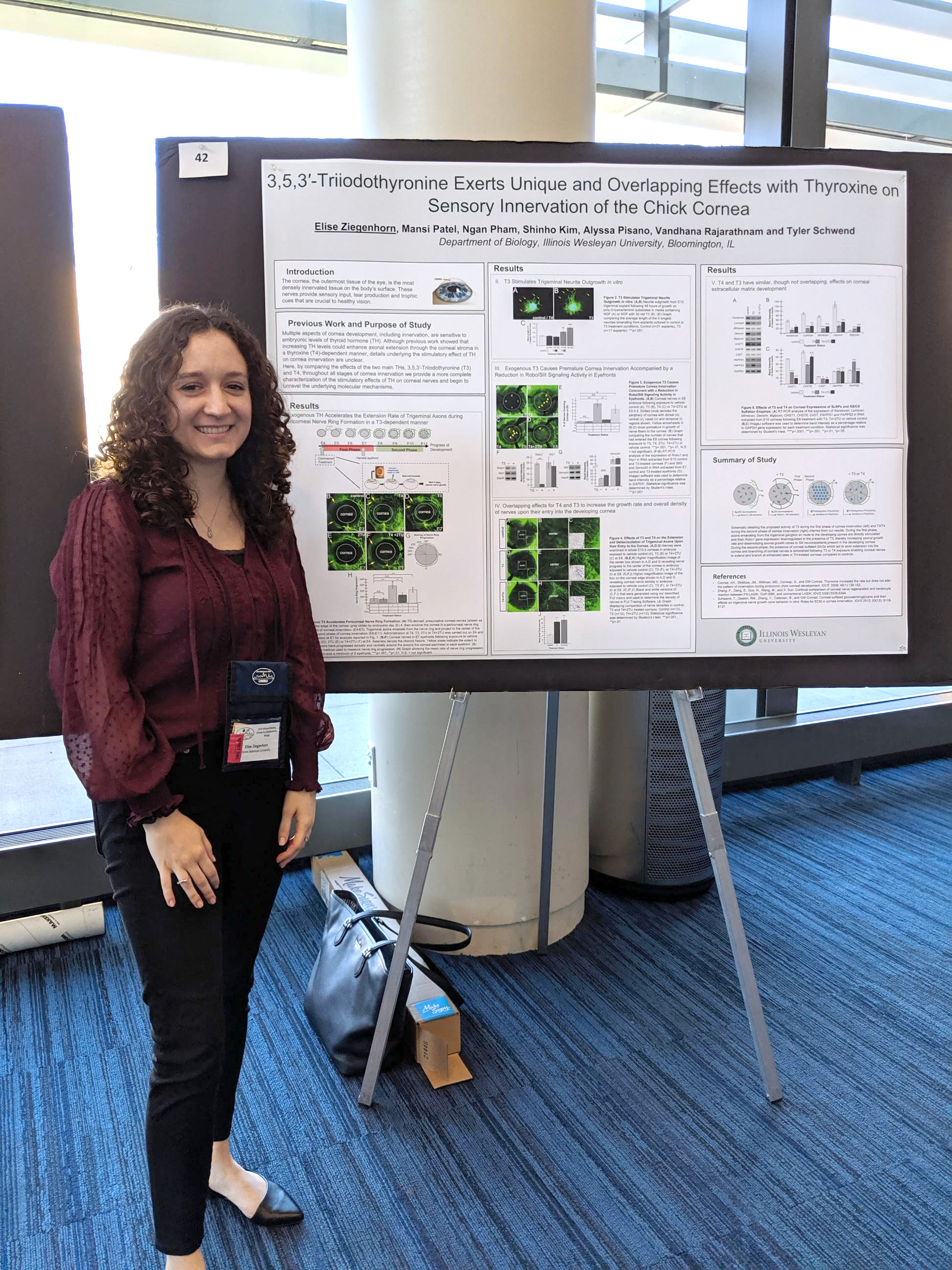 The students used a combination of cellular and molecular biological techniques, discovering that the thyroid hormone does two important things. First, it stimulates nerve growth.
"It has been shown that in a variety of developmental and disease contexts that hormones, including thyroid hormone, can increase nerve growth activity; however, ours is the first study that I am aware of that extends the growth-promoting effect of thyroid hormone to nerves in the cornea," added Schwend.
The second important function of the thyroid hormone is that it could alter the structure of the cornea in a way that decreased the overall density of extracellular matrix molecules within the cornea. This can indirectly increase the nerve growth rate because there will be less bulky sugar and protein molecules within the corneal tissue to hinder the growth of the nerves through the cornea.
"It is very clear why the nerves move faster," Schwend explains, "it is as if thyroid hormone helps the nerves hit the accelerator while simultaneously removing all of the speed bumps in their way."
The research article was published in Experimental Eye Research, one of the top vision science research journals in the world.
" This publication is an incredible accomplishment by a group of very talented IWU students. Most of the work published in this journal comes from Ph.D. or M.D. level scientists," Schwend said. "To see that our students are capable of producing novel research results that will be disseminated and read worldwide speaks to what our hard-working students are capable of as well as the opportunity that a place like IWU provides."
This research began with Schwend's first group of students that worked in his lab upon his arrival at Illinois Wesleyan. Patel, Pham, Kim and Rajarathnam were Schwend's first IWU research students. Initial work entailed setting up a research space and holding brainstorming meetings. Along with Ziegenhorn and Pisano, each student worked in the lab for two years to help initiate and complete the study.
"The work performed by these students has raised as many new questions as it helped to answer and that has opened a lot of doors for new groups of eager students and new avenues of research," Schwend explained. "We are exploring a collaboration with researchers at the University of Illinois to test thyroid hormone on mouse corneas and we are in preliminary talks with Gailey Eye Clinic in Bloomington to start looking at this idea in the clinic. All of this opens up many new opportunities for hard working, talented IWU students." "
Shortly after the article was published, Schwend was speaking about the outcomes of the research with a past mentor, Kansas State University Professor Emeritus Gary W. Conrad. Conrad had a career spanning more than 40 years, with more than 100 publications in cornea biology.
Schwend recalls that Professor Conrad was blown away with our IWU students after reading the study. "Here you have a world-renowned cornea biologist who has seen and done it all in science and all he could say was 'Wow! Your undergraduate students must be a very impressive bunch!' They certainly are," replied Schwend.
The opportunity for undergraduate students to engage in significant research at Illinois Wesleyan was broadly supported by various fellowships including: the Eckley Fellowship for Patel, the Criley Fellowship for Ziegenhorn, and the Office of Diversity and Inclusion's Summer Enrichment/Internship Program for Pham and Rajarathnam.
Read the article and learn more about the research.
By Megan Baker '21