Roesner Named Associate Provost
Jan. 8, 2020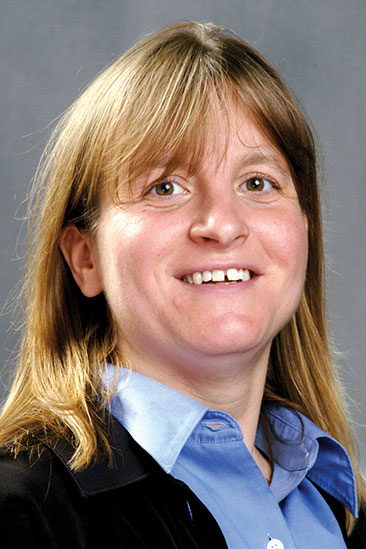 BLOOMINGTON, Ill. –– Rebecca Roesner, chair and professor of chemistry at Illinois Wesleyan University, has been named associate provost. Roesner replaces Lynda Duke who retired in December following an 18-year career with the University.
"Dr. Roesner is widely respected by faculty, staff and administrative colleagues for her gentle pragmatism and creative insights," Provost and Dean of the Faculty Mark Brodl said. "Our students hold her in the highest regard. In addition, she has served many years as a department chair and a leader across campus in a wide range of positions. As a result, she brings tremendous insight to her role in Academic Affairs, and we are fortunate to have her stepping into the associate provost role."
Roesner joined the Illinois Wesleyan faculty in 1997 and was named chair of the Department of Chemistry in 2006. She earned a Ph.D. in inorganic chemistry from the University of Kansas and a bachelor's degree in chemistry and history from Ohio Wesleyan University in 1992.
A highly regarded teacher and researcher, Roesner received the 2014 Kemp Foundation Award for Teaching Excellence, the University's highest teaching honor which is presented annually to a faculty member. She has also been awarded the American Chemical Society Stanley C. Israel Regional Award for Advancing Diversity in the Chemical Sciences (2019), Illinois Wesleyan's James D. Dougan Award for Contributions to Faculty Governance (2017) and the Iota Sigma Pi Centennial Award for Excellence in Undergraduate Teaching (2014).
Looking ahead, Roesner said, "I'm grateful for the very warm welcome I've received in my new role, and it's energizing to be joining the administration during a period of campus-wide innovation. I look forward to collaborating with colleagues, students, and the broader community in new ways to support the University's mission."
An inorganic chemist, Roesner has included dozens of Illinois Wesleyan students in her research which has appeared in publications such as Inorganic Chemistry, Advances in Inorganic Chemistry and The Chemical Educator.
Roesner has also co-directed the Summer Science Program for Leadership Inquiry and Campus Engagement (SPLICE) since 2014, and she has served as principal investigator for NexSTEM, a National Science Foundation grant-funded program launched in 2018 that provides scholarship support, community-centered research experiences and mentoring for talented STEM students with financial need.
By John Twork