Roesner Honored for Advancing Diversity in the Chemical Sciences
May 13, 2019
BLOOMINGTON, Ill. — Chair and Professor of Chemistry Rebecca Roesner recently earned the Stanley C. Israel Regional Award for Advancing Diversity in the Chemical Sciences for her work furthering diversity and promoting inclusivity.
Presented by the American Chemical Society (ACS) and sponsored by its Committee on Minority Affairs, the Stanley C. Israel Regional Award for Advancing Diversity in the Chemical Sciences recognizes individuals and/or institutions who have advanced diversity in the chemical sciences and significantly stimulated or fostered activities that promote inclusiveness within the region.
"The award is an honor, but more importantly a reminder of how much work still needs to be done," said Roesner, who was also honored with Iota Sigma Pi's Centennial Award for Excellence in Undergraduate Teaching in 2014.
Nominees for the award are required to have created or fostered ongoing programs within chemical sciences that have resulted in increased numbers of persons from diverse and underrepresented minority groups, persons with disabilities, or women who participate in the chemical enterprise. Winners are awarded a medal and a grant of $1,000 to support the activities or programs for which the award was given.
"It's sobering to see the long list of chemists who've been honored by the ACS for their diversity and inclusion efforts and at the same time see the huge disparities that remain in our profession," Roesner said. "It's a call to work harder."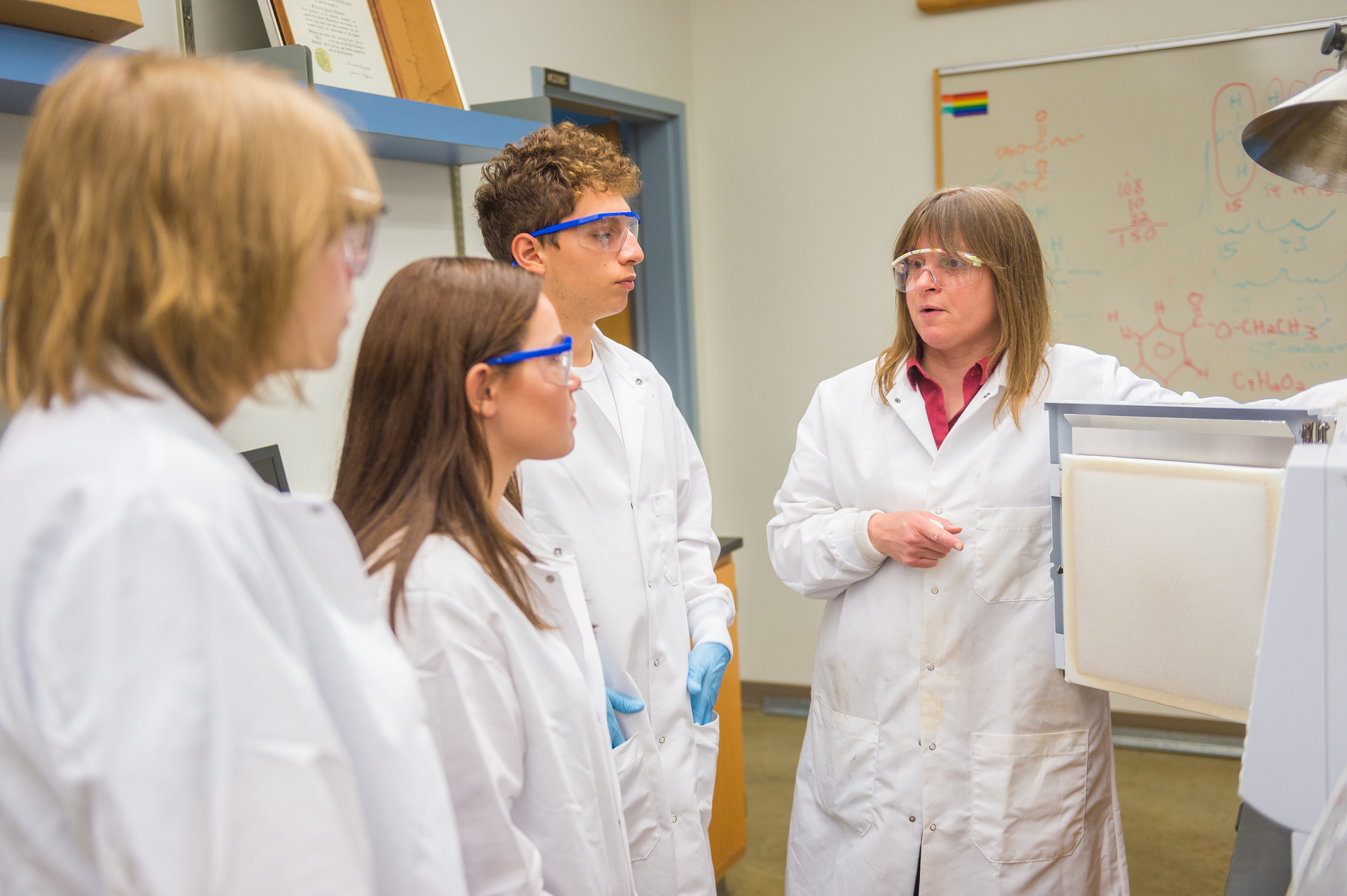 During her time at IWU, Roesner has been a pillar in the Chemistry Department through her many services. She currently serves as chair and is an active member of the American Chemical Society and past president of the Illinois Wesleyan chapter of the American Association of University Professors (AAUP). As an inorganic chemist, Roesner teaches several chemistry courses and has many research projects, including attaching polyoxometalates to solid supports to enhance their utility as oxidation catalysts and synthesizing astrochemically relevant mineral dusts to be studied by submillimeter spectroscopy. She is in the process of developing inorganic and materials chemistry projects for the undergraduate curriculum and gives students opportunities to participate in her various projects.
Since 2014, Roesner has co-directed the Summer Science Program for Leadership Inquiry and Campus Engagement (SPLICE) and, more recently, NexSTEM, a National Science Foundation grant-funded program that provides scholarships for talented STEM students with financial need.
"Our goal is to be proactive about inclusion. Rather than react when a student struggles with the college environment, how can we proactively help students find community with one another and in our academic departments?" Roesner said.
"The professional science world too often rewards intensity over balance and diversity of interests. A liberal arts college like Illinois Wesleyan is a great place to help students see that being a scientist doesn't mean having to give up your other interests and identities."
Katie Fata '22