Illinois Wesleyan Wins "BloNo Campus Voter Registration Challenge"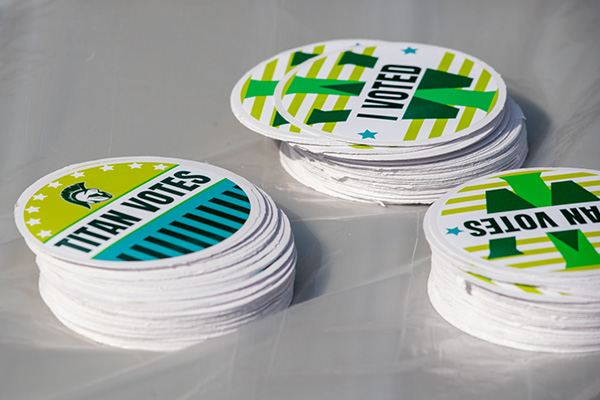 Oct. 22, 2020
BLOOMINGTON, Ill. — Illinois Wesleyan University topped Illinois State University and Heartland Community College to win the "BloNo Campus Voter Registration Challenge," a friendly competition between the three campuses to encourage voter engagement.
Altogether, 695 Illinois Wesleyan students –– 42% of the student body –– registered to vote by Oct. 18, ahead of the Nov. 3 election. Meanwhile, Illinois State saw 636 students register (3% of the student body) along with 68 Heartland students (1.5% of the student body).
Several initiatives encouraged Illinois Wesleyan students to register, including the "Titan Votes" campaign, organized by IWU's Student Senate in partnership with the Athletics Department. Additionally, Illinois Wesleyan Athletics hosted several Zoom calls to help educate student-athletes about the voter registration process.
"The IWU Athletics Department is largely to thank for our excellent registration numbers, as they've worked hard to ensure all 550+ of our student-athletes are registered and ready to vote," said Illinois Wesleyan Action Research Center Coordinator Bevin Choban '10. "We're so excited that together with our ISU and HCC colleagues, we were able to support nearly 1,400 students in exercising their right to vote."
Launched on National Voter Registration Day, the "BloNo Campus Voter Registration Challenge" ran from Sept. 22 through Oct. 18, the last day to register to vote online in Illinois.
For more information on voting, visit vote.gov.
By Megan Baker '21